Reclaim Temples: Illegal church Complex built On 7th Century Cave Temple At Tirunelveli, Tamil Nadu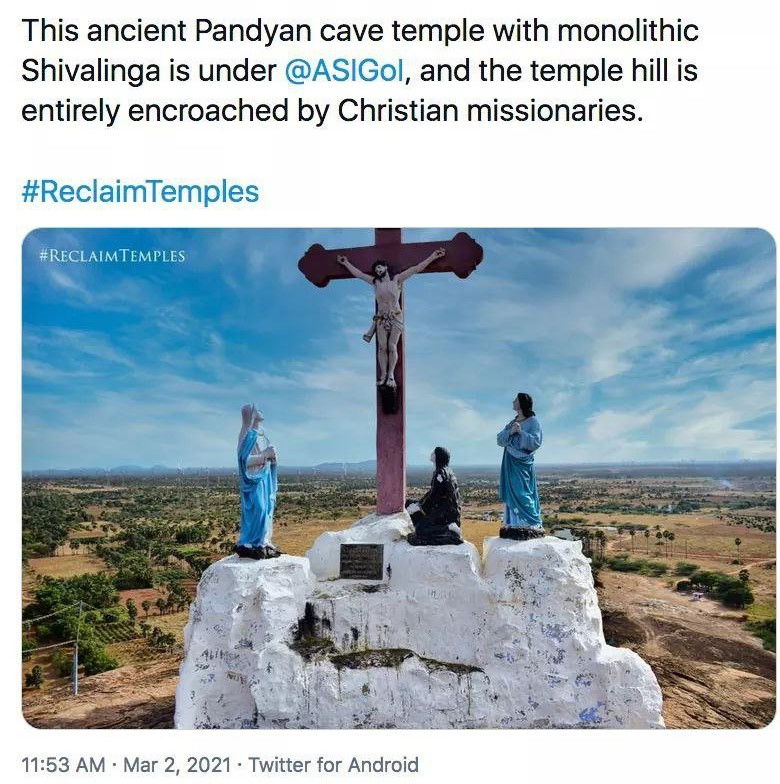 Ancient Hindu temples have been facing attacks by the predatory Abrahamics for the past 1400 years right from the first Islamic invasion of Mohammad Bin Qasim times in 672 AD and the European Christian colonisers. This attack on Hindu temples is continuing even today in all forms ranging from breaking them, vandalising them and encroaching ancient temple complexes by building mosques or church complexes on them.
What is most shocking is that elaborate Church or Mosque complexes are constructed within ancient Hindu temple complexes under protection of Archeological Survey Of India. This shows the gross apathy, negligence and disrespect for Hindu temples by the ASI, which has taken over temples from Hindu devotees citing need to protect these beautiful ancient temples from general wear and tear due to its antiquity. But far from protecting these temples the ASI has allowed a church complex to be built on top of the 7th century Thirumalapuram cave temple in Tirunelveli in Tamil Nadu.
A church complex is illegally built by encroaching on a temple hill beneath which lies a seventh century Thirumalapuram cave temple dedicated to Lord Shiva at Tirunelveli. The Thirumalapuram cave temple dates back to the Pandiyan era Shiva housed a monolithic Shiva Linga which has been destroyed by Christian missionaries earlier by illegally using it as a Church . Due to its antiquity the temple is under the supervision and protection of the Archaeological Survey of India (ASI), despite this the Christian missionaries have encroached upon the temple hill on top of the cave temple to build a Church compleax there.
Notably, the monolithic Nandi was also broken and destroyed by the Christian missionaries, Hindu devotees still worship whatever little remains of the Nandi.
Pertinently, this gross encroachment of the ancient cave temple was brought to light by a notable twitter handle named Reclaim Temples, which also states that the Sendamaram Tirumalaimatha Church built on top of the cave temple comes under the authority of the Diocese of Palayamkottai. The Diocese's website with impunity, mentions that the Church and Cross was built illegally on top of a pre-existing Hindu temple.
The Legal Rights Observatory (LRO) in a tweet informed that it has filed complaints with the ASI and the Ministry of Culture against this gross illegal encroachment of the ancient temple by Christian missionaries. The LRO has sought immediate intervention of the central authorities on this serious issue of destroying ancient cave temple and building huge church complexes over it.
There is an increasing trend of building illegal Christian structures by predatory evangelist organisations specially in Tamil Nadu and Andhra Pradesh by encroaching either large tracts of public land or taking over land belonging to Hindu temples. Strict actions needs to be taken by the concerned authorities, if not the Hindu community should unite and mount immense pressure on the concerned government authorities to either take corrective measures else hand over the administration of ancient Hindu temples to devotees who can take swift measures to guard temples from predatory Christian evangelical vandalism.
DISCLAIMER: The author is solely responsible for the views expressed in this article. The author carries the responsibility for citing and/or licensing of images utilized within the text.