#WokeFail – S*x Education Book Instructs Parents To Let Their Young Children Watch Them do the Act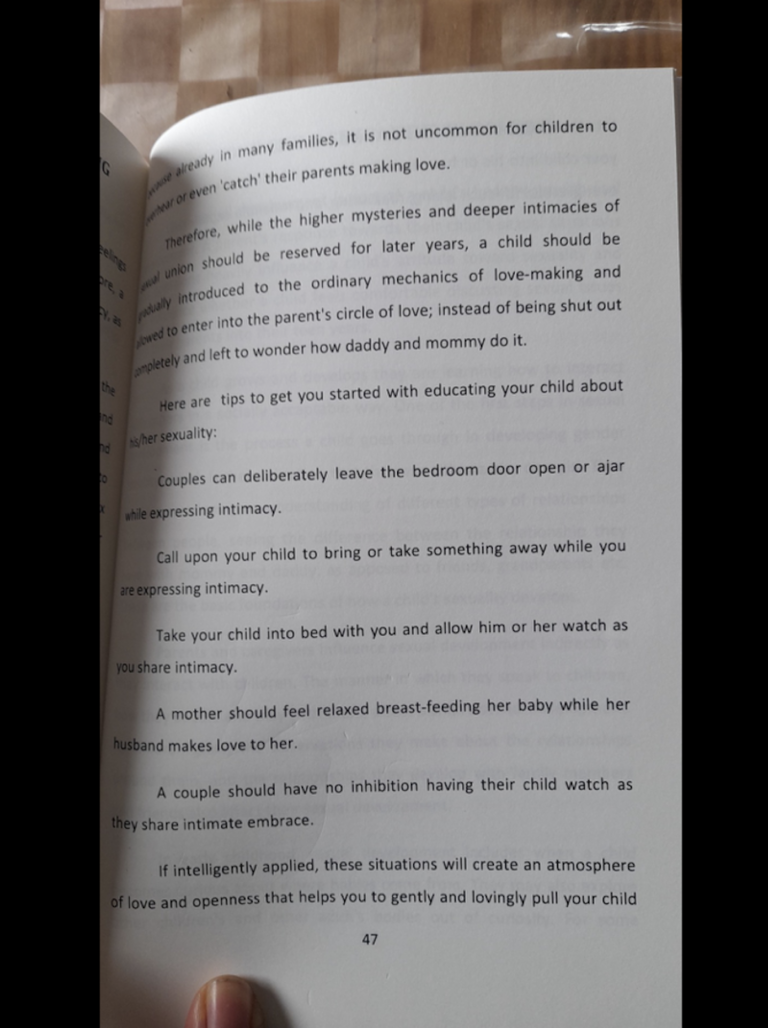 A screenshot of an excerpt from a sex education book that recommends parents invite their young children into bed to watch while they have sexual relations circulated on social media on Thursday.
The book, "Sex Education for 8-12 Year Olds: Kids Book for Good Parents," purportedly written by Ana Leblanc, was removed from Amazon following dozens of one-star reviews and comments from readers who were disturbed by the book's content.
Courage Is A Habit, an account dedicated to "creat[ing] tools & strategies for the average parent so they can defend their child from indoctrination in the K-12 system," shared screenshots to Twitter of the book which immediately went viral.
The book appears to have been sold in e-book form for $2.99 and paperback copy for $7.98 around the time it was removed by Amazon. It's not clear if the purported author is real. But there remains a legitimate concern that some could have bought the book seeking genuine advice.
Page 47 of "Sex Education for 8-12 Year Olds: Kids Book for Good Parents" begins by explaining to readers that "it is not uncommon for children to overhear or even 'catch' their parents making love."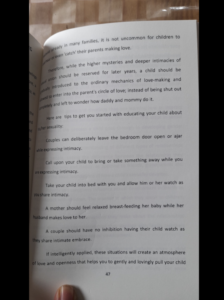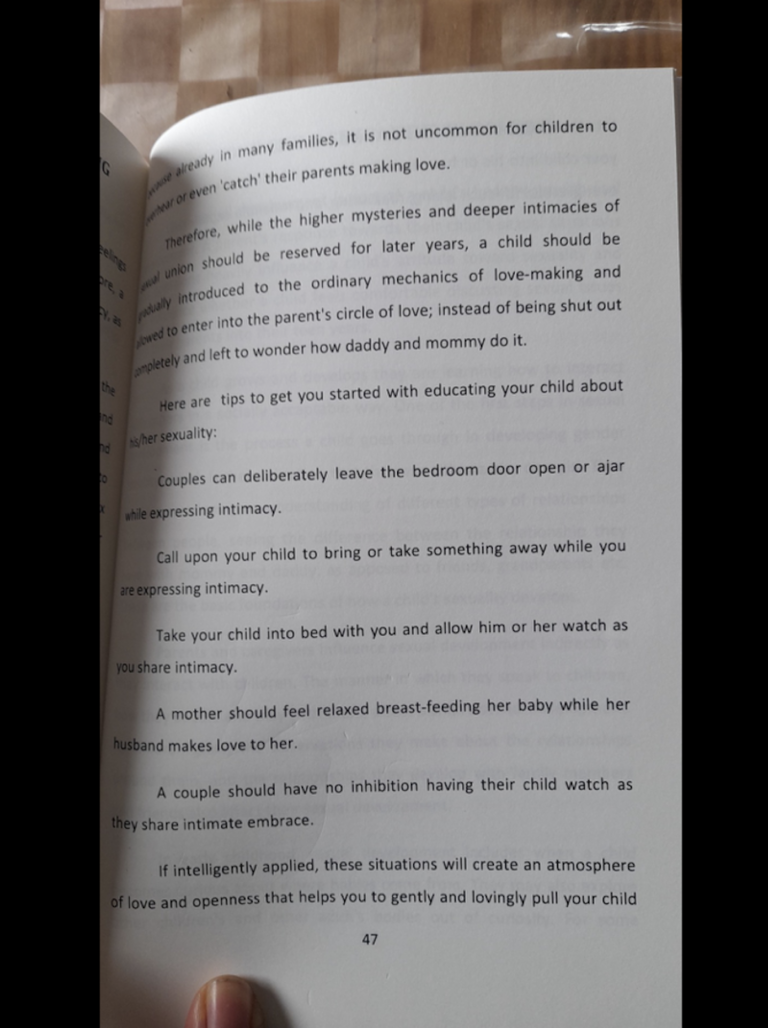 Page 47 from the book "Sex Education for 8-12 Year Olds: Kids Book for Good Parents" by Ana Leblanc posted by an Amazon reviewer
"A child should be gradually introduced to the ordinary mechanics of love-making and allowed to enter into the parent's circle of love," says the author. "Instead of being shut out completely and left to wonder how daddy and mommy do it," she adds.
The page excerpt offers tips on how to get started "educating your child about his/her sexuality." Among the examples, the author suggests that "couples can deliberately leave the bedroom door open or ajar while expressing intimacy." "Call upon your child to bring or take something away while you are expressing intimacy," she adds.
The author takes it a step further by recommending parents invite their children into bed to let them watch them have sex. "Take your child into bed with you and allow him or her [to] watch as you share intimacy," she says.
The author also includes advice for breast-feeding mothers: "A mother should feel relaxed breast-feeding her baby while her husband makes love to her."
The author assures her readers that there is no shame in letting children become voyeurs to adult sexual activity. "A couple should have no inhibition having their child watch as they share intimate embrace."
According to a now-defunct product page, the book was a #1 Best Seller in Children's Nonfiction on Sexuality & Pregnancy on Amazon. The 57-page book was independently published on August 23, 2017, and priced at $7.98 for a paperback version on Amazon, before it was pulled from their platform. The Daily Wire reached out to Amazon PR for comment but has not yet received a response.
According to the author's bio (seen in a screenshot of the backside of the book), Leblanc was born in Scotland and began writing books following encouragement from her daughter after a career as a teacher in Glasgow. The author has purportedly penned at least six books on the subject of child-raising, many of which have received low ratings on Amazon. A significant number of commenters who purchased her books have complained about grammatical errors and typos, suggesting that her work may have been "translated using Google translate."
An Amazon customer reviewed the book on May 10, 2022, and said, "Book promotes children watching their parents having sex to learn. Completely not okay."
Another commenter shared a screenshot of the book page in question, writing, "Inviting your 12-year-old child into bed to watch you having sex (whilst your wife breastfeeds….) isn't my idea of sensible sex education. Like something from a Charles Manson support group."
Aside from the inappropriate material, several buyers complained about the author's lack of scientific rigor in the text. "This is clearly a self-published book with no scientific or logical support for a majority of the content. Yes, parents should be a primary source of sex education for children but this book provides no resources or structure to help parents accomplish this goal. The book is also full of grammatical errors that make it hard to read," said an Amazon customer in December 2021.
Author and source minus title : https://www.dailywire.com/news/sex-education-book-instructs-parents-to-let-their-young-children-watch-them-have-sexChristina Buttons, 
DISCLAIMER: The author is solely responsible for the views expressed in this article. The author carries the responsibility for citing and/or licensing of images utilized within the text.