Renaming our Cities is a Tribute to our Warriors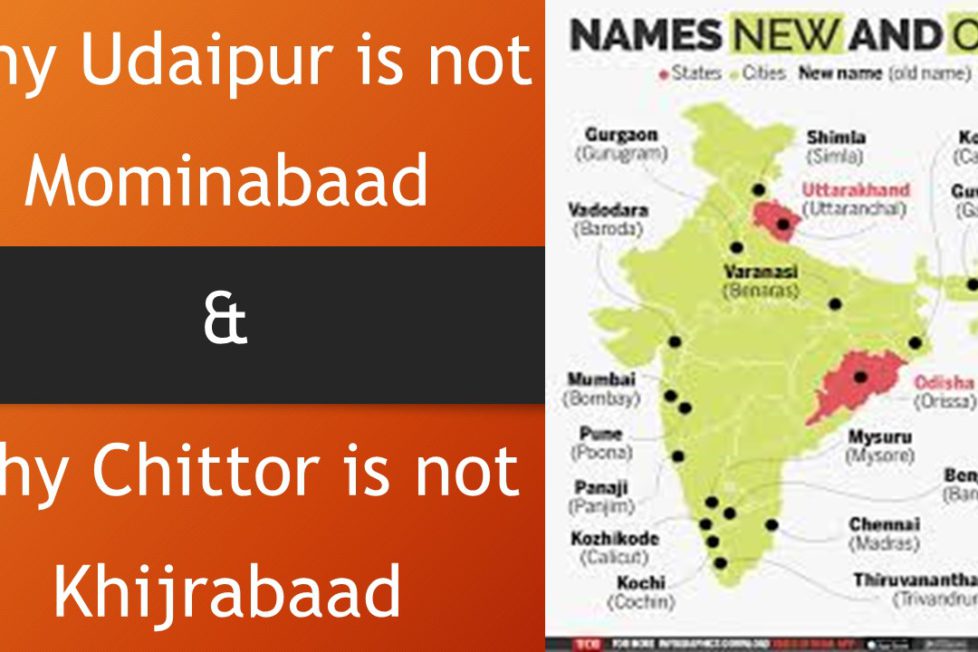 After the Third Saka, when Akbar slaughtered 40,000 Hindus in a day, Akbar renamed Chittor as Khijrabaad and Udaipur as Mominaabaad.
( To read more about the Third Saka see https://kreately.in/74-1-2-akbars-slaughter-of-hindus-of-chittor/ )
How liberal then was Akbar , if he had his way then we would be calling Chittor and Udaipur as Khijrabaad and Mominabaad.
But because the Hindus of Mewar saw the smoke of Jauhar rising from the fort of Chittor …
Because the news of 8000 Hindus slaughtering 32,000 Mughals before laying their lives for Matribhoomi reached every Hindu Of Mewar …
Because the tales of the supreme valour of Jaimal Rathore and Patta Chundawat reached every household of Mewar …
Because the people of Mewar saw the resistance of Hindus trapped in Chittor fort for four months against the barbarism of Turks …
Because Maharana Pratap rose to lead the Hindus of Mewar to fight the Mughals …
Hindus of Mewar never adopted the names given by Akbar, and till today we have Chittor and Udaipur untouched by the darkness of Turks. When we refuse to surrender our glory and honor, even the mightiest powers have to yield.
Let us stop calling Karnawati as Ahmedabad ,
Harigadh as Aligarh
and Bhagyanagar as Hyderabad .
Sooner or later , Hindu leadership will be forced to officially change the names of these places too .
While Howdy Modi was going on at Houston :
When Trump uttered "Radical Islamic Terrorism," the people in the farthest rows stood up first, then people in the rows closer to dais stood up. And finally leaders in the first row stood up and joined the clapping.
The message is simple: leaders can not go against public opinion.
But public opinion is not something spontaneous that miraculously appears.
Public opinion is formed on the basis of information, knowledge, and interpretations of events that reach the public.
Our task is cut out: educate the public. There is no alternative to the long slog of reaching every Hindu mind, every Hindu home.
We have truth on our side. If we can not make even truth manifest, failure is ours.
World is not a proposition in which truth is assured self-proclamation. Truth has to be proclaimed, transmitted, and above all, lived.
If the people of Mewar , defeated , destroyed and intimidated did not yield to the Turk barbarism five hundred years ago , why should Hindus yield today ?
Let us stop referring to our cities with Turkish names and audaciously refer to them with Sanskrit names.
That will be our real tribute to Mewar.
DISCLAIMER: The author is solely responsible for the views expressed in this article. The author carries the responsibility for citing and/or licensing of images utilized within the text.