Republic Day Duty – #DecolonizeBooks at Indian Railway and Airport Book Stalls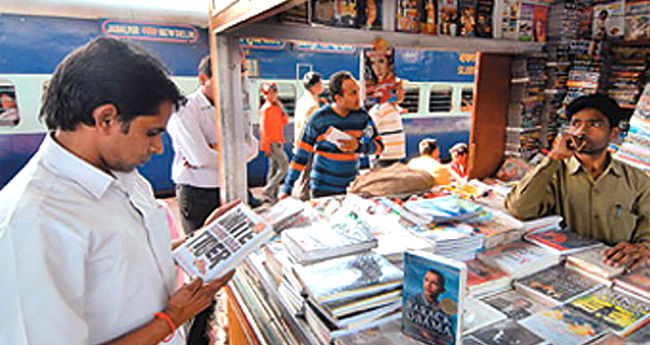 During my travels within India, I have visited many book stalls and bookstores.  Many of these have fancy English names!  This is probably because we are still mentally colonized and believe that literacy is a gift of the gora sahibs to us illiterate brown pagans.
Upon close examination, every bookstore is guilty of carrying ANTI INDIA books.  I have had extensive debates with the shop owners about why we are selling books which make India look BAD, and some of the replies/excuses are below:
1) I just work here; this is not my store.
2) I have not read any of the books; I just sell them.
3) The government needs to give us a list of which books to sell.
4) Foreigners love these books so we keep up with the demand.
Book stalls with major traffic suffer from the worst form of mental colonization and they sell the most variety of anti-India books.  Many bookstores don't carry works from globally popular desi authors such as Tagore, or even Deepak Chopra or Amish Tripathi.  Whether it be at railway bookstall in Jhansi, bookstore at the Raj Ghat in Delhi, shops around the Victoria memorial in Calcutta, the airport bookstore in Varanasi, Mumbai, Bangalore and even inside the book stall inside the Bharat Mata mandir in Kashi, the merchandise is full of Communist manifesto/anti-national books.  Examples of books sold: Self-appointed Chacha Nehru's ramblings on (failed) socialist experiments in India, fake historian Romila Thapar and her love affairs and writings about barbaric invaders, mullah in disguise Shashi Tharoor opining about why he's a bigger, better and a true Hindu, brainwashed brown sahib Ramchandra Guha's blabbering about his love for the fake Gandhis, Amartya Sen's works painting India as an impoverished, hopeless garbage pit.  These are the authors and the books which are being sold at the stores.
What Can you do?!
1) Please do Hindustan a favor on this Republic day and visit your local bookstore and demand pro-India books and reject the colonial garbage.  Kindly educate the shopkeeper on the dangers of peddling anti-national materials and the long-term effects on how India is perceived. 
2) Purchase a pro-India book. Communism can't beat sound economics and basic principles of supply and demand!
2) Sharing books on the following list might be a start to introduce a change —
https://voiceofdharma.org/books/
https://www.dharmadispatch.in/dispatches/the-dharma-dispatch-reading-list-to-kickstart-your-2019
https://indicbookclub.com/
(Please add to this list on your own and tweet it so others can benefit as well.)
Also, please add books and publishers you know in your own regional language to the above list and please tell your friends to help you introduce this incremental, yet highly incredible change throughout India, one bookstore at a time.  We owe this to our ancestors who have given their lives for our freedom as well as to our future generations – especially if they are to survive the current, oppressive times of fake news and marginalization of an entire civilization.
Let's get decolonized, together. Perhaps this will inspire long overdue changes at NCERT as well.
Vande Mataram.
DISCLAIMER: The author is solely responsible for the views expressed in this article. The author carries the responsibility for citing and/or licensing of images utilized within the text.