Sh Yogendra Shukla – The legendary Freedom Fighter from Bihar.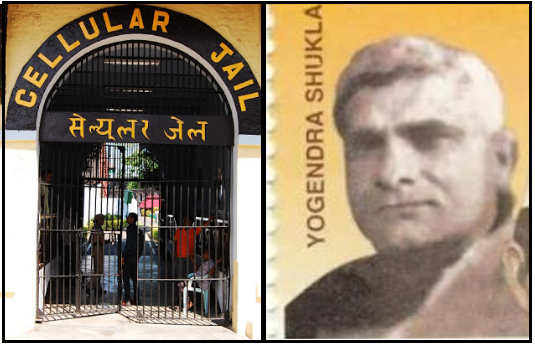 5 years of torturous incarceration of Kalapani at Andaman, Two daring Jail break with total 17 years of rigorous impoundment is small glimpse of otherwise a long harrowing  life story of Late Sh Yogendra Shukla (1896-1960),One of the foremost organizer and fierce freedom fighter from Bihar.
Historians and academics had been too cruel and savage to the memory and sacrifice of this legendary son. Erased from the books, Late Sh Yogendra Shukla has been reduced to some footnotes and passing reference despite such great valor.
The only child of a farmer father Late Sh Nanhuk Shukla of Jalalpur village in Vaishali district, he was a charming baby of his Joint family. However in early childhood, he suffered the grievous emotional loss with the demise of his Mother. The village life and thereafter education at Bhumihar Brahmin Collegiate School at Muzaffarpur was the only few years when he could enjoy, play, study and lead a normal life.
Destiny had not been kind to him. Rather he chose an agonizing life to challenge his destiny. He was greatly inspired by the sacrifice of Khudiram Bose, a just 16 year young Bengali Sweet boy, who inspired a generation of revolutionaries through his supreme sacrifice.
Late Sh Yogendra Shukla was a man of burly muscular built and imperial strength. No restrain worked for him. He could not tame his rage against British and plunged into a lifelong struggle. He was a true revolutionary. An astute and brave man blessed with great physical and mental prowess, he moved north to associate himself with the activities of other revolutionaries operating from UP and Punjab.
Soon his daring stories brought him in association with legendary Bhagat Singh and Batukeshwar Dutta. Both were highly impressed with the thought and perseverance of Sh Yogendra Shukla. For many good years Sh Yogendra Shukla was the senior associate, mentor and trainer of Bhagat Singh and Batukeshwar Datta. Bhagat Singh was hanged by British at Lahore at an early age of 24 in 1931. Pained, grieved and broken, Sh Yogendra Shukla decided to build his organization back in Bihar.
At the young age of 36, in 1932, he was tricked and caught by British Spy and sent to Andaman Nicobar along with Kedar Mani Shukla and Shyamdeo Narayan the other two associates.
Prison in Andaman and Life as a freedom fighter was living hell. No contact from outside world and endless torture physical assault was routine over there. He was manacled, made to eat rice riddled with worms. Any resistance to this food was brutally responded. A rubber catheter used to be inserted through the nostril through to the gullet into the stomach for force feeding. Many never survived this torture. No medical relief was available. Along with fellow prisoners in groups, he was chained like bullocks, blindfolded and dragged to the oil mills. In a humid condition, grinding mustard seed for endless hours was among the ordinary punishment. Flogging at intermittent hours was normal practice.
Generation of today who are unaware of savagery inflicted upon these mortal men at times fail to appreciate the cost of freedom they have paid for our freedom.
In 1938, Sh Yogendra Shukla was transferred to Hazaribagh Central Jail as a result of his 46 days of hunger strike at Andmaan. Little better but the notoriety and physical torture of central Jail at Hazaribagh was no better.
1937, congress ministry in Bihar under the leadership of another towering leader Shri Krishna Sinha turned out to be an assuaging factor. Sh Sinha confronted the British for the release of the political leader and resigned from the Government on this issue. The resignation of the Government brought a brief solace as Sh Yogendra was released from the Jail in 1938.
1940, a brief two year of personal freedom and political struggle alerted British again. Subsequently he was again arrested along with Sh Jai Prakash Narayan, Sh Ramnandana Mishra and Sh Shaligram Singh. Prison was no deterrent to this fearless man. It is on record that Sh Shukla underwent inhumane torture during those prison captivity.
In 1942, the call of the Quit India movement stirred him from inside. In a daring move, he along with Jap Prakash Narayan, Suraj Narayan Singh, Gulab Chand Gupta, Ramnandan Mishra and Sh Shaligram Singh scaled up the towering wall in mid night and ran away from the captivity. Sh Jayprakash Narayan was ill and unable to sprint or take an arduous journey. Undaunted, Sh Yogendra Shukla lifted him on his shoulder and walked through a distance of nearly 124 KM to Gaya for safety.
While writing about this Sturdy manhood, I am sure, it would remain an unbelievable story for posterity.
Sh Yogendra Shukla led ​the ​quit India movement from the front at Muzaffarpur. Some of his close associates were then imprisoned in Muzaffarpur Jail. In a daring exercise, he led them to escape the jail. Yes it was on 6th Dec 1942, the security of jail was breached and Sh Surajdeo Singh, Sh Ram Babu Kalwar, Sh Brahmanand Gupta and Sh Ganesh Rai were guided to safety in a spectacular action.
British had announced a big sum of reward on Sh Yogendra Shukla. He was tricked and deceived to be arrested soon and sent to Buxar Jail. There was a murderous assault on him by British during incarceration. It was his physical strength that he could survive yet again.
In 1946, the local Government pressurized British to set him free. Sh Yogendra Shukla was now exactly 50 years old. Years of physical assault and distress had taken a heavy toll on him. India attained freedom on 15th August 1947 and Sh Yogendra Shukla has had his fulfilment of Pride, happiness and satisfaction of over 3 decades of arduous journey.
Relieved and dignified in free India, restlessness was slowly disappearing from his personality. Yet he kept himself engaged for social causes through the Praja Socialist Party. He was nominated to Bihar legislative council for his service to Society in 1958. As a member, he remained active and vocal for the rightful cause of poor and downtrodden society.
In 1960, Sh Shukla fell seriously ill.  Year of tribulation was now heaping weakness and infirmity. The Sturdy man who lifted Jayprakash Narayan and walked through 124 KM on his shoulder once, was now barely able to manage himself. It was on 19th November 1960, He finally left his mortal body to set for heavenly abode.       
Remembering and reciting his memory, his perseverance and love for nation is perhaps only tribute to the great SON of Soil.
DISCLAIMER: The author is solely responsible for the views expressed in this article. The author carries the responsibility for citing and/or licensing of images utilized within the text.