Presstitutes Silent Over 26 Year Old Rinku Sharma's Lynching By Jihadis, Now Normalise Disha Ravi's Authorship In Riot "Too Kit"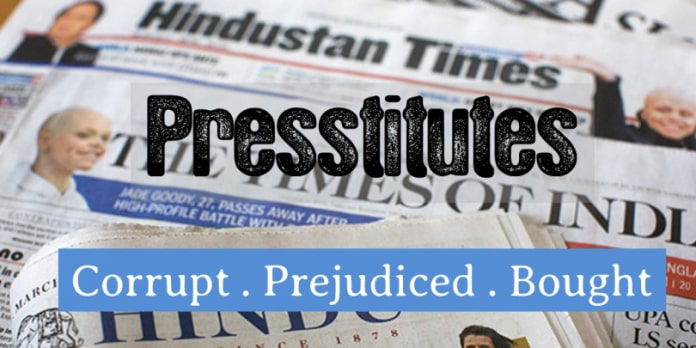 Even after full four days of 26 year old Rinku SHarma's public lynching by jihadis in Delhi's Mangolpuri, the so-called mainstream media, consisting of card carrying members of the communists, Congress, Jihadis and Christian missionary cabal, either went completely silent over his lynching or went spinning stories about an non-existent business dispute with the jihadi Muslim neighbours who lynched Rinku Sharma in a frenzied manner.
But from yesterday afternoon they are on a overdrive to save a self-styled climate activist, whose activism had little to do with climate change and more to undermine an elected government in India, much before even the new Farm Laws were enacted.
Even if one looks the other about her jaundiced views of "Muslims are unsafe in India" peddling the narrative set by the commies-jihadis-Christian missionaries in the mainstream media and academics infested with such hate spewing individuals.
This cabal has graduated further, it has now started brazen subversive activities under the garb of democratic protests since December 2020.
Few days back juvenile Swedish climate activist had inadvertently posted from her twitter handle a "Tool Kit" giving away the conspiracy to defame India internationally by spreading a canard that Modi government is oppressing the protesting farmers and planned for a genocide of Indian farmers to favour his corporate friends, Ambani and Adani through the newly enacted Farm Laws.
While the reality is opposite, the Modi government enacted the new Farm Laws to unshackle small and marginal Indian farmers from the stranglehold of the APMC mandi and its commission extorting middlemen.
On 13th February, Delhi police arrested Disha Ravi from Bangalore for her role in authoring and editing the Greta Thunberg's Tool Kit. In fact, police found that it was Disha who had edited the tool kit and passed it on to Greta Thunberg and when Greta inadvertently posted it on the social media platform, twitter, it was Disha who urged Greta to delete the incriminating post, which she did.
Moreover the Tool Kit itself was produced by UK based Khalistani activist Mo Dhaliwal's PR agency. Notably, Mo Dhaliwal's PR agency had also paid international pop star Rihanna $2.5Million for one single tweet in support of the Khalistani propped farmers' protest.
Notably, Disha Ravi has been found by the Delhi Police to be an Editor of the subversive Tool Kit Google Document and a key conspirator in the document's formulation and dissemination. The police stated that she started a WhatsApp Group and collaborated to make the Tool Kit document. The Delhi Police added that she worked closely with the Khalistani group, Poetic Justice Foundation to draft the document essentially aimed at creating Disaffection Against the Indian State
As usual the whole the whole fake news cabal of so-called journalists and media houses ranging from The Times Of India to the more rabid Print, Wire, Caravan etc. has started beating its chest saying that a "young" 21 year old activist has been arrested because she was exercising her democratic rights and protesting against the new Farm Laws. The cabal also comes up with tear jerkers like, she is the sole bredwinner of her family and a dog lover, a vegan, edited only two lines of the document, it is witch hunt against climate activists to delegitimise the framers' protests, etc.
The whole exercise by these break India cabal is to normalise seditious, treasonous, and terrorist activities as they have been doing by claiming in the past: Burhan Wani, a AK47 totting mass murderer, terrorist on the loose was for them a poor headmaster's son; Stan Swamy, A Jesuit priest harvesting souls of poor, vulnerable Hindu Dalits & Tribals and inciting them to rioting is a feeble 83 year old humanitarian.
The same suspects went hammer and tongs against 90 year old Lata Mangeshkar and ace-cricketer Sachin Tendulkar, for tweeting to stand with India against propaganda as soon as the tweets of pop star Rihanna, porn star Miya Khalifa, Kamala Harris' niece Meena Harris and Greta Thunberg defaming India as committing "genocide of farmers" surfaced.This cabal was quiet when a 90 year old Lata Mangeshkar was threatened by Maharashtra's Home Minister Anil Deshmukh stating he has ordered investigations against all celebrities who tweeted in support India Stands United Against Propaganda.
It is no wonder that the fake media news peddlers and the so-called intellectuals, people who rationalise jihadi and naxal terrorism, are doing what they are doing, as a recent expose by String Reveals, YouTube channel exposed their nexus with the economic terrorist George Soros, the man behind funding anarchy world over according to the wishes of the global network of powerful lobbies which wants to weaken India's economy and unity and integrity.
DISCLAIMER: The author is solely responsible for the views expressed in this article. The author carries the responsibility for citing and/or licensing of images utilized within the text.