Sterlite Copper Judgement In Chennai, How Church & China control it all?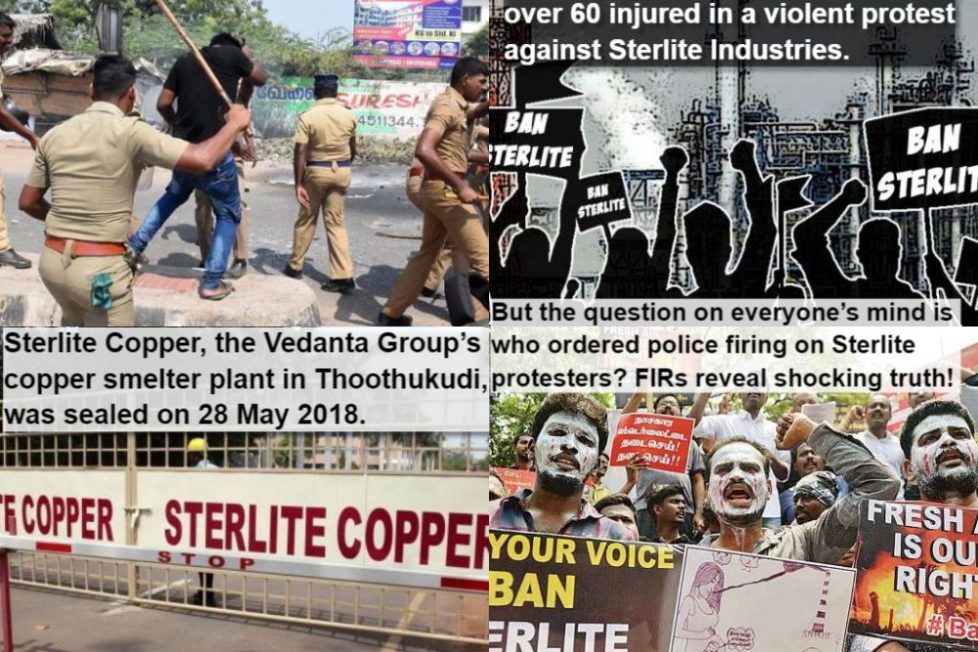 The judgment of the Hon'ble Chennai High Court against the Sterlite plant in Thoothukudi is very unfortunate
This is a great disaster to the industrial sectors. We expect Vedanta to appeal to the Hon'ble Supreme Court
Prior to 1995, Sulfuric Acid was monopolized by Kamar Chemicals in Ranipettai, Chipkat for supply to the southern districts.
During the period 1994-95, Varuni Biomass & Energy Products was started by two Madurai Saurashtra employers along the National Highway near Kodairodu ….
Sulfuric acid rated the same in Ranipettai and Madurai Varuni. However, Varuni was doing well due to the low lorry rental.Around the same time, the Thoothukudi Sterlite Copper Plant came into operation.
They got sulfuric acid as a by-product when making copper sheets. Excess sulfuric acid alone is about 1000 tons per day. At that time, Vedanta was selling sulfuric acid for just 30 pause when it was sold at 4.50 per kg.
Sulfuric acid is also known as King of Acids. Sulfuric acid is the source of more than 100 products.
Panchayat – Municipality – Corporations will use the available water source to purify the water and provide it to the people as drinking soft water. Aluminum Sulphate for softening the water can only be made with sulfuric acid …
When you go by bus or train you will have noticed small board in the paddy fields that indicates Zinc Sulphate fertilized field. The raw material for making Zinc Sulphate is sulfuric acid.
Dindigul – You have seen tanneries in Ranipettai areas … the key element for producing Ferrous Sulphate is Sulfuric Acid ….
Slaves cows travel by lorry from Tamil Nadu to Kerala. Everyone has seen, Cow bones (which smell bad) come to Tamil Nadu from the same Kerala. The bones of cows (animals) contain natural Calcium Phosphate … Super Phosphate of Lime is derived if sulfuric acid is poured into them. This is also the best fertilizer for paddy …
We find tea gardens in Nellai District Manjolai – Kodaikanal – Ooty – and in many parts of Kerala. Copper Sulphate is used to protect the tea plant from pests. Sulfuric acid is also used for this purpose.
Waste engine oil in lorries and buses will look like black sewer. Sulfuric acid is used as a raw material for cleaning and recycling use.
After the start of operation of the Sterlite plant, the above manufacturing companies spread like wildfire all over Tamil Nadu and tens of thousands of people lived by it. The lives of those many people now is a great disaster. In addition, Sterlite employed about 15,000 people, all of which are now extinct.
In general, China is the world leader in copper plate production today, Sterlite was evolving as a competition for that.
With the sole aim of bringing down the Indian economy, the Naxals, the Christian clergy and the treacherous political parties have gathered together as Chinese missionaries and brainwashed innocent civilians and achieved interim success.
It is surprising that the Hon'ble Court did not take note of these. Did Vedanta not properly handle its case in court? A suspicion arises.
This verdict ensures that no one will come forward to set up a big factory in Tamil Nadu. Overall, the Hon'ble High Court verdict is shocking
I want Vedanta to appeal and get Supreme Court permission to operate Sterlite in Thoothukudi again.
DISCLAIMER: The author is solely responsible for the views expressed in this article. The author carries the responsibility for citing and/or licensing of images utilized within the text.