Swami Lakshmanananda: 23rd Aug & His Murder by Naxal & Conversion Thug.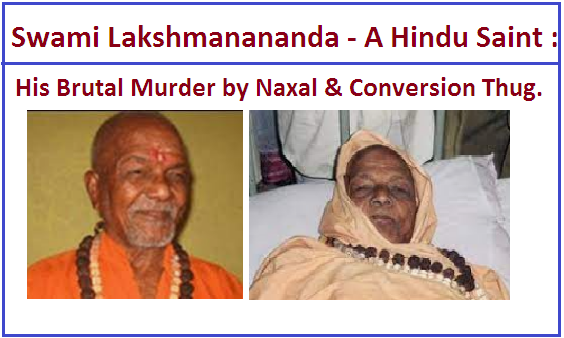 A fateful night on 23rd August 2008. While engaged in his spiritual discourse with his followers at Kandhamal district in Orissa, Swami Lakshmananand an 84 Year Old Hindu Saint and Social reformer was murdered.  Nearly 30 Naxal barged in his cottage, sprayed Bullets and assassinated him. A treacherous, brutal and cold blooded.
No outrage? No media trial? Forget judicial activism? And the Spineless Executive had every pressing item to attend except for the killing of Hindu Saint.
Who was Swami jee? Why Maoist were Maoists fearful of him? Why Conversion mafia abuse and spread venom against this Hindu Saint?
A moving force behind Goraksha Andolan (anti-cow slaughter movement) since 1966, Swami Lakshmanananda was engaged in spiritual upliftment of tribal and weaker sections of society in the one of the remotest and underdeveloped areas of Orissa. His social work and assiduous work to uplift the rural society was only optimism pervading in those days among tribal citizens of this poverty stricken area. Quite popular, Swami jee was a Social reformer and Spiritual Icon for local tribal Society.
Manava Seva is Madhava Seva' (Service to mankind is service to God) his idea and roaring voice had unified the Tribal and Weaker section of society for higher moral values in life.
Naxal and Conversion mafia, intricately connected, were finding Swami ji as the only impediment in carrying out their conversion agenda and plundering the natural wealth in that area. Intelligence inputs indicated a conspiratorial role of the conversion mafia to eliminate him.
Nine attempts to Kill Swami jee are on record, when the assailant could not succeed in eliminating him.  In one brutal attack in 2007 in the Daringbadi area, Swami Jee sustained grievous injury. The repeated message to administration remained unheard. Finally on 23rd August 2008, the fateful evening 8 PM, Swami was brutally assaulted and killed by a mob of over 30 naxal and conversion Thugs.
Swami Lakshmanananda incessantly fought against the fraudulent conversion by Christian missionaries. His work in the tribal world had been the biggest stumbling block to the conversion thugs. Role of some conversion activists, a local archbishop and a political leader in the conspiracy was well known to local media and administration. Yet nothing was done to prevent his murder.
Post his murder, judicial committee was appointed, report submitted but nothing was published. No Justice has been served. Both Justice has been delayed and denied to him.
Sadly, Sanatana Hindus' conscience is sleeping. No outrage is visible. The Murder of Swami Lakshmanananda is not a failure of criminal Justice system but it reveal the sordid state of incompetence spread in the Judicial and Executive function of India. Naxal and Conversion Thug if not checked today, generations will pay the price.
DISCLAIMER: The author is solely responsible for the views expressed in this article. The author carries the responsibility for citing and/or licensing of images utilized within the text.