"Taiwan is not China": Hackers message to Beijing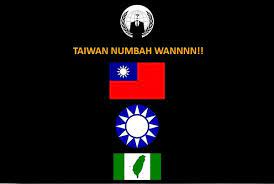 Decentralized global hacktivist group Anonymous has hewed into a Chinese government website to upload the words "Taiwan Numbah Wan" and Taiwan's national flag and emblem, among other signs of defiance against the Chinese Communist Party (CPP) while also calling for a peaceful resolution to the crisis in Ukraine.
On Friday (Jan. 14), Anonymous hacked into www.polar.org.cn, a Chinese government website affiliated with the Polar Research Institute of China, a subsidiary of the country's Ministry of Natural Resources. The website has since been taken down.
In anticipation of the administrator deleting the destruction of the website, the hacktivists saved an archived version on the Internet Archive's Wayback Machine.
The hacktivists made a page under the "projects" section of the website titled "We are Anonymous!" Under "detailed description," the Anonymous logo appeared, followed by the "Taiwan Numbah Wan!" meme. This was a reference to a famous quote uttered by video game streamer AngryPug in 2015 to antagonize Chinese streamer Em0 during a match in the game H1Z1.
Below the tagline was Taiwan's national flag followed by its national emblem. The next flag stated was the black nine-pointed star and yellow discs first used during the Wuchang Uprising in modern-day Wuhan that the Republic of China Army used as its standard from 1911 to 1928.
DISCLAIMER: The author is solely responsible for the views expressed in this article. The author carries the responsibility for citing and/or licensing of images utilized within the text.