Temple Land Worth 170Cr Reclaimed From Mosque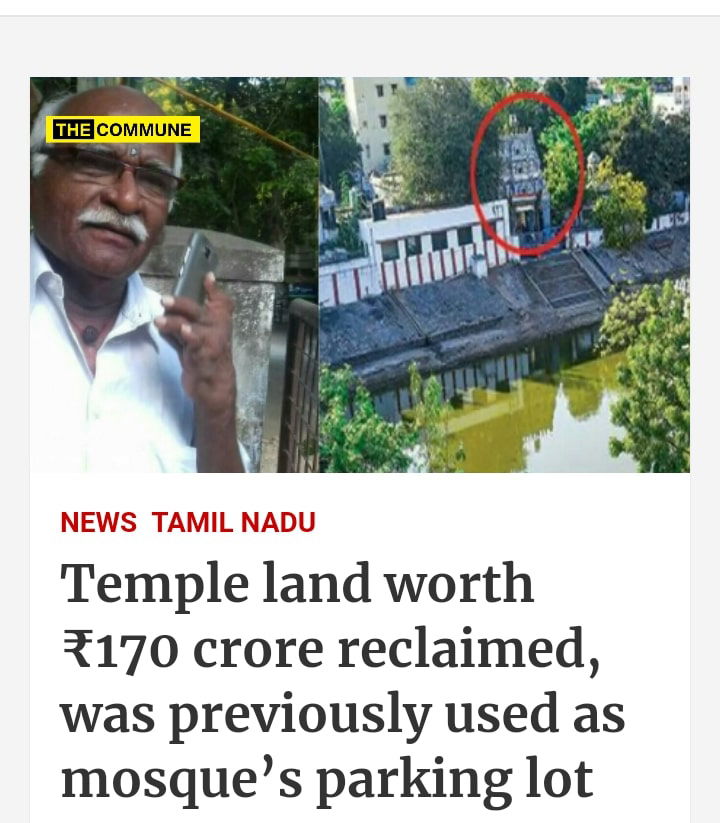 In Tamil Nadu, the Hindu Religious & Charitable Endowments had admitted to the Madras High Court in 2018, that 50,000 acres of temple land are under encroachment in 2018. The Hindu Religious and Charitable Endowments Department has completely failed in protecting temple funds and temple property. One such case is the Agastheeswarar Temple in Nungambakkam Chennai.
The Commune reported on 30.01.2021 that the Agastheeswarar Temple traditionally owned nearly 350 .grounds of land surrounding it. The temple now possesses only 93 grounds.
Srinivasan, the hereditary temple trustee had misused the Chennai City Tenants Protection Act and had sold 138 grounds of temple land without mandatory permissions under the Act. The remaining 212 grounds were either encroached or taken over by the government.
Srinivasan had leased 15 grounds of land belonging to the temple and had been running a school.  Later, he seized the land abusing the provisions of the Chennai City Tenant Protection Act.
The temple administration sued Srinivasan as he did not pay the money that he owed the temple from the lease. Despite the court ruling in 2007 that the land belonged to the temple, Srinivasan did not return the land.
The Tamil Nadu Hindu Religious and Charitable Endowments (HR&CE) department is also said to have been acting in favour of Srinivasan.
He is said to have closed the school he was running on the land and had converted into a commercial complex which was also allegedly used as a parking lot for the nearby mosque. Also, he had used the land as a collateral to obtain ₹64 crores as loan from State Bank of India.
In light of this, Mohan Raj, son of Thyagi Nellai Jebamani, filed a case in the court to recover the property of the Nungambakkam Agastheeswarar temple. Following this, the Chennai High Court ordered the HR&CE Commissioner to recover the assets sold outside Section 34. Following this, the HR&CE Department has started taking action to recover the property of the Nungambakkam Agastheeswarar temple.
Mohan Raj is a retired police officer who was instrumental in the arrest of the Rajiv Gandhi Assassination convicts, including Saanthan. Mohan is now earning appreciations for helping the temple recover the land.
The activism of Shri Mohan Raj in recovering temple land is hugely appreciated by the crores of Hindu devotees who want Hindu temples to be freed from the clutches of government control which has only aided in encroachments and illegal lease and sale of temple properties.
Source of news: Article in The Commune dated 30.1.2021 titled, " Temple land worth 170 crore reclaimed, was previously used as mosque's parking lot".
DISCLAIMER: The author is solely responsible for the views expressed in this article. The author carries the responsibility for citing and/or licensing of images utilized within the text.