The Father of the Nation or The Micky Mouse?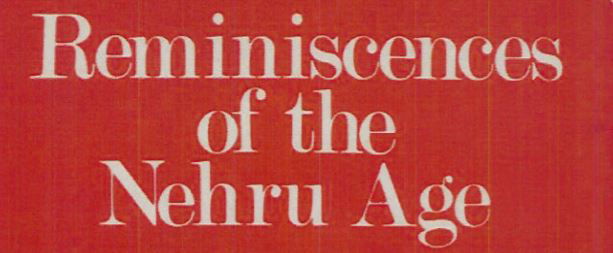 I have been pesonally celebrating 2nd October with great fervor and reverence for Bapu. I had known him as the Father of the Nation. I had joined choir for years, 'de di hamain azadi, bina khadak bina dhal, Sabarmati ke Sant tune kar diya kamal' (You (Gandhi ji) gave us (Indians) freedom without sword, without shield; You (Sabarmati ke Sant- Bapu), You did an incredible feat.'
When Prime Minister Modi launched Swatchh Bharat Abhiyan (Clean Bharat Movement) on 2nd October, my enthusiasum for celebrating 2nd October had really doubled.
But I got, if may say, a harsh return message from a friend of mine this time, who said, "Do you know the difference between, know and believe?" He continued, " You celebrate what you believe. You don't know. Know from those who know. The same person, of Bapu's time, pronounced him the Father of the Nation at one time and the Micky Mouse at another."
I couldn't believe the research he had done.
He said, "never think that that was Nehru. She was Sarojini Naidu." And he added, "Here is my source."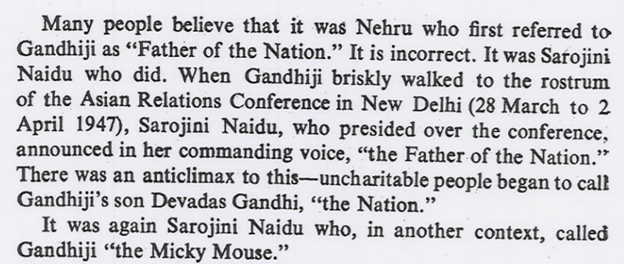 Source: The Reminiscences of the Nehru Age by M O Mathai, Vikas Publishing, 1978, page 36. (Mathai was the private secretary of Nehru, 1946-59).
He said, "read further. I am now quoting from page 30 of the same book. That is what Nehru's opinion was about Gandhi. This gives, at least, a small credence to Sarojini Naidu's 'the Micky Mouse' comment."
I must admit. The education never ends.
DISCLAIMER: The author is solely responsible for the views expressed in this article. The author carries the responsibility for citing and/or licensing of images utilized within the text.