The Relevance of Sri Ramcharitmanas in the Present Context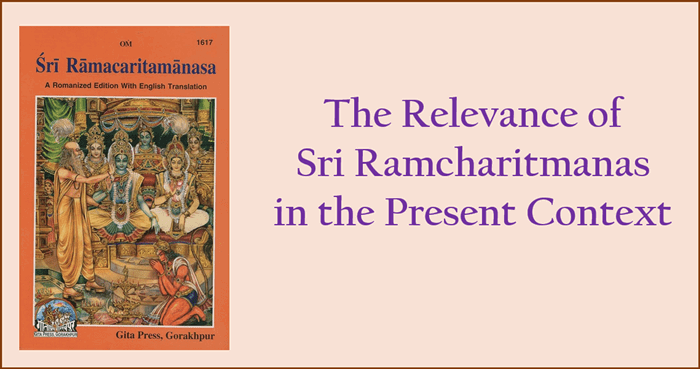 As a book containing a complete practical life philosophy, Shri Ramcharitmanas composed by Goswami Tulsidas has not been discussed, criticized, and reviewed as much as any other scripted book. Why not? After all, what other book has touched upon the various aspects of personal, family, social, and political life of us worldly creatures in such a poignant and clear manner? Whether it be the dignity and decency of the mutual relations of family members, the various aspects of society, the dignity of the mutual relations of the classes, or the state work and the duties of the king.
The social system depicted in the Shri Ramcharitmanas is not just an imagined ideal society and state. It is based on real-world experience and is practical. Through this book, Goswami Tulsidas has made an invaluable contribution to making life prosperous and happy through mutual love and respect, duty, and obedience. He has also done unprecedented work to eradicate many social ills through the characters of the Manas.
In today's context, one of the biggest challenges we face is the progressive decline of harmony in the social system. The situation has become so dire that even after 19 years into the 21st century and 69 years after the Indian Constitution came into force, we have not been able to break the cycle of casteism and stereotypes. Instead, we are becoming increasingly entangled in them, and we are struggling to cope with the present.
Harmony and National Unity in the Shri Ramcharitmanas
The contribution made by the Ramcharit Manas several hundred years ago to social harmony and national unity is not only as relevant today, but even more so.
If we look at the time period during which the Manas was created, we know that at that time, Indian society was divided into two main sects – Vaishnavism and Shaivism – in addition to the caste system. Like the followers of other world religions at that time, the followers of Hinduism were also divided into two groups, each considering their own sect (Vaishnavism or Shaivism) and deity (Lord Rama or Lord Shiva) to be superior. As a result, they often wasted their time and energy fighting with each other, which ultimately harmed the society.
A litterateur is a connoisseur of society, and they keep an eye on the direction of society. Through their writing, they play a role in eradicating evils and uplifting society. Goswami Tulsidas ji definitely played an important role in recovering the then society from the harm caused by this communal division through the Manas. By describing both forms of God (Lord Shiva and Lord Rama) as each other's devotees, and by showing respect for each other, he eradicated the conflict between their followers and worshippers.
In the Muni-Samagam of Prayagraj, described in the Balkand of the Ramayana, Sage Bhardwaj, in his dialogue with Sage Yajnavalkya, describes Lord Shiva as a worshiper of Lord Shri Ram. He says that everyone worships the imperishable Bholenath, while Lord Shiva himself worships Shri Ram. Let us discuss the glory of Ram –
"संतत जपत संभु अविनासी, सिव भगवान ज्ञान गुन रासी। 

सोपि राम महिमा मुनिराया, सिव उपदेश कीन्ह करि दाया।
After this –
सम्भु समय तेहि रामहिं देखा, उपजा हियँ अति हरष विसेषा ।

तिन्ह नृपसुतहिं कीन्ह परनामा, कहि सच्चिदानंद परधामा।।
and "जासु कथा कुम्भज ऋषि गाई ………सोइ मम इष्ट देव रघुबीरा ………." Shankar's repeated showing of respect to Ram through Shivs was certainly necessary and meaningful. It was aimed at ending the enmity towards Vaishnavism in the minds of Shaivites, and filling the gap between the two sects. This was a successful attempt at establishing mutual harmony between them.
Not only this, but in the Balkand, while narrating the story of Shri Ram's birth to Mata Parvati, Lord Shankar discussed with Kagbhusundi how he had stealthily roamed around Ayodhya in human form, watching Bal-Leela to experience the joy of the birth anniversary. This was done so that his mind would be filled with respect for God Ram.
Like –
औरउ एक कहउँ निज चोरी, सुनु गिरिजा अति दृढ़ मति तोरी।

कागभुशुण्डि संग हम दोऊ, मनुज रूप जानइ नहि कोऊ।

परमानन्द प्रेम सुख फूले, वीथिन्ह फिरहि मगन मन भूले।
The strange thing is that this love and respect is not one-sided, but purely mutual. A very beautiful glimpse of this is found in the flower garden, when Sitaji prays to Shankar-Priya Bhavani for a suitable groom for herself.
गयीं भवानी भवन बहोरी, बंदि चरन बोली कर जोरी। 

जय जय गिरिवर राज किशोरी, जय महेश मुख चंद चकोरी।
And at the time of the Dhanush Yagya, when she thought of Shri Ram's delicate body and the vastness of the Shiv Dhanush, she felt a little bit worried and disturbed in her mind and remembered Maa Bhavani and Lord Bholenath.
मन ही मन मनाव अकुलानी, होहु प्रसन्न महेस भवानी।

करहु सफल आपनि सेवकाई, करि हितु हरहु चाप गरुआई ।
If we delve a little deeper, we will find that the equation-unification of Shiva and Rama (i.e. Shaiva-Vaishnavism) is not an isolated incident, but is a widespread phenomenon. This is evident from the fact that the mutual love, respect, and worship of Shri Rama and Shiva has been a continuous thread throughout the Ramayana, from the Balakanda to the Uttarkanda.
Even in the context of his exile, Shri Rama, while leaving Ayodhya for his fourteen-year journey, remembers Lord Shiva along with Vighnaharta Ganesha and Mother Parvati.
"गणपति गौरि गिरीसु मनाई, चले असीस पाई रघुराई"।
Having crossed the Ganges, he once again bowed his head to Shiva before entering the forest.
"तब गणपति सिव सुमिरि प्रभु, नाइ सुरसरिहि माथ।

सखा अनुज सिय सहित वन, गवन कीन्ह रघुनाथ।"
When it comes to the traditional worship performed at the time of Setu Bandhan for the victory of Lanka, Lord Rama says,
करिहउँ इहां संभु थापना, मोरे ह्रदय परम कल्पना।

लिंग थापि विधिवत करि पूजा, सिव समान प्रिय मोहि न दूजा।

सिव द्रोही मम दास कहावा, सो नर मोहि सपनेहुँ नहि पावा।

संकर विमुख भगति चह मोरी, सो नारकी मूढ़ मति थोरी।

संकर प्रिय मम द्रोही, सिव द्रोही मम दास।

सो नर करहिं कल्प भरि, घोर नरक माह बास।
By making Rama say this, Tulsidas ji not only inspires but also compels the Vaishnavas to abandon their hostility towards the Shaivites and cultivate friendship.
How wonderful and pleasant it is that this sequence does not end with Setubandha, but continues to Lanka-Vijay. In the sequence of prayers offered by all the gods, Lord Shankar comes, with folded hands and utmost love. His eyes are filled with water like lotus eyes. Tripurari Shiva, with a happy body and a cheerful voice, pleads in a pleading manner:
"मामभिरक्षय रघुकुल नायक, धृत वर चाप रुचिर कर सायक।

अनुज जानकी सहित निरंतर, बसहु राम नृप मम उर अंतर।"
With this it goes on to say that-
"नाथ जबहि कौशल पुरी होइहि तिलक तुम्हार,

कृपासिंधु मैं आउब देखन चरित तुम्हार।"
After returning to Ayodhya and being crowned king, Shri Ram was once again visited by Shankar ji-
"बैनतेय सुनु संभु तहँ आये जहँ रघुबीर,

बिनय करत गद्गद गिरा बोले पुलक सरीर।

जय राम रमा रमनं समनं भवताप भयाकुल पाहि जनम…………………।"
And finally – "बरनि उमापति रामगुन हरखि गए कैलास।"
This is the matter of Manas' contribution to sect-based national unity. Now, let's talk about social harmony.
Social Harmony
If we look at it from the point of view of social harmony, then the Ramcharit Manas also shows us both the reflection and the path. Reflection, so that we can know the real form of our personality and corresponding work behavior and social contribution. And path, so that we can choose the right path and muster the courage and strength to walk on it, wherever we are wandering as a society.
In the same sequence, when Bharat goes to Chitrakoot to convince Shri Ram to return, he meets Nishadraj. A wonderful scene of harmony and dignity is seen when Nishad tells his name:
"देखि दूरी ते कहि निज नामू………." (To tell him that I belong to a lower caste), and Bharat's reaction to this gives evidence of this harmony when he leaves his chariot and goes towards her with great love.
"राम सखा सुनि स्यंदन त्यागा, चले उतरि उमगत अनुरागा।

करत निषाद दंडवत पाई, प्रेमहि भरत लीन्ह उर लाई।

भेंटत भरत ताहि अति प्रीती, लोग सिहाहिं प्रेम कइ रीती।"
And its unexpected culmination comes when, in Chitrakoot, Nishadraj bows to Rama from a distance out of fear and hesitation, being of a lower caste. But Sage Vashishtha, being a Brahmin, who cannot be imagined to be more exalted and prestigious at that time, meets Nishadraj by filling his arms.
"प्रेम पुलक केवट कहि नामू कीन्ह दूरि ते दंड प्रनामू,

रामसखा ऋषि बरबस भेंटा जिमि महि लुठत सनेह समेता।"
The social harmony described in the Manas is not limited to the Nishads (the so-called scheduled castes in today's social contexts). In fact, the Shri Ramcharitmanas also makes the tribe an integral and respected part of the society when Goswami Tulsidas ji has the monkey king Sugriva meet Lord Rama through Shri Hanuman ji.
Someone has called a monkey a male living in the forest. This means that Sugriva and the members of his army must not have been forest-dwelling castes, who would have been considered less "educated-civilized" than those living in towns and villages (although Hanuman was considered superior in terms of education). It would be unfair to put them in this category.
On meeting Rama and Lakshmana in Kishkindha, Hanuman introduced his king Sugriva and requested their friendship –
"नाथ शैल पर कपि पति रहई, ……..तेहि संग नाथ मयत्री कीजै।"
In the Kishkindhakand incident, Goswami Tulsidas did not simply want to describe friendship. Instead, he wanted to convey that a king (or ruler) must work hard for the success of any major endeavor, whether it be defeating an enemy or launching a large social or national campaign. Public participation (the support of all for the development of all) is essential.
The above-mentioned incidents in the Ramayana adequately confirm that social harmony through national integration has been a very important objective of the Ramacharitamanas.
DISCLAIMER: The author is solely responsible for the views expressed in this article. The author carries the responsibility for citing and/or licensing of images utilized within the text.