Why Ahmadis are allowed to sell books in Ujjain Book Festival?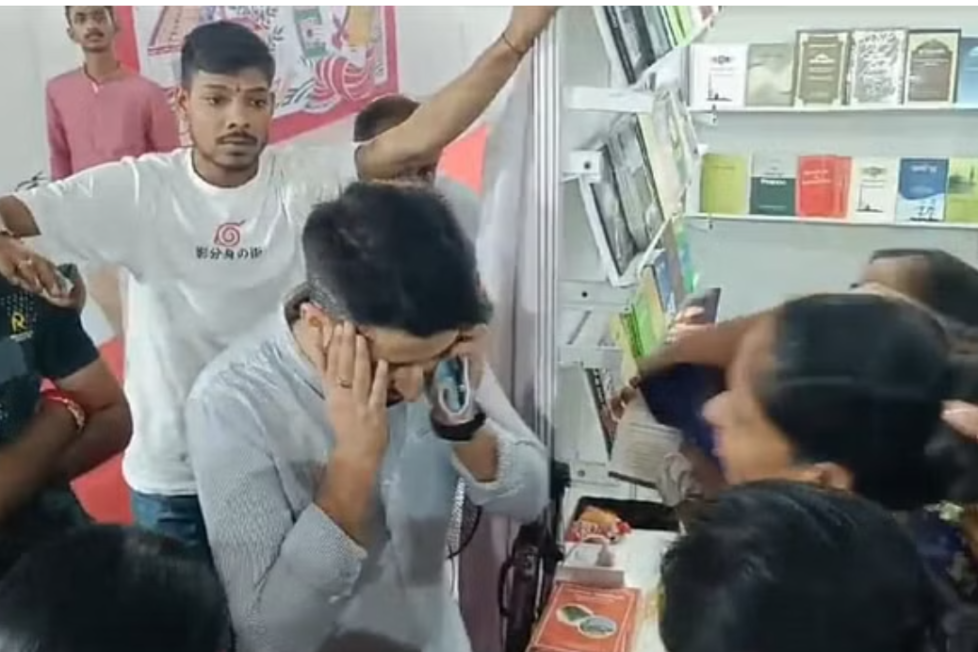 The Ujjain Book Festival is a regular feature in the city for many years.  It is well attended by people from all walks of life, specially those who are in Ujjain for Shraddha.  However, every year, a sizeable space at this venue is taken up by the Ahmadi Muslim community, who are world famous outside Bharat for proselytising their faith. The people of Bharat however have little or no idea how persistent these people are.
To give an example from outside Bharat, the Ahmadi community is present in a sizeable chunk in Britain.  Although they are not a large in numbers community worldwide, but wherever they are, they receive strong financial support from the community leaders to convert people from other faiths. In Britain, they have online presence through a website called LoveForAllHatredForNone, which claims to have 80 local branches spread all over the country.  In fact, the Ahmadis were the first Muslim missionary group to arrive in Britain during 1913. Overall they form around 6% of the British Muslim community, but they are financially very strong, and present themselves as the most willing to assimilate Muslim group in the west.  In the southern part of England they are concentrated in Wembley and Morden areas, where they are known to be aggressively engaged in proselytising.
Many Ahmadis have made fortunes in businesses.  There are several members of monarchy in African countries like Sierra Leone and Gambia, who belong to the Ahmadi faith. In India, Azeem Premji is rumoured to be of Ahmadi faith. The point is, they have no shortage of financial backing in any country where they exist.
In India, the Ahmadi call Qadiyan, Punjab as their base, as their Prophet Mirza Ghulam Ahmad was from Qadiyan.  This is why they are also called Qadiyanis.  Both Sunni and Shia Islam rejects them and calls them Kafir as they consider Mirza Ghulam Ahmad as the last Prophet.  At the same time, Ahmadis were the largest financial contributors to the formation of Pakistan. But soon after, during the 1970s, they were declared Kafir in the constitution of Pakistan.  So much so that they cannot call themselves Muslim, and they have to sign an undertaking before getting passport issued in Pakistan.  This gathers a lot of sympathy for them from various corners.  But at the end of the say, Ahmadis are large scale proselitisers and can give Yasu missionaries in India a run for their money.
Given this background, in India they should be treated like all other non Hindus, and the same rules should apply to them as far as Dharmic places are concerned.  It is the writer's personal experience that when encountered in any space, Ahmadis come after you with all weapons they have including sweet talk, money, community ties, impeccable mannerism etc, to convince the other person to go through their religious text.  The same happened at the book fair in Ujjain earlier this month.
An over zealous bookseller tried to sell the books to some ladies who happened to be members of Durga Vahini.  When they did not show interest, he tried to pursue them to share their phone numbers and other details in the hope that he would be able to deliver the books to them, and then they will be so inspired by the teachings, that they will convert to his kind of Islam.  However, the ladies were having none of that, and gave the man a sound thrashing.  The video went viral on social media but many didn't know the context in which this Abdul Salam was being beaten.
The larger question remains, why are these proselitysers being allowed to showcase their religious beliefs at a Hindu holy city? Who is responsible for organising these book fairs and what is the criteria for getting into spaces?  Why do we need to prove so badly that we are all inclusive tolerant and secular, that we compromise the sanctity of a place like Ujjain?
DISCLAIMER: The author is solely responsible for the views expressed in this article. The author carries the responsibility for citing and/or licensing of images utilized within the text.