The tectonic shift in the political positions of Punjab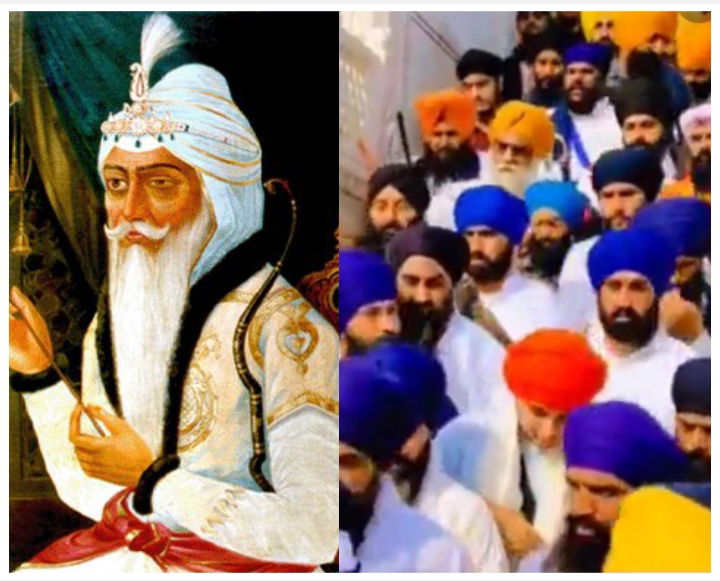 Bhartiya Civilization has lost many of its arms in the long battle it is fighting against Abrahamic powers. Though Bharat resisted the Abrahamic attacks and made sure its existence remains but it won't be wrong to say that it lost some of its most precious regions which includes the region of Sindhu, Gandhar, East Bengal. Kashmir, our civilizational crown is too standing on one leg and now the rise of separatist activities in Punjab has successfully installed a new fear. From the rule of Maharaja Ranjit Singh to a demand to create a separate country Khalistan, the sacred land has witnessed a tectonic shift in political positions.
Maharaja Ranjit Singh was born in Gujranwala on the 13th of November, 1780 to Maha Singh Sukerkechia and Raj Kaur. Maharaja Ranjit Singh had to lose an eye because of small pox which happened to him in his childhood days. He had his basic education in Gurmukhi. He spent more time outside in nature, learning horse riding, shooting. He had to take charge when just 10 years old owing to his father's ill health. When he was only 12 years of his age his father passed away and at this early age he became the heir of the throne. Punjab was pretty much in a state of chaos, when Ranjit Singh took charge of the misl.Ahmed Shah Abdali's empire had collapsed, Afghanistan was split, Peshawar and Kashmir had become independent. Nawab Muzaffar Khan had captured Multan, the Pathans controlled Kasur, Attock was taken over by the Wazhrikels. This was the situation in Punjab and North West in 1790s, when Ranjit Singh took charge. The first Sikh warrior to capture large tracts of Punjab was Jassa Singh Ahluwalia noted for his prowess on the battle field. With Abdali occupied at Panipat in 1761, he took advantage capturing Sirhind, Jagraon, Kot Isa Khan. However Jassa Singh was badly routed at the Battle of Ghalughara by Abdali, and he had to flee towards Kangra to escape the massacre.After Abdali's death, Taimur Shah ascended the throne at Kabul in 1773, by this time however most Misls established themselves in Punjab. Taimur Shah attacked Multan, drove out the Bhangi Sardars, however they managed to reoccupy it, as well as Lahore.When Shah Zaman ascended the throne at Kabul in 1793, he vowed to bring the entire Punjab under his heel, especially Lahore. Shah Zaman, was assisted by Nizam-Ud-Din Khan the Pathan ruler of Kasur, who was always loyal to the Afghans.Shah Zaman's first attempt however was a failure at Hassan Abdal, where the Sikhs routed his 7000 strong army under Ahmad Shahnachi. He again attacked in 1795, snatched Rohtas from the Sukerkechia Misl, Ranjit Singh however did not lose hope, recapturing Kabul when Shah Zaman returned to Rohtas again. Shah Zaman once again attacked in 1796, this time his target was Delhi itself, with a 3000 strong army.Sahib Singh of Patiala was one of those who joined hands with Shah Zaman, betraying his own people. The Rohillas, Wazir of Oudh, Tipu Sultan all promised assistance to Shah Zaman in his mission to capture Delhi. As the news of Shah Zaman's invasion spread, most of the leaders of the Misls abandoned their own people, and ran to the hills for safety. He swept into Punjab without any resistance, as most of the Misl leaders had already abandoned everything and fled. It was only Ranjit Singh who decided to fight back Shah Zaman, and called a meeting of all Sikh Sardars. His forces used surprise sorties at night to ambush the Afghans, this made them defeat em in several villages. In 1797, however Shah Zaman, had to return back to Kabul, when his brother Mahmud revolted in his absence. Shah Zaman put Shahnachi Khan in charge of Lahore and retreated towards Kabul, with the Sikhs in hot pursuit of him. Ranjit Singh pursued Shah Zaman upto Jhelum, and routed Shahnachi Khan at Ram Nagar, his first major achievement. His victory over the Afghans, his pursuit of Shah Zaman, made him now a hero of sorts among ordinary Sikhs.Shah Zaman once again attacked Punjab in 1798, and this time the retribution was brutal. Many villages in Punjab were burnt, the inhabitants massacred by the invading Afghans, as Shah Zaman swept inside.Once again Sada Kaur exhorted the Sikhs to fight for their honor at the Sharbat Khalsa, saying she herself would command the forces. She appealed to the Sikhs sense of pride, saying that an Afghani soldier was no match, and they had the blessings of Wahe Guru. Lahore was occupied by the Afghans in 1798, and Shah Zaman planned to attack Amritsar next. Ranjit Singh met the Afghans just 8 km from Amritsar, where a pitched battle was fought. He routed the Afghans near Amritsar, and pursued them towards Lahore, surrounding the city. Nawaz Ud Din Khan came to aid of Shah Zaman at Shahdara, but was completely routed by the Sikh forces.Ranjit Singh created such a strong wall of resistance, that the Afghans found it impossible to move towards Delhi. He forced Shah Zaman to retreat to Kabul, and routed his forces at Gujranwala.Shah Zaman himself was deposed and blinded by his brother, it's said he later came to seek refuge with Ranjit Singh. Ranjit Singh followed the typical Sikh policy of "take no prisoners", as the fleeing Afghans were massacred with no mercy and looted.With the Afghans in turmoil, many prominent citizens of Lahore, like Mian Ashak Mohd,Hakim Rai, asked Ranjit Singh to take over. July 6, 1799- Mobiling a 25000 strong army Ranjit Singh marched towards Lahore and by July 7, the entire city was surrounded. Sada Kaur attacked the Delhi Gate while Ranjit Singh rode the walls of Lahore, and blew them apart with cannons. With minimal resistance, Ranjit Singh entered Lahore, Sahib Singh who collaborated with the Afghans fled, fearing reprisals. Though the victorious Ranjit Singh entered Lahore, he now had to face some of the Sikh Sardars jealous of his growing power. The Sikh sardars of Amritsar, Wazirabad, joined hands with Nawaz Ud Din Khan to wrest Lahore from Ranjit Singh.Ranjit Singh however routed them, and soon established himself as the leader of all, crushing all challenges. He had to face not just the Afghans, but even fellow Sikh Sardars who were opposed to him, he defeated them all. With the capture of Lahore, Ranjit Singh soon crowned himself as Emperor at Lahore in 1801, founding the Sikh Empire. ( Credit- @SadaaShree )
But unfortunately the political positions of Punjab has underwent a huge change and that too not in the favour of Dharma. The seperatist sentiment is spreading very fast into the cities and villages of Punjab. Political parties have successfully managed to awaken the Khalistani sentiments which went down in deep slumber after operation bluestar. The view of the social and political changes in Punjab is frightening. Punjab is slipping from our hands. "Sant Jarnail Singh Bhindranwale" comes more into the ears than "Terrorist Jarnail Singh Bhindranwale" if you are walking into the unwashed streets of Punjab. Around 45 years ago Jarnail Singh Bhindranwale openly bragged that he will slaughter down Hindus living in Punjab if his demands to form a seperate country 'Khalistan" was not met. It seems the 45 year old threat is being turned into reality by Bhindranwale sympathizers. Hindus are the primary targets as Hindus are the greatest hindrance in the path of creation of a seperate country Khalistan. Hindus have always been in the forefront of resisting Adharmic forces. Protecting Hindus and the sacred land should be the aim of the Indian state. There is a need to hammer and crush the glorification and eulogizing of each and every idea associated with the creation of Khalistan. There is no place on earth which is today safe for Hindus. Be it Bharat or any foreign country. Even Bharat, which is a civilizational homeland of Hindus is unfortunately not a safe place for Hindus to live. More and more states of india are getting added into the list of states which can be considered hell for Hindus. In an span of 20 years, Kerala, Westbengal got added into the list and the newcomer which is joining is the state of 'Punjab'.
DISCLAIMER: The author is solely responsible for the views expressed in this article. The author carries the responsibility for citing and/or licensing of images utilized within the text.