Two Institutions churning out India's garbage graduates – Jawaharlal Nehru University & Jadavpur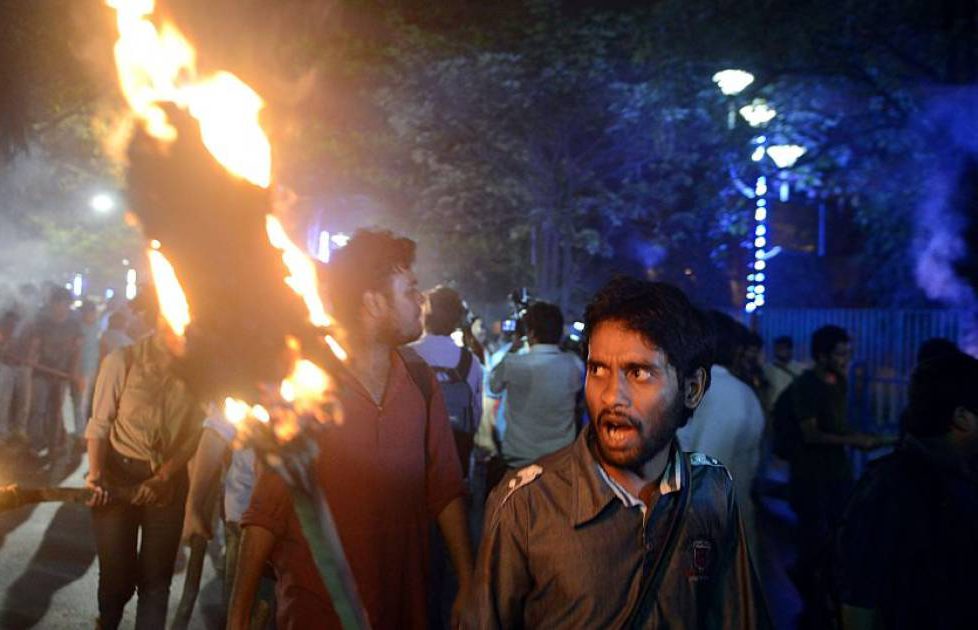 (Jadavpur University Student Mobs — Swarajya News)
First, there are good students and good graduates, even in the two Universities mentioned above. However, there are plenty of terrorists masking as students in these Universities.
Collegiate environment; studious students from varied backgrounds; competent professors and staff; learning and exchange of ideas in a harmonious environment; eagerness to contribute to society by advancing one's career, etc., are common to any University campus. However, NONE of these are observed at two, present-day Universities in India.
Jawaharlal Nehru University (JNU) is one and the Jadavpur University (JU) is the other. The situation wasn't always dire, but things have deteriorated fast over the years.
JNU, located in New Delhi was all over the news in 2016 when a so-called "student" named Kanhaiya Kumar, the President of the Students' Union held a protest on campus against the capital punishment to the terrorist named Mohammed Afzal Guru who was caught by the Indian law enforcement for the 2001 attack on the Indian Parliament. Kumar was later arrested by the Delhi police and charged with sedition. JNU students have been famous for threatening the Indian State and democracy by their tukde-tukde slogans. "Bharat Tere Tukde Honge, Insha Allah, Insha Allah" shouted the so-called students, vowing to break up India into small pieces. "I am from the tukde-tukde gang," boasted Kumar at a protest outside the now Education Ministry earlier this year.
Last year the tukde-tukde gang underwent an embarrassing incident where they decided to stage an attack on themselves in hopes of blaming a seemingly right-wing party in India. However, their script was worse than a cheaply produced Bollywood film. They were foolish enough to communicate with each other about the staged attack and apparently got exposed thanks to WhatsApp messages and again, boasting about having fooled the nation about their falsified antics.
JU, a failed University in Bengal is unable to keep itself out of the limelight as the students can't seem to understand civil discourse. Garbage professors such as Suranjan Das are often in the news as they incite the students and coach them through acts of planned violence.
Students being Terrorists
JU students have been brainwashed for generations to engage in anti-India activities. The students tend to view India as a fascist state which needs to be brought down. Arson, violence, physical attacks and manhandling is the norm on the JU campus. Vivek Agnihotri has exposed this anarchist cabal in his film Buddha in a Traffic Jam and his book the Urban Naxals and I suppose the Naxal students are angry and violent due to exposure. When Agnihotri visited the JU campus to promote his film he was attacked by "woke liberals, seculars" and he states that other "Bollywood idiots ridiculed me."
Ask yourself this — is such behavior by college students normal?
The commonalities in these failed universities is that students who usually have no scope of getting a job in the real world keep themselves engaged in anti-India activities. They are often active on social media and are wanna-be social justice warriors. They often major in garbage degrees like Comparative Literature and Post Colonial XYZ crap, feminist theories, and other made-up disciplines such as gender studies.
More, fake and garbage churning Universities will be featured here in the future. Two things to ponder — 1) Who is supporting these good-for-nothing majors, departments, professors, administrators and students?; 2) Why is the State asleep at the wheel when it comes to strictly dealing with such useless institutions?
DISCLAIMER: The author is solely responsible for the views expressed in this article. The author carries the responsibility for citing and/or licensing of images utilized within the text.