U.P Election-: The perfect blend of "Kamandal and Mandal" politics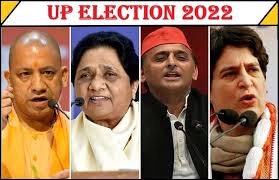 With more than 400 state assembly seats and around 80 loksabha seats U.P tops the priority meter of any political party weather it is a National party like BJP or any small regional party. U.P has more state assembly seats than all the seats of four states combined together (Manipur, Uttarakhand, Punjab, Goa). This clearly indicates the importance of U.P elections. Political pundits too claim that the way to Delhi goes from winning in U.P.
What is Kamandal and Mandal Politics?
BJP in the late 80s started the Ram Janambhoomi andolan and majority of the Hindus attached themselves with it and this also helped him in the next series of elections, to counter this then Prime Minister Narasimha Rao in 1993, implemented the recommendations of Mandal Commission after green signal was received from Supreme Court of India.
This somehow divided Hindus in castes and finally provided the required and much needed oxygen to the various regional political parties which are mainly based on caste.
BJP in U.P Elections 2017
After gaining more than 300+ seats in the 2017 elections on this own, BJP proved that it is not only concentrated in the Upper caste voters. BJP make coalition with small parties which have a strong hold in their caste.
With one Deputy CM from Backward community one from Brahmin community BJP quite firmly balance the Mandal and kamandal politics in 2017. BJP also handed several turncoats politicians cabinet ministry.
About U.P Elections 2022
With BSP not soo active in this election and congress party with more than 30+ years out the govt in UP also not soo strong and faceless this time the only party to challenge the heavyweight BJP is for now is SP.
SP had managed to won the 2nd position in U.P election soo far and now making it's effort for the top.
For securing the top position, on the one hand SP chief Akhilesh Yadav is merging small regional parties mainly the one from backward class, on the other hand he is also trying too woo Brahmins who are reportedly angry with the current Yogi government. For Jaats they have coalition with RLD, for non yadav OBC they have newly inducted Swami Prasad Maurya with them, for non Jaatav Dalit they have Rajbhar and some other too.
BJP on the other hand have Yogi from the Upper caste and Keshav Prasad Maurya from the backward caste. Also they a magnificent face of game changer Narendra Modi and political expert Amit Shah with them.
With the beginning of Ram Mandir and Kashi Vishwanath corridor BJP manages kamandal politics and with many prominent OBC,SC politicians and PM Modi have a strong hold in OBC and somewhat even through dalits, BJP is also trying to strike a relationship with other castes.
DISCLAIMER: The author is solely responsible for the views expressed in this article. The author carries the responsibility for citing and/or licensing of images utilized within the text.