UP: Nuns spit and burned images of hindu dieties in Sambhal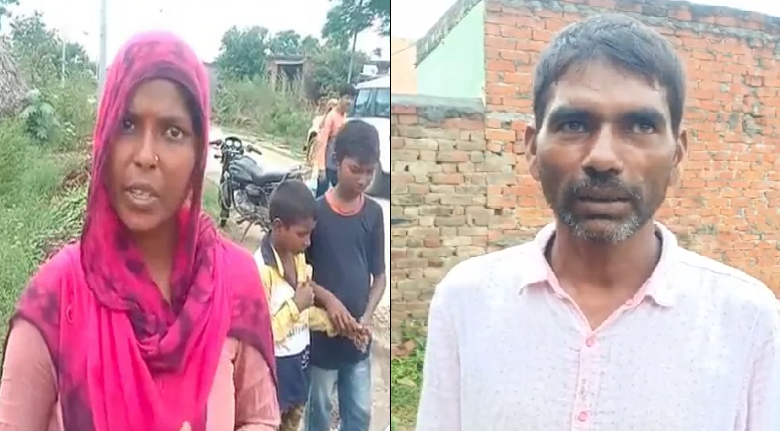 The harsh reality of Christian priests is now coming to light due to the democratization of discourse in the digital era, which is at odds with the carefully crafted image of Christian priests as "kind and compassionate", and the way Bollywood has framed them. In the UP district of Sambhal, two Christian nuns were detained for insulting, spitting on, and burning images of Hindu deities.
The nuns, who worked at CDM High School, a local Christian missionary school were enraged when the victim Sunita refused to convert to Christianity. Sunita is married to Christian William, and the two of them were coexisting peacefully in Sirsanal village while practicing their respective religions. Nevertheless, the nuns found this unacceptable. Obviously, Abrahamic proselytizers, whether they be Christian missionaries or Muslim dawah groups, are motivated by their attitude of exclusivism and supremacy, which undermines their claims of religious tolerance.
Pictures of four Hindu gods that Sunita used to worship were destroyed on September 21 by the Nuns Rose Marie and Jisa, who also broke into Sunita and William's home. They were also spat upon and burned.
#सम्भल में गिरजाघर की ईसाई नन पर जुल्म का आरोप,
घर में घुस कर हिंदू देवी देवताओं की तस्वीरें जलाने का आरोप,
पीड़ित विलियम ने वीडिओ वायरल कर मांगा न्याय,
पीड़ित विलियम है ईसाई, पत्नी है हिंदू, दोनों खुशी से करते हैं
नखासा थाना के गांव सिरसानाल का मामला@sambhalpolice @Uppolice pic.twitter.com/hGHhF6ksid

— Initiate News (INA NEWS) (@ina24news) September 22, 2022
Both of the accused nuns were detained by police in accordance with IPC Sections 452/504/506 and 153-A and the Uttar Pradesh Prohibition of Religion Act 3/5. (1). The Nakhasa police station had authority over the incident. To protect the pair, a police staff has been posted to provide protection to the couple.
While speaking to the media, Sunita claimed, "Both sisters were asking me to become Christian but I refused and told to remain Hindu." Sunita added that her two sons will also continue to practice Hinduism in the future.
This incident serves as yet another illustration of how the Christian conversion mafia, which is supported by the FCRA, is destroying Hindu society, tribal communities, and even individual families. Christian pastor, priest, or preacher engaging in hate speech against Hinduism, sexual assault, financial fraud, or outright secessionism is something we hear about on a weekly basis.
Meanwhile, the Sambhal district has a sizeable Muslim population but the same missionaries never operate in Muslim communities. Because they are aware of the risk of being openly lynched if they dare to criticize Islam or the Quran. However, Hindus are portrayed as "aggressors and fascists" in the mainstream media.
<
DISCLAIMER: The author is solely responsible for the views expressed in this article. The author carries the responsibility for citing and/or licensing of images utilized within the text.