Karnataka like Hijab controversy erupts in Kerala after a girl was barred from entering school for wearing hijab.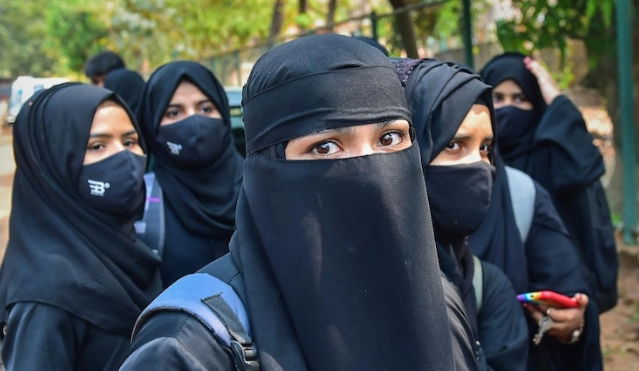 Hijab issues seems to be spreading across the country which started from Karnataka. Protests in Kerala's Kozhikode were organised after they girls were allegedly barred from entering school by wearing hijab. The demonstration turned furious due to the involvement of local Muslim organizations in this demonstration, in which 3 policemen are reported to be injured.
According to media reports, a class 11 girl student at Providence Girls Higher Secondary School in Kozhikode was allegedly refused to attend school for wearing a hijab. Following which some Muslim organizations including Muslim Youth League (MYL), Muslim Students Federation (MSF) and Students Islamic Organization (SIO) have demonstrated outside the school demanding action.
The report said that a class 11 Muslim girl was informed by the school authorities that she could not wear the hijab as the hijab was not part of the school uniform. After this, the parents had complained to the education department but no action was taken. In the end, the girl student took the Transfer Certificate (TC) from the school.
After the transfer certificate was taken by the student, Muslim organization Muslim Youth League had issued a statement saying, "Now, the girl student has taken the transfer certificate (TC) from that school. This is a violation of his fundamental right. Inaction on the part of the state government and non-action of such institutions cannot be accepted.
Muslim organizations had warned of agitation in this matter. And, when no action was taken by the government, these organizations gathered a crowd and started creating ruckus in front of the school. During this, when the police personnel tried to stop the protesting people, the protesters also attacked the police. Three policemen were injured in this attack. Following which, some protesters have been arrested.
Social activist Deepa Easwar has said in this regard that the students should follow the rules of the institution they are a part of. An educational institution is not a place to display one's religion. All students are treated equally. Therefore, the rules and policies of the school must be followed.
It is worth noting that earlier Karnataka's hijab controversy also started in the same way. Actually, a government college in Udupi district here had banned wearing hijab. In this case, the Karnataka High Court had also held that hijab is not a necessary religious practice. However, after this, a petition has also been filed in the Supreme Court in this matter. In this case, it has also been said by the Government of Karnataka that the hijab is not a part of the uniform and therefore it cannot be allowed to be worn.
DISCLAIMER: The author is solely responsible for the views expressed in this article. The author carries the responsibility for citing and/or licensing of images utilized within the text.