Western Hinduphobia: School Teacher Sacked In UK For Showing Muhammad Cartoons While Rutgers University Promotes Hinduphobic Audrey Truschke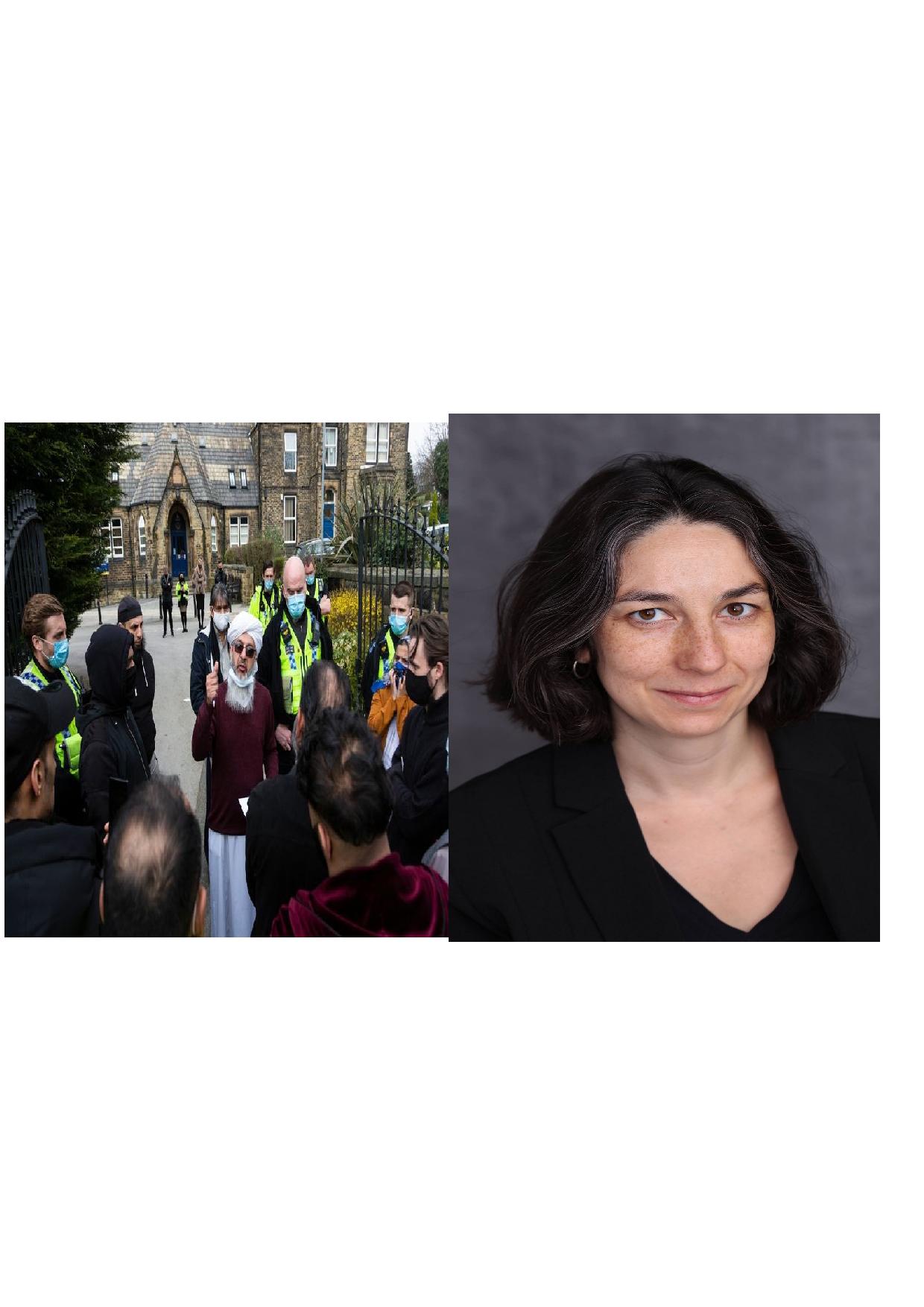 Western hypocrisy and Hinduphobia is disguised under the garb of 'freedom of expression' and 'academic freedom' while pandering to Islamist demands and mob-rule of supressing voices critical of Islam is very evident from two episodes which happened in quick succession in the area of academia in US and UK respectively.
On Thursday, there was a huge aggressive protest by Muslims outside Bately Grammar School near Bradford in the UK against a teacher of the school who showed Charlie Hebdo cartoons which had images of Muhammad to students during a religious lessons class this week.
The school to assuage the virulent Muslim parents and other Islamist outsiders, sacked the teacher who showed the Charlie Hebdo cartoons depicting image of Muhammad during his class. The school authorities also 'unequivocally' apologised to the Muslim parents and the community at large for 'hurting their sentiments'.
Despite the apology and sacking, the protests were so aggressive and threatening with people wearing full masks chanting intimidating slogans, which prompted to take the said teacher who showed the cartoon under police protection at a 'safe location'.
So, despite the school bending over backwards to accommodate Muslim sentiments, the Muslim community is trying to impose Shariat on UK by trying to implement their idea of blasphemy and punishment for blasphemy with life.
The education department instead of seeking arrest of the aggressive intimidating protestors are trying to assuage them by saying, that while they condemn the act of the school teacher as inappropriate, they also do not approve of the manner of protest.
Contrast this compromise in freedom of expression and academic freedom for appeasement of Islamist 'sentiments' with the strident manner in which the Rutgers University-Newark, New Jersey stands by the most Hinduphobic and vile professor of Soth-Asian history, Audrey Truschke, under the garb of the same 'freedom of expression and 'academic freedom'.
Audrey Truschke's main purpose in life seems to be to impose her hatred and venom for Hinduism and Hindus on the society under the garb of academic scholarship and research. Though the source for her outrageous claims like Devi Sita calling Lord Ram 'a misogynist p*g' are quite unknown and imaginary as the source cited by her, the translation of Ramayana by Prof. Robert Goldman was denied by the professor himself as highly inappropriate and mischievous on her part to misuse their names for giving expression to her own interpretations.
Audrey Truschke also has a penchant for whitewashing one of the most bigoted, tyrranical and barbaric Islamist Mughal ruler, Aurangzeb by claiming he was a fair administrator and protected more temples than he broke!
Audrey's claim, unfortunately for her is negated by Islamic chroniclers contemporary to Aurangzeb and after him. As the chroniclers themselves wrote how Aurangzeb took pride in genocide of Hindus, ordering demolition of ancient temples and building mosques over them as also passing edicts like no new temples should be allowed to be built in his kingdom. Audrey also manufactures lies to deny brutal torture and decapitation of Sikh Guru Tegh Bahadur by Aurangzeb for refusing to convert to Islam.
Audrey also loves to tweet abusively against Hindus trying to portray Hindus as 'lustful and sex obsessed', 'cow piss drinkers'. The Hindu students of the Rutgers University initiated a petition against her seeking the removal of Audrey Truschke from teaching a course related to Hinduism as Audrey has always portrayed Hinduism as a violent, extremist and sex-obsessed faith, which displays her bigotry and is nowhere near the real facts.
Her course and teachings in the Rutgers University was perpetrating hatred against Hinduism and Hindus, risking the safety of Hindu students and endangering their right to dignity and right to practice their faith without being bullied or ridiculed for ulterior motives. The Hindu students also felt that such venomous teaching by Audrey might even make them targets of hate crime.
The students had asked the University to acknowledge that Hindus in the varsity are religiously, racially and ethnically minoritized and thus should be provided the same protections and offered the same considerations as other minority students in the campus.
The Rutgers University instead of admonishing Audrey and refraining her from teaching anything related to Hinduism and her version of rehabilitating Mughal tyrants like Aurangzeb by denying genocide of Hindus, defended her Hinduphobia and stood by her by calling her works and views as 'academic freedom' in scholarship.
Thus, the two incidents, the Bately Grammar School incident where the school administration and authorities bent over backwards to immediately sack a teacher for just showing the Charlie Hebdo cartoons to students for initiating a discussion on religious tolerance and freedom of expression.
The authorities in UK also have not cracked down on the aggressive intimidatory manner of protest by the Islamists against the said teacher and school. In contrast we have the Rutgers University standing by Hinduphobic, abusive and vile Audrey Truschke as exercise of scholarly 'academic freedom'!
Is this bias because of the basic Hinduphobia and white supremacist tendency of the westerners while caving in to the bully and bigotry of Islamists? These are questions which needs answers without any trace of bias and Hinduphobia.
Lastly, Hinduphobia has been the most lucrative job in academics and art world since the time of colonial imperialism when so-called academia's work was only to facilitate colonial rule and force conversions to Christianity. For Hindus, being a target of both the predatory Abrahamic faiths nothing seems to have changed for better since the times of Islamic invasions and Christian imperialism in India.
DISCLAIMER: The author is solely responsible for the views expressed in this article. The author carries the responsibility for citing and/or licensing of images utilized within the text.