What augury does Biden win bring for left lobby?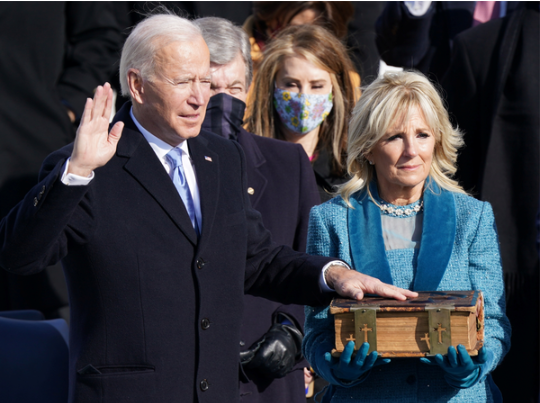 Left lobby is overly enthused by Biden victory. More so in India. What does the rein of power being passed on to a new administration in USA mean to left lobby in India? Nothing literally. So, why are so many of them expressing jubilation at such a turn of event?
They have developed a wishful thinking by drawing a parallel to the developments in USA to see something similar to emerge in India sometime soon. Trump gone and so too would Modi be. Little do they realise that Modi is not Trump. Nor is Congress liberal like they think Biden is. Joe Biden is unlikely to be guided by any consideration other than American interest in charting out relationship with other countries. Neither would it have been any different with somebody else in his place.
Trump administration openly backed Modi government's hardline policy against Pakistan. They had no issues with abrogation of article 370 and 35A. So, is it now to be assumed that Biden administration would have a problem with that because his predecessor, Trump's, did not have? Absolute rubbish! First of all, for those holding the rein of power in USA to think in terms of shifting the balance in favour of Pakistan, a rogue nation, it would go down as a foolhardy decision. Not many Americans would approve of it. In fact, many would hold it to be a suicidal step. Secondly, Pakistan does no more enjoy a hold over Afghanistan situation so that it can continue pressing that to its advantage.
Third, India of today is not what it used to be all these years. A pushover to be trifled with by any country who feels like doing it. Fourth, it's inconceivable to think of world economy doing well without Indian economy adding its value to it.
Fifth, China has proved to be one country which is unworthy of any trust as far as advancing relationship with it is concerned. Its rank disregard to world community in dealing with the deadly Covid-19 virus is there for all to see. Add to that its aggressive posturing against many of its neighbouring countries in general and India in particular, the picture of a bully is complete. Not to forget the tension it has with Japan, Australia, USA, Vietnam and many other countries in south China sea. The world, moreover, has come to realise fully the fallout of the unfair trade practices being indulged in by China since so many years. The danger it poses too to the sovereignty of other countries, is not something the world powers can gloss over. It doesn't even spare its so called friends. It goes on to appropriate their resources in the name of helping them build their critical infrastructure.
Liberal or no liberal, no American administration can choose to side with Pakistan and China. USA and the world need India for world peace and prosperity. India is the dependable bull-work against evil machinations of China and Pakistan. Any country, more so America, would ignore it at its own peril.
Meanwhile, the lunatic left lobby may go nuts, salivating at the prospect of a regime change in India in line with USA.
DISCLAIMER: The author is solely responsible for the views expressed in this article. The author carries the responsibility for citing and/or licensing of images utilized within the text.