What happened after Operation Blue Star?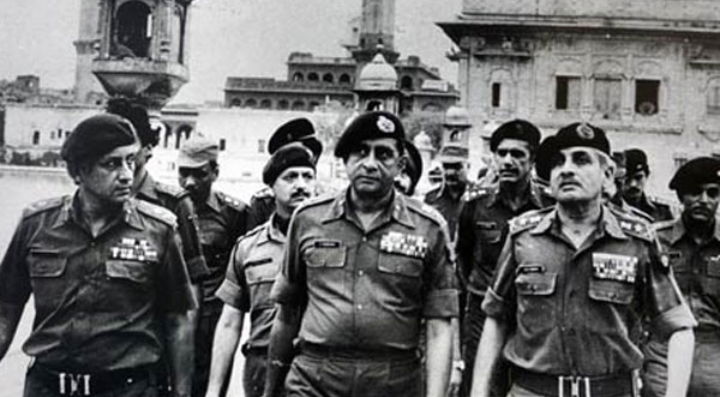 The Army lost about 100 soldiers in the Operation. Another 250 were wounded/maimed for life. About 500 terrorists killed. About 100 pilgrims lost their lives in crossfire. About 2000 persons were found inside after the operation.These were:
(a) Terrorists: About 1000
(b)  Bangladeshi women: 434 being smuggled to Pak from Bangla Desh.
(c) Top leadership of the political party…( HS Longowal, GS Tohra, Bibi Amarjit Kaur, etc)
(d) Pilgrims: About 400-500.
Recoveries included:
84 mm Carl Gustav Rocket Launchers –  2.
LMG about 5, self loading rifles, AK 47 automatic rifles, Carbines, Pistols, Revolvers –  Hundreds.
Hand grenades, assorted live ammunition,  explosives-Huge quantity.
Spears, swords, knives etc.
Political leadership was kept in MES inspection bungalow  for about a fortnight, then released. Terrorists were kept in a three storied KV ( school) building & Army unit  in the Cantt.  About 50 terrorists who appeared to be more dangerous, were kept in Quarter Guard of an Artillery Regiment. (193 Fd Regt.) After a day or so, some of them attacked and tried to snatch weapon of the guard. The GUARDS unit men fired and killed about 10-15 of them. Prisoners were interrogated by Military intelligence, CBI, RAWn& Police intelligence .Many with political connections were let off. The hardcore ones- 269 in all-  were sent to  Jodhpur Jail. Their case later came to be known as" innocent" Jodhpur detainees case. The BD women being smuggled to Pak were taken over by civil police. The Central govt got the Akal Takht rebuilt at its expense by another sect. ( Nihang) . It was pulled down by the majority community, when the premises was handed over to the Gurudwara committee.The operation led to decline in killings of the minority community for a few months. But the movement had not died. In 1986, the COAS (Gen Sundarji) made two big blunders:
Agreeing to send IPKF to Ceylon and getting thousand odd trooos martyred, in a operstion that was bound to fail. Gross negligence in NOT  providing foolproof  security to his predecessor Gen AS Vaidya the Army Chief during Blue Star, and who was on hit list after the Punjab operation.( Gen Vaidya was assassinated in 1986 in Poona). In 1988, the terrorists made Golden Temple  shrine (in middle of the pond)  as their HQ.Used it as a shield,for sleeping and morning ablutions..This time the NSG commandos  used poisonous gas to get them out.By 1992 , the killings had become negligible. Even now every few years leaders of a Hindu party are singled out and killed by the terrorists.
DISCLAIMER: The author is solely responsible for the views expressed in this article. The author carries the responsibility for citing and/or licensing of images utilized within the text.