Who is the mastermind accused of insulting tricolor in London and how is he connected to Amritpal?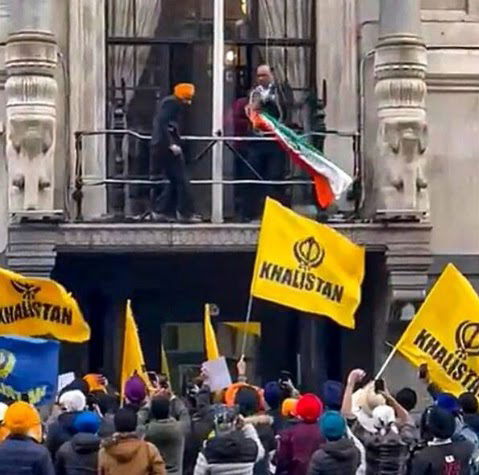 On March 19, hundreds of Khalistani protesters gathered in front of the Indian Embassy in London. They had Khalistani flags and posters in their hands. Free Amritpal Singh, We Want Justice, We Stand With Amritpal Singh were written on these posters. On seeing this, the protest became fierce and a person tried to take down the tricolor flag installed in the embassy.
On the London incident, the Special Cell of Delhi Police has registered a case under UAPA, PPDA and other sections of IPC against the British Indians involved in this incident. However, the police have not yet disclosed the names of the accused. On the other hand, the London Police has arrested a man named Avtar Singh Khanda after the Indian Embassy incident.
Avtar Singh Khanda is a resident of Moga district of Punjab. Khanda was born in 1988 at Bhindranwale's house in Rode village. Avtar Singh Khanda's early education took place in a school of Arya Samaj. Due to the father's name being associated with the Khalistani Movement, the security agency often used to come to Avtar's house for questioning. For this reason, his family kept shifting in Punjab, sometimes to Patiala, sometimes to Ludhiana and sometimes to Moga.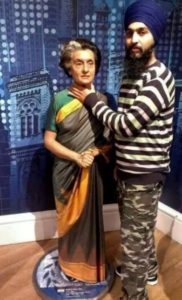 In 1988, Khanda's uncle Balwant Singh Khukrana was killed in an encounter by security forces. Three years after Khanda's birth, on March 3, 1991, his father Kulwant Singh Khukrana was also encountered by the security forces.
Both Avtar's father and uncle were active members of the Khalistani Force. Avatar's maternal uncle Gurjant Singh Budh Singhwala was the chief of the Khalistan Liberation Force.
At the age of 22, Khanda went to Britain to study. Here he came in contact with the Khalistanis and then became an active member of the Khalistani Movement.
After this Avtar Singh Khanda joined the Akali Dal (Mann) organization. Within a few days of joining this organization, he became the vice-president of the youth wing of the organization.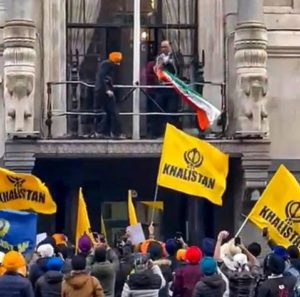 In 2015, India handed over the names of some anti-India people to the British government. The name of Avtar Singh Khanda was also included in these. Describing Khanda as a traitor, India had said that he was giving extremism training to the youth by joining the radical organization. After this, for the first time this name came to the fore through the news.
Security agencies believe that Avtar Singh Khanda is very close to top Khalistani terrorists Jagtar Singh Tara and Paramjit Singh Pamma. Actually, Pamma is an active member of Khalistan Tiger Force and he is the most wanted terrorist in the list of NIA.
Avtar Singh Khanda could not return to India even for his sister's wedding.
In 2015, Avtar Singh Khanda's sister was married. He wanted to come to his home for his sister's wedding, but could not attend his sister's wedding because he was included in the anti-national list of the Government of India.
In an interview, Avtar Singh Khanda had said that he wanted to return to India. The reason for this is that since 2010, he has not been able to meet his mother. He told that Bhindranwala and his family had a very good relationship.
'I am associated with the Khalistani demand but am not teaching how to use weapons'
Avtar Singh Khanda said in an interview that I am associated with the Khalistani movement. It does not mean that I am giving training to people to use weapons. Now Avtar Singh Khanda has been arrested, but earlier challenging his arrest, Khanda had said, 'If the allegations against me are true, the police should have interrogated me. After making such allegations, I should have been arrested. These are all useless things. I have been to the UK Parliament 4 times on the invitation of MPs.
Along with this, on his connection with ISI, Avtar Singh Khanda said that ISI itself is seeking funding from other countries. In such a situation, people start connecting with ISI as soon as it comes to Khalistan, which is not correct.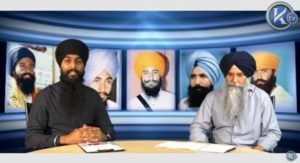 'Came in contact with Amritpal through social media'
Avtar Singh Khanda told that 6 years ago he had received a message from Amritpal on social media. Since then, talks started between the two. Khanda told that he had asked for a list of people doing higher studies. However, he denied having any information about Amritpal.
On the other hand, according to the Indian Express report, the agencies probing the Amritpal case have told that Avtar Singh Khanda has been the godfather of Amritpal. Amritpal had met Avtar Singh Khanda before coming to Punjab.
Security agencies believe that Khanda is an expert in handling IEDs and other types of weapons. He has trained Amritpal under 'Mission Khalistan' before returning to India. It was through Khanda that Amritpal came in contact with the most wanted Paramjeet Singh Pamma.
DISCLAIMER: The author is solely responsible for the views expressed in this article. The author carries the responsibility for citing and/or licensing of images utilized within the text.