Who was Jagjivan Ram?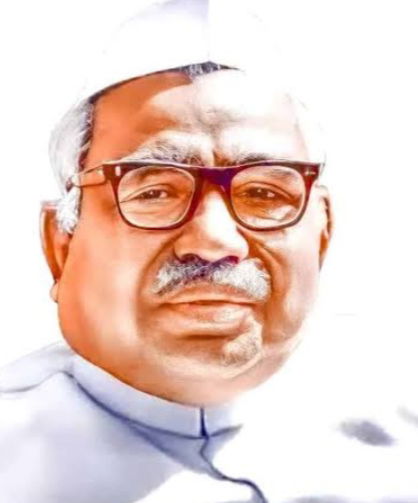 The ideology of Jogendra Nath Mandal, the SC leader who went up to shake hands with Muslim League and played an important role in the creation of Pakistan is often countered with the ideology of Dr BR Ambedkar as he did not go the "Jinnah Way" but we must raise a question, Is BR Ambedkar a perfect opposition to Jogendra Nath Mandal ? From a Hindu point of both were more or less identical. Jogendra Nath Mandal and Br Ambedkar both gave up their Dharmik way of life and made their brains filled with deep enmity against Hinduism. The levels of hatred the two dalit leader had was easily visible by their actions. While Jogendra Nath Mandal chose Pakistan or Muslims over Hindus, BR Ambedkar went to burn Manusmriti and blasphemed against Hindu Gods and Goddesses in his book "Riddles in Hinduism. Therefore Hindus must uplift their own Heroes who did not leave Dharma for their own petty politics. Let's talk of one of such leader ie. Jagjivan Ram.
Jagjivan Ram was a Dalit leader from Bihar & hugely popular among India's poor masses. He was the Agriculture Minister during Green Revolution & Defense Minister during 1971 war. He holds the WORLD RECORD of continuous legislative career from 1936 to 1986. He also held many Ministerial positions between 1946 to 1979 including Rail. Jagjivan Ram was the FIRST Labour Minister & brought Minimum Wages Act 1946, Industrial Disputes Act 1947 & Provident Fund Act 1952. Both the Ambedkar & Jagjivan Ram were Dalits & both of them suffered discrimination during their school days. However, unlike Ambedkar, Jagjivan Ram did NOT want to annihilate Hinduism & neither promoted conversion – Jagjivan Ram wanted EQUAL Rights within Hindu society. Jagjivan Ram was a TOP Congress Leader & was the MOST suitable leader to succeed Nehru as PM – And, that's why Nehru Dynasty considered him a THREAT to their family succession. Indira kept him close & secretly tried to undermine his authority. Jagjivan Ram supported Indira during Emergency & was the one to move the Resolution in support of Emergency – This was his BIGGEST political mistake. But after Emergency ended, Jagjivan Ram left Congress & formed his own Party with HN Bahuguna – Indira saw this as BETRAYAL.
Later in 1977, Jagjivan Ram joined hands with fellow Bihari Jayprakash Narayan to defeat Indira & merged his party with Janta Party. And, when the Janta Party won election, Jagjivan Ram's role in Emergency denied him the PM chair – However, JP convinced him to become Deputy PM. In 1978, Surya Magazine, headed by Sanjay Gandhi's wife Maneka Gandhi, printed compromised photos of Jagjivan Ram's son – This was the REVENGE of Nehru family. The sex scandal of son derailed the political career of Jagjivan Ram & this cost him PM chair once more in 1979.
Credit – chasing_highs
DISCLAIMER: The author is solely responsible for the views expressed in this article. The author carries the responsibility for citing and/or licensing of images utilized within the text.