Why India is befriending Sunni Muslim countries?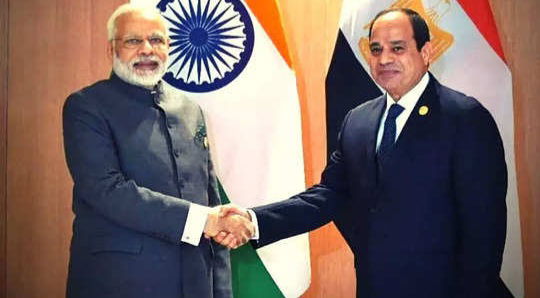 Highlights –
President of Egypt, 'Non-Aligned Country', Abdel Fattah El Sisi is the chief guest on Republic Day
President CC came face to face with the destructive power and culture of India on duty
Egypt is in bad shape after the Corona catastrophe and Muslim countries are also hesitating to give loans to it.
On the 74th Republic Day of India, the President of 'Non-Aligned Country' Egypt, Abdel Fateh El Sisi, was the chief guest. President Sisi came face to face with the destructive power and culture of India on 'Duty path' i.e., 'कर्तव्‍यपथ'. Egypt is in a bad condition after the Corona catastrophe and Muslim countries are also hesitating to give loans to it. Not only this, Egypt is also facing a great danger of insurgents at this time. In this bad time, India has now held Egypt's hand. The Modi government has signed several agreements with Egypt, including on defence. Analysts believe that under the leadership of President Sisi, Egypt has become a moderate Sunni Muslim country. This is the reason why India has once again extended the hand of friendship towards Egypt, which was a friend since the time of Pandit Nehru. India is strengthening its hold in the Muslim countries of the Gulf by strengthening ties with Saudi Arabia, UAE, Jordan and now Egypt. Let's understand….
International affairs expert C Raja Mohan in his article in the Indian Express said that India is building a new coalition of moderate Sunni countries in the Gulf countries. This includes Jordan, Saudi Arabia and the UAE. All three are among the most powerful countries in the Gulf. He said that apart from bilateral relations, India has also included Egypt in this alliance. India believes that this can promote peace and stability in the Gulf countries and South Asia. Actually, many Muslim countries including Pakistan, Turkey, Taliban are inciting religious fundamentalism all over the world.
UAE gave blow to Pakistan, India got success
India's effort is to thwart the Pakistani ploy by strengthening relations with liberal Sunni Muslim countries. Pakistan is promoting religious violence and bigotry not only in Kashmir but also in other parts of India. Attacks keep on happening in India at the behest of Pakistan, which is called the factory of terrorism. Not only this, Pakistan keeps getting poisonous statements against India through OIC, an organization of Islamic countries. This is the reason why India has now strengthened its relations with Sunni Muslim countries. This hard work of India is paying off and in the past, UAE had announced to invest in Kashmir giving a big blow to Pakistan.
C Raja Mohan says that the policy of stabilizing its neighborhood through political and security cooperation is a top priority in India's relations with Egypt. He said that India's present policy towards Gulf countries is completely different from before. By strengthening friendship with Egypt, India has now improved relations with all the major Gulf countries. He says that India is now trying to link its policies with the main interests of the country. This strategic partnership between India and Egypt has opened the way for India's role in the entire region. With America's greater focus on the Indo-Pacific region, countries in this region now want to diversify their partner countries.
Qatar- UAE and Saudi Arabia are failing Turkey's move
Prior to this, America launched a massive military campaign from Iraq to Afghanistan, which started a major period of violence in the entire region. On the one hand, America has focused its full attention on the Indo-Pacific region to crack down on China. At the same time, the eyes of the Chinese dragon have fallen on the area of ​​this bay. Not only this, India's great interest is attached to the Gulf countries in the current situation. While India imports maximum oil from the Gulf countries, billions of dollars are exported to these countries from India. Apart from this, lakhs of Indian workers work in countries like UAE, Qatar, Saudi Arabia, Oman. In view of this, the Modi government has also entered into a political and security agreement with the UAE and Saudi Arabia.
Raja Mohan said that by befriending Egypt, India has established balance in the Gulf countries. He said that after the Arab revolution in 2011, Egypt and other liberal Muslim countries of the Gulf stood against Sunni fundamentalist organizations. These Sunni fundamentalist organizations included the Muslim Brotherhood, which is supported by Turkey and Qatar. The impact of these radical policies of Turkey and Qatar is reaching India through Pakistan. Both Turkey and Qatar promote Pakistan. Saudi Arabia, UAE and Egypt all three are engaged in giving a befitting reply to the fundamentalism of Qatar and Turkey. The Saudi Prince and the President of the UAE are promoting reforms and changing radical rules in the country. For this reason, India is strengthening its relations with these countries.
Earlier, similar invitations were sent to the UAE (Mohammed Bin Zayed Al Nahyan in 2017), the ASEAN leaders (in 2018), South Africa (Cyril Ramaphosa in 2019), and Brazil (Jair Bolsonaro in 2020) by Narendra Modi government. On the back of it, this year's invitation to President Sisi signifies a not-so-hidden agenda of forming an alliance of countries not willing to follow the diktats of either of the new poles of the New Cold War, the US-West in one side and Russia-China on the other. This is continuation of India's role in Non-Aligned Movement (NAM) of the old Cold War days.
The Sisi-Modi Summit is all the more significant because of Egypt's growing importance at a time when the Middle East is being coalesced to form a West Asian system in which Israel is playing a pivot. With India playing a greater role, it is shaping up into an Indo-Abrahamic Alliance.
Meanwhile with India, Israel, the United States (US), and the (UAE) a quadrilateral framework I2U2 has been formed. Though it includes the US, mainly for economic reasons, it is more of a regional nature that subtly addresses security issues too.
Herein comes the importance of Egypt, a bridge between West Asia and Africa, and also between Africa and the Mediterranean. It can be a formidable force, if economically and militarily strengthened, against both Iran and Turkey, the countries which are taking recourse to some unconventional means to assert them. Egypt is also emerging as a key Mediterranean power thank to its gas geopolitics, the Suez Canal, and its leading role in Africa.
It is also important to note that Egypt too has, at last, decided to play a role that goes far beyond strategic conservatism, Egypt is sending signals—by supporting the Abraham Accords, by becoming a member of the Negev Forum, and by having Israel in the Cairo-based East Mediterranean Gas Forum—that it is now all set to take up a leader's role like it took in the days of NAM.
India-Egypt combination thus can be two key countries in the fight for development and climate finance for the Global South, and can play as a link between the developed world and the developing countries. Neither India, nor Egypt is economically very powerful, but both have played an important political role in the past and can play it again in the future. After all they are not like China that wants to dominate the whole world by its military might and economic prowess, all in the garb of a developing country.
DISCLAIMER: The author is solely responsible for the views expressed in this article. The author carries the responsibility for citing and/or licensing of images utilized within the text.