Why Mahadev will shower his love upon Yogi Adityanath on 10th March?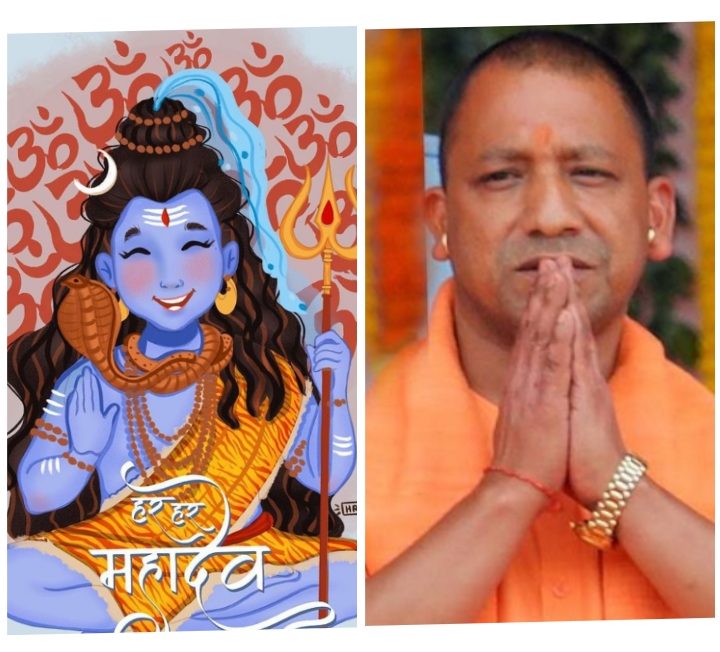 Today is 10th of March, the day every Bhartiya would have been waiting for desperately. Today, on 10th March election results will be declared for 5 states names Uttar Pradesh, Uttrakhand, Manipur, Punjab and Goa. Uttar Pradesh would be the state everyone have their eyes upon because not only it will decide the future of Hindutva in Bharat but can also change the entire public discourse and future of Bharat. It can also be easily estimated that the upcoming results of Uttar Pradesh will ultimately decide the Prime Of Bharat after Narendra Modi.
In the Uttar Pradesh assembly elections, the strongest man is betting his faith and the faith of Indic renaissance or Hindu resurgence. By looking at the exit polls given by the Indian media, it seems the stars are aligned for Pro Civilizational or Pro Bharat. Almost every exit poll shows Bhartiya Janta Party under the leadership of Narendra Modi and Yogi Adityanath sweeping the election results with full majority on their side. The main issue in the bracket of Yogi Adityanath govt which clutched votes of voters is regarding women safety. Yogi Adityanath Government took several successful steps in ensuring safety of women in the state. These steps have able to lower down the crimes against women. Women from each and every community is said to have voted for Bhartiya Janta Party in the elections.
When Yogi Adityanath Government strengthens the law and order of Uttar Pradesh making the women of Uttar Pradesh feel safe, it is not only for Hindu women but also for the women of Non-Hindu community. Hindu women as well as muslim women feel much safer in UP after Uttar Pradesh government made Ansari & Gunda Co sit in jail. It is not only Hindu women's modesty which is being saved but also of muslim women. Triple Talaq bill for the upliftment of Muslim women was brought up by BJP. It is BJP who talks about Uniform Civil Code. It is only BJP who dares to ban polygamy and evil practises like Halala which would mean the upliftment of musim women in the power chain.
When Yogi Adityanath Government gives free ration and makes sure that no one sleeps empty stomach, it is not only for Hindu community but for muslims too. When Narendra Modi government gives a house or a toilet or nal or opens bank account it doesn't discriminate between Mohammad and Mohit. The enormous development made by the Yogi Adityanath government of Uttar Pradesh and Union Government led by Narendra Modi benefits each and every community living in Bharat. Better roads and infrastructure makes the life of each and every community easy. Generation of of employments improve the condition of each and every community and not only Hindus.Yogi Adityanath government made sure that no riots must happen between the communities. Riots are always destructive. By contrast, during the government of Samajwadi Party led by Akhilesh Yadav, riots between communities was like a normal thing to watch.
Yogi Adityanath government put a stop to appeasement politics in the state. Earlier during the government of Samajwadi Party led by Akhilesh Yadav, appeasement politics was a normal thing to watch. Samajwadi Party concentrated largely on their core vote bank ie. Muslims and Yadav community. By contrast Yogi Adityanath government had never been baised to any particular community making every person benefit from the policies taken by Uttar Pradesh and Central Government.
Because of these reasons, Mahadev will shower his love to Yogi Adityanath in UP Election results and Yogi Adityanath will become the Chief Minister of Uttar Pradesh for second time and also with full majority.
DISCLAIMER: The author is solely responsible for the views expressed in this article. The author carries the responsibility for citing and/or licensing of images utilized within the text.