Why Pakistanis are rattled by Word "Niazi"?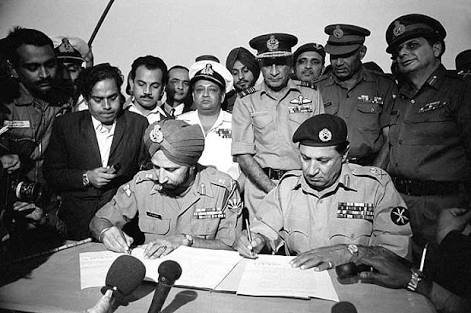 While inaugurating the Kartarpur corridor PM Narendra Modi thanked then Pakistani PM Imran Khan 'Niazi' formally while taking his full name. This gesture of the Prime Minister rattled the Pakistani media and the ministers in the Pakistani government.
We say "What's in the name?" What was it that just adding a surname rattled the whole nation?  The background dates to 16 December 1971.
The development of the Bengali nationalist and self-determination movement in what was then East Pakistan was the catalyst for the war of 1971, also known as the Indo-Pak war of 1971 or the Bangladesh Liberation war of 1971.
Bangladesh gained its independence from West Pakistan as a result of this conflict.
What caused the 1971 Indo-Pak War?
When Viceroy Curzon divided Bengal based on religion in 1905, the seeds of future turmoil were sowed. While the west was predominately Hindu, East Bengal was predominantly Muslim.
East Bengal was made a province of Pakistan in 1947 and was known as East Pakistan from that point on. Along with their geographical separation, the east and west of Pakistan have different languages, cultures, etc. This also caused issues with governance. Religion was the one area of agreement between the two provinces.
Language disagreement
Jinnah proclaimed Urdu as the official language of East Pakistan in 1948, and Bangla speakers were required to learn it.
Widespread demonstrations followed in East Pakistan, and the "Language Movement" was launched to defend Bengalis' right to use Bangla as their official tongue.
Sheikh Mujibur Rehman, who joined the Awami League party, served as the movement's leader.
Up to the 1960s, there was a fight against the Muslim league's imposition of Urdu.
Political unrest
Bengalis had no political influence over the West Pakistani-dominated administration of Pakistan.
Despite having a larger population than the west, East Pakistan was given smaller budgetary allocations.
Bengalis were underrepresented in the military and in every area of government.
cultural distinctions
The Punjabi and Pashtun ethnic groups predominated in western Pakistan, whereas the Bengali ethnic group was more valued in east Pakistan than religious identity.
Hindus were also more numerous in the east than in the west, therefore the Western Pakistani government thought they were less obedient.
Compared to East Pakistanis, West Pakistanis were more in favor of an Islamic state.
The West Pakistani elite, who felt that Bengali had absorbed a significant amount of Hindu cultural elements, found the Bengalis' language and culture to be repugnant and disdained their Bengali script and terminology.
In the 1954 provincial elections, Mujibur Rehman's Awami League easily defeated the Muslim league. West Pakistan, however, was unwilling to allow a ruler from its eastern provincial arm to run the nation.
Riots broke out in the province, and the central government imposed the governor's authority there, nullifying the election results, and alleging this instability as a justification.
Pakistan received its constitution in 1956, at which point it was dubbed the Islamic Republic. East and West Pakistan were to have equal representation in the single house of the national parliament.
1966 six-point movement
Mujibir Rahman led a campaign in east Pakistan that called for the region to have more autonomy.
Their six demands were: a federal state; all subjects, excluding defense and foreign affairs; independent fiscal and monetary policies; taxing authority; commerce and foreign exchange reserves; and separate armed forces and navy.
1968's Agartala conspiracy case: Mujibur Rahman traveled to Agartala to ask for Indian help for the independence of East Pakistan. He was accused of sedition and plotting with India by Pakistan.
East Pakistan saw floods and 3-5 lakh fatalities in 1970 as a result of Cyclone Bhola, but Yahya Khan's administration failed to give sufficient help. This increased the hostility between the two areas.
The Awami League once more won handily in the 1970 election, but the Zulfikar Bhutto-led PPP, which triumphed in West Pakistan, refused to recognise Mujibur Rahman's victory.
Due to civil disobedience and a desire for independence in Dhaka, the Bangladeshi flag was hoisted for the first time on March 23, 1971.
The Searchlight Operation
The Bengali independence movement was attacked by the Pakistani army on March 25, 1971, during the night.
Numerous Bengali students and intellectuals were shot at and detained in Dhaka University, and Mujibur Rahman was detained before being transferred to West Pakistan.
Millions of Bangladeshis fled to India as a result, mostly to West Bengal, Assam, Meghalaya, and Tripura.
The influx of migrants placed a significant load on West Bengal, and the state appealed to the then-prime minister Indira Gandhi for help with food and shelter.
Mukhti Bahini, the Mukhti Bengali resistance
Bengali armed opposition Indian military provided Mukhti Bahini with weapons and training when they rebelled against the Pakistani army.
Due to its tense relationship with Pakistan, India had a very important strategic reason to support Bangladesh. A successful Bengali movement meant that India's eastern boundary would be tranquil. Additionally, the refugee situation was becoming a significant financial strain for India.
The United States and the Soviet Union were at war on a worldwide scale. Since India and Russia had a friendship pact, the U.S. had been helping Pakistan during all of this.
The Pakistani Air Force started airstrikes against Indian airfields in the Western Sector on December 3, 1971, including those in Amritsar, Pathankot, Srinagar, Avantipura, Ambala, Sirsa, Halwara, and Agra as part of Operation Chengiz Khan.
Indian Air Force strikes Pakistani air stations in the western and eastern sectors from December 3 to December 6. India's ground forces in Punjab and Jammu and Kashmir are attacked by Pakistan
On December 4, the Battle of Longewala in Rajasthan thwarts Pakistan's march into Jaisalmer.
Battle of Ghazipur in East Pakistan on December 5. Battle of Basantar at the Shakargarh salient, close to Sialkot, in Pakistan's Punjab's Western sector. Dera Baba Nanak Battle in the Punjabi area of Gurdaspur.
India formally acknowledges Bangladesh as an independent country on December 6. Jessore is freed as a city.
Beginning on December 7 in Bangladesh, the Battle of Sylhet and Moulovi Bazaar
December 8: Operation Trident, an operation by the Indian Navy, targets Karachi, a port city in Pakistan.
On December 9, the Indian Army engages in combat in Bangladesh. Liberation of Chandpur and Daudkandi. Indian troops are transported across the Meghna River via helicopter bridge, making the fall of Dhaka inevitable.
Bangladesh's Chittagong airfield was attacked by Indian Air Force planes on December 10.
On December 11, Tangail airdropped a parachute battalion over Bangladesh to stop Pakistani troops from fleeing.
12–16 December: Indian forces make a break for Dhaka and enter the city.
Lt Gen AAK Niazi, the commander of the Pakistan Eastern Command, surrenders to Lt Gen Jagjit Singh Aurora, the commander of the Indian Eastern Command, on December 16. Up to 93,000 Pakistani soldiers surrendered in Bangladesh.
After being released from prison in January, Mujirbur Rahman went on to become Bangladesh's first prime minister.
The LoC was acknowledged, India returned captured territory to Pakistan, prisoners of war were repatriated, and it was decided that the Kashmir issue would be resolved peacefully under the terms of the Shimla Agreement, which was signed on July 2, 1972, between India and Pakistan.
How have relations between India and Bangladesh changed since the Indo-Pak War of 1971?
Bangladesh was freed during the Indo-Pak war of 1971, and India gained a friendly neighbor on its eastern front. Bangladesh is one of the fastest-growing economies in South Asia and India's major trading partner. Indian companies have a tonne of investment prospects in the nation given its growth potential. For India's connectivity and the stability of the northeastern states, Bangladesh is essential.
DISCLAIMER: The author is solely responsible for the views expressed in this article. The author carries the responsibility for citing and/or licensing of images utilized within the text.