Why Student Unions must be banned?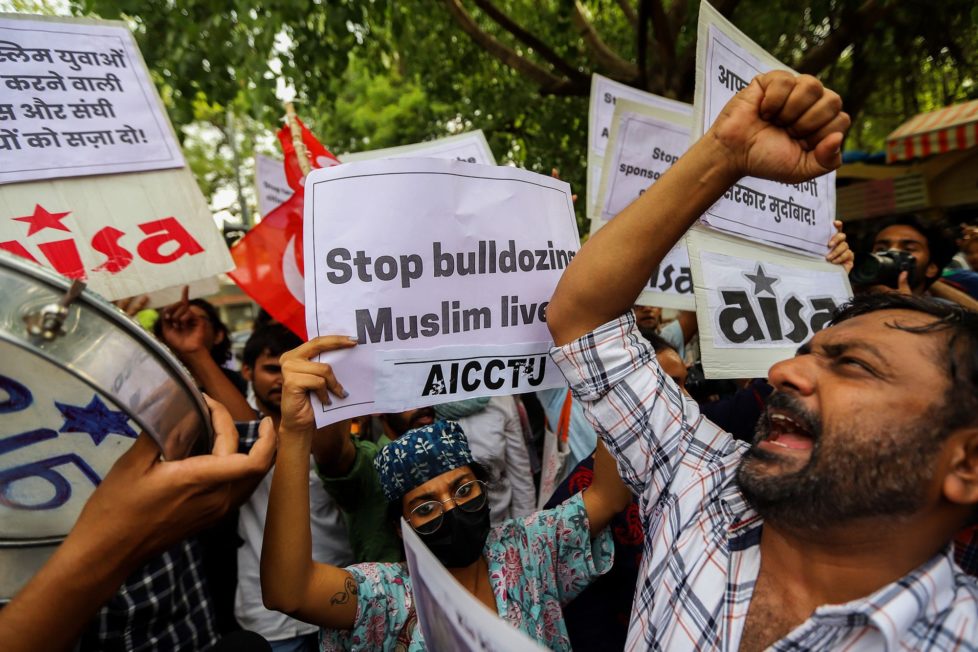 While democracy is everyone's right, threatening and scaring the university administration is against someone else's fundamental right and is therefore unlawful. While leftist student unions have been threatening the administration with their language and actions showing neither fear of the law nor respect for the court's Order, so one can expect these students to defend democratic values.
Like the recent incident from ICFAI Foundation for Higher Education (IFHE) in Hyderabad, Himank Bansal was being beaten up by the other students of the institute and forced to chant 'Allah-u-Akbar', it can be clearly seen how a particular lobby is trying to normalize such heinous beating with a Hindu guy.
Abhinav Prakash, then a research scholar at JNU had authored a lengthy essay on the culture of Hindu bashing at JNU in 2014 in which he noted that hardly a single Hindu event went by without provocative flyers and posters criticizing them and urging their outlawry.
An incident can be taken as an example where conflicts broke out in JNU on October 9 in response to Mahishasura Martyrdom Day. The ignition came with the release of the October issue of Forward Press, an evangelical Christian magazine that portrayed Goddess Durga in a disparaging light. Although the anti-Hindu sentiment is common in JNU, it has gotten worse recently as a more extreme leftist, Islamist, and openly racist organizations have appeared on campus.
The attackers present themselves as defenders of reason and anti-superstition, however, it should be observed that primarily Hindu festivals are targeted. The attackers present themselves as defenders of reason and anti-superstition, however, it should be observed that primarily Hindu festivals are targeted.
Distortion of the Mahishasura tale.
The narrative claims that the Aryan Invasion of India gave rise to Durga Puja. It states that Mahishasura was a just and brave protector of a tribe that raised buffalo, which is comparable to the Yadavs of today. The Aryans were unable to defeat him openly, so they recruited a prostitute named Durga to entrap and murder him. Mahishasura spent several days on his honeymoon with Durga until she killed him on the ninth day. After that, on the tenth day, the Aryans carried out a massive bloodbath that is today commemorated as Vijayadashmi. Under the poisoned pen of Forward Press, the story changed from being a perversion of sacred legend with wild assumptions laced with "maybe" and "there may have been" to being presented as an accurate historical record. The All India Backward Students Forum (AIBSF) used it as a poster in JNU in 2011 during Durga Puja. It caused a fight in one of the dorms but was mainly disregarded as just another instance of Hinduphobia. It's interesting that everyone participating in the altercation was an OBC student, whose cause AIBSF was meant to be supporting.
Following this, vested interests and demagogues quickly capitalized on its potential to provoke schisms on campus and in society at large, and days later, the JNU hosted the Mashishasura Martyrdom Day. It was presented as a protest against Brahminical predominance in myth-making and historical revision to present the authentic Dalit-Bahujan past. Additionally, the organizers claimed that 74 districts across the nation mark Mahishasura Day.
The hatred for Hinduism and brahmins is so conventional that even the whole college was protesting against fee hikes, a photo with the message "Brahmins, flee India," had been viral on the internet. Leftists and communists view every policy choice that they disagree with as the imposition of Brahmin/Hindu supremacy.
In November 2019, protesting students defaced Swami Vivekananda's statue at JNU with offensive graffiti.
Before it extended to the metropolis, Maoism was primarily restricted to the interiors of villages. With the ultimate goal of occupying the Indian state to establish Maoist rule, the Naxal-NGO-intelligentsia-academia-activist-media nexus functions as a tactical fortification.
The challenges posed by urban Naxals are not unknown to Andhra and Telangana. Numerous students from Osmania University, Kakatiya University, Regional Engineering College in Warangal, and the National Institute of Technology joined the Progressive War cadres in the 1980s. The Andhra & Telangana Police's Greyhounds special operations team was established in 1989. It specializes in locating Naxal networks and conducting anti-insurgency operations against them.
In 2018, two Hyderabad Central University (HCU) students were detained on suspicion of conspiring with Naxals to kill the university's vice chancellor in retaliation for Rohith Vemula's suicide.
In 2018, the Pune police said in court that the five individuals detained on suspicion of having ties to the Maoists were in charge of organizing a series of lectures at JNU in honor of the murdered Naxalite Yalavarthi Naveen Babu.
For their connections to the Maoists, Hem Mishra, a JNU student, and Saibaba, a professor at DU, received life sentences in 2017.
In 2016, DU professor Nandini Sundar and JNU professor Archana Prasad were charged with conspiring with Maoists to kill a tribal peasant in Chattisgarh who was leading an anti-Maoist protest. Later, the accusations were dropped.
Student unions are intended to be nonpartisan organizations that represent the legitimate interests and legitimate concerns of students at institutions. The millions of students at India's colleges don't share the same ideologies as the politically motivated youngsters. While the majority of students go for education in these universities incidents such as chanting "Bharat there tukde honge" make a bad impact on their career as it is evident by the fact that those who indulged in student politics are highly unliked by corporates nowadays. The reason is obvious: they want peace. Hence, these highly politically inclined unions in the Universities must be banned.
DISCLAIMER: The author is solely responsible for the views expressed in this article. The author carries the responsibility for citing and/or licensing of images utilized within the text.