2 Lakh Muslim children disappeared overnight from Uttarakhand. Let's find out how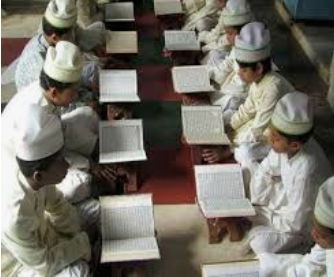 2 lakh Muslim children disappeared overnight from Uttarakhand.Devendra Gupta, Advocate High Court Prayagraj writes these findings.For the last 50-60 years, children studying in Madrasas were being given scholarships by the Govt every month. But as soon as the Uttarakhand government asked to link the bank accounts of these children with the AADHAAR number, 1,95,360 children disappeared instantly. How? In the name of these non-existent students, the govt was distributing scholarships of abt Rs.14.5Cr every year, only in Uttarakhand. Which is now reduced to only 2Cr.. You can image the scale of corruption throughout the country that has been going on for the last 50-60 yrs!!! What is the whole matter..??In fact, these 1,95,360 missing children never existed, money was being taken from the government by Madrasas on the basis of false names of children. Since years Congress government has been obviously looting the money and the commission money form Madrasas have been distributed from bottom to top, otherwise how could it be that the Congress government did not even know about this scam and BJP found out as soon as it came. So why are Muslims insecure? This is a matter of Uttarakhand alone, now you can understand for yourself that why so much ruckus was created when Chief Minister Yogi Adityanath ji asked Madrasas to get themselves registered in Uttar Pradesh.This has proved why Muslims are feeling insecure after coming to the BJP government. Because they have not been paying taxes not contributing to the economy and also were looting the tax money paid by honest citizens.Till financial year 2014-15, nearly. 2,21,800 Muslim students were getting government scholarships in Uttarakhand. As soon as they were linked with AADHAAR, their number fell to only 26,440 and the number of Muslim students decreased by 88%. This is the scholarship which is given to the students of BPL n very poor families. The govt also brought a provision for those students who do not have AADHAAR, but for this it is necessary for them to get the verification done by the District Magistrate. Fake Madrasas, fake students, and loot of public money!! People's money was being looted for years on the basis of fake names. This is nothing, and listen. Leave aside the students, here even many Madrasas were running only on paper.In reality, there were not many Madrasas and neither did any students study in them. They were simply getting government funds comfortably by sending names of fake students.Surprisingly, in 6 out of 13 districts of Uttarakhand, not 1 Muslim student came to take the scholarship.The maximum loot was going on in Haridwar district. After this the numbers of Udhamsinghnagar, Dehradun and Nainital districts came into light. More children registered than the collective population of the district? Shocking.. in some districts, till now as many Muslim students were being given scholarship, whose collective number was more than even the total population of those districts.
After the BJP govt came to power, crackdown was started on this scam, then immediately the persons like Hamid Ansari started feeling insecure. However, now the district administration has been ordered to prepare a list of the culprits of this scam and take action against them.That's why all the problems are being created in UP…..! Chief Minister Shri Yogi ji has made registration of all Madrasas mandatory. Many Madrasas are running in the state without registration, no one has any idea about where the funds are being spent. The Government of Uttar Pradesh spends Rs.4000 crores annually on about 800 madrasas running in the state, out of which hardly 8-10% Madrasas exist physically and only 12% of students in these Madrasas physically exist, the rest are fake names to loot tax mone.
This is how corruption is being tackled by BJP and that is why congress is restless and trying to create chaos in every possible manner by spreading fake news.
BY Devendra Gupta, Advocate, High Court Prayagraj.
DISCLAIMER: The author is solely responsible for the views expressed in this article. The author carries the responsibility for citing and/or licensing of images utilized within the text.