A Pakistan based Organization alloted government land in Chhattisgarh, now stands canceled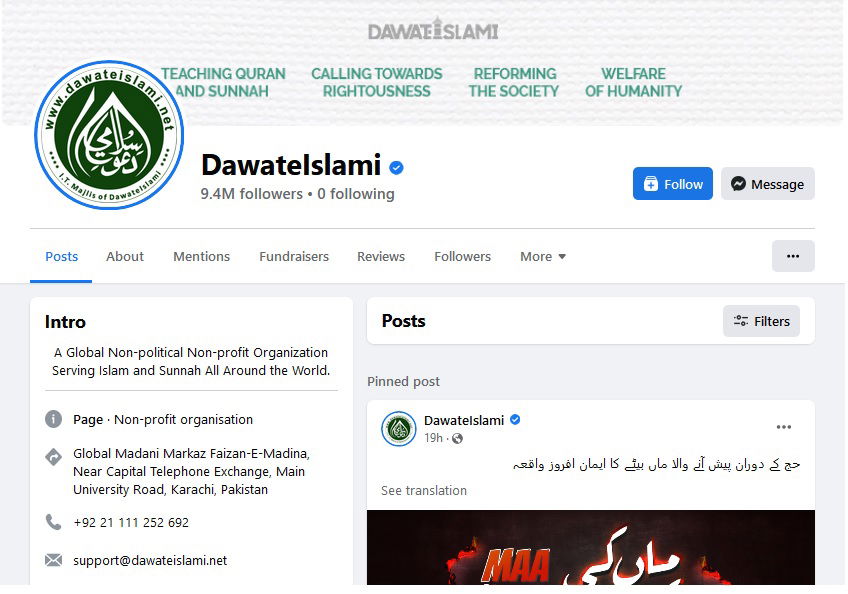 The Chhattisgarh government is allotting 25 acres (10 hectares) of land in Raipur to an organization named Dawat-e-Islami. There has been allegations against Dawat-e-Islami, being a Pakistan based organization, whose branches have been accused of conversion and spreading terrorism and funding through donations.
An application was submitted in this regard to the minister Mohammad Akbar on 28th December, which was surprisingly approved the very same day and was finally allotted the very next day, i.e., on 29th December by Raipur DM.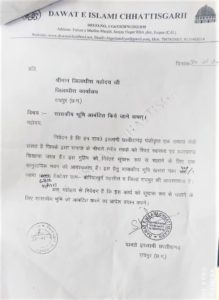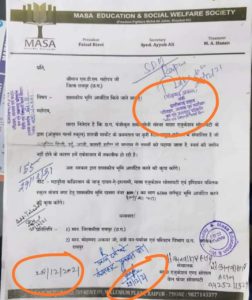 Brijmohan Agrawal, the BPP legislator from Chhattisgarh and former Cabinet Minister, took to microblogging platform, Twitter to register his dissatisfaction and protest on this development. He also shared details and reports that showed the organization in negative light. He shared a report with details on Daawat-e-Islami and how it is linked to multiple terror incidents through out the world reffer to this detailed article.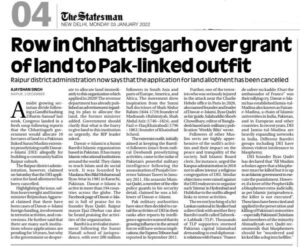 The screenshots of the tweets by ex-Cabinet Minister, reflects his strong objections towards this development.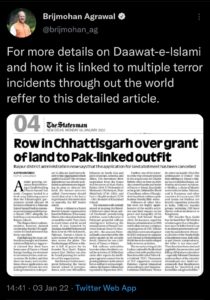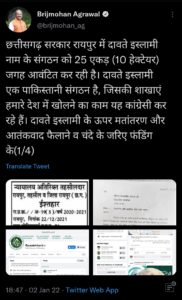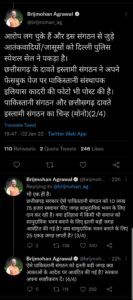 Previously too, the Karachi-based organization has been in controversy when Dawaat-E-Islami was permitted by the then Congress government of Karnataka, to host an event in Karnataka, after being denied space in Telangana. This reminds us of, when dawaat-e-islami' protested immediately after the execution of Mumtaz Qadri in which they demanded to release the detainees and withdraw the henious criminal charges against the stalwarts. This can be a dangerous trend for India as these sort of organisations(the more violent ones) persuades govt easily and meet their demands, which is indeed fatal for a liberal democracy like India.
However, the recent update about the proceedings is that after the ruckus, the application was canceled. Notice was issued to two officers who cleared the allotments. The district administration has issued a clarification in the matter. It has been said that 10 hectares of land is not being given to Dawat-e-Islami. The organization had applied for 10 thousand square feet of land, this application has also been rejected.
Earlier the issue of giving land to Pakistani-origin religious and social organization Dawat-e-Islami in Raipur gained momentum. Thus a clarification has been issued by the district administration in this matter. It has been said that no land is being given to Dawat-e-Islami. On Sunday itself, Bharatiya Janata Party MLA and former minister Brijmohan Aggarwal had raised questions in this whole matter and had asked the reasons because of which this land is being distributed to this organization in a hurry.
The rule says that, 10 thousand square feet of land cannot be allotted at the Tehsildar or District level. Such decisions are taken at the state level. Hence the application and the entire matter itself was dismissed. Now notice is being issued to the officer in charge of land allotment and additional tehsildar for the error in the publication of the advertisement.
Dawat-e-Islami is a Sunni Islamic organization based in Pakistan. It has many institutes all over the world, where studies related to Islam are done, as claimed by the organization. It was established in 1981 in Karachi. Maulana Abu Bilal Muhammad Ilyas Attar is considered its founder. Agarwal had earlier alleged that the Baghel government had made preparations to give land to this institution, leaving the other applications pending which were as old as 10 years. Hence, many questions are being raised on the intent of government. He said that preparations were on to give land to this institution, which applied in 2020. An advertisement had already been printed for this. The Baghel government should also inform the state, where is the headquarter of this institution.
DISCLAIMER: The author is solely responsible for the views expressed in this article. The author carries the responsibility for citing and/or licensing of images utilized within the text.