Govt Clamps Down Anti-Israel, Pro-Palestine Jihadist Protests In Kashmir By Arresting 22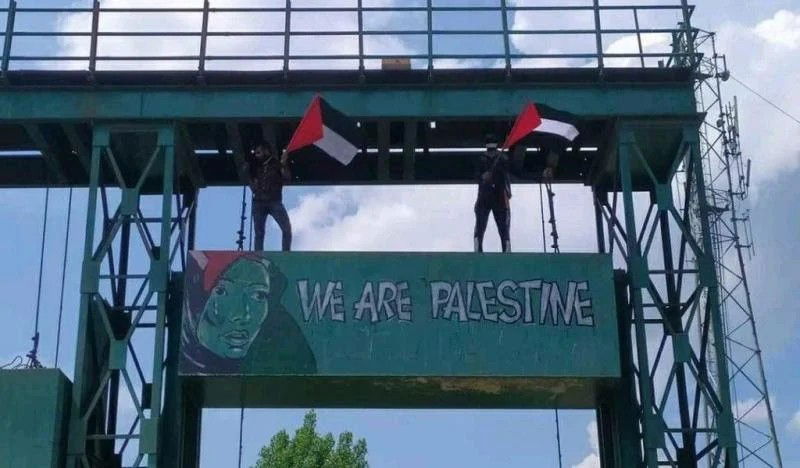 The government in Kashmir sends strong message to jihadists creating trouble in Kashmir with anti-Semitic, anti-Israel and pro-Palestine jihadi demonstrators by arresting till now 22 people in the past few days as per media reports.
Isreal's counter-attack on Hamas terrorist groups firing rockets targeting civilian areas in Israel from Gaza has raised heckles of Islamists in Kashmir, who believe that Israel should be wiped out and Jews should be completely exterminated.
On Thursday, Kashmiri jihadi youths staged protests with provocative banners and painted graffiti against Israel and Jews in Srinagar. At Padshahi Bagh, a graffiti artist, Mudasir Gul, put up a pro-Palestine graffiti on a bridge which depicted a woman wearing a scarf made of Palestinian flag with tears trickling down her eye, with a message reading: 'I am Palestine'.
The J&K police cracked down on the pro-Palestine demonstrators on the basis of videographic evidences recording their identity and arrested 21 of them including the jihadist graffiti artist. In South Kashmir the police arrested a Jihadi cleric Sarjan Barkati for holding a special provocative prayer for Palestine inciting people against Israel and Jews during Eid.
The police and the administration are keeping a strict watch to not allow a climate of violent 'protests' to be unleashed in Kashmir under the ruse of current Israel-Palestine conflict.
News input: New Indianexpress
Image sourced from The Wire
DISCLAIMER: The author is solely responsible for the views expressed in this article. The author carries the responsibility for citing and/or licensing of images utilized within the text.