An ongoing race of hurting Hindu sentiments between Congress and AAP.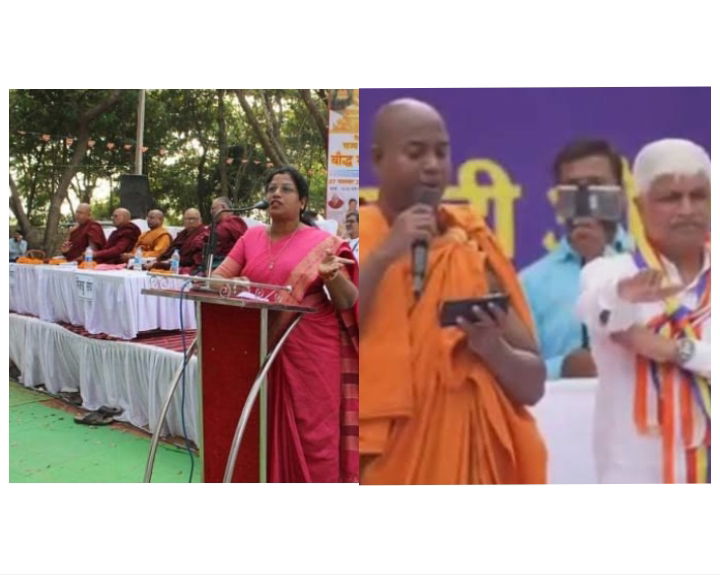 It seems Congress and Aam Aadmi are trying to win a race of hurting religious sentiments of Hindus. A month ago on 5th of October on the occasion of Dussehra at the Dr BR Ambedkar Bhavan in New Delhi, 10,000 Hindus converted to Buddhism .During the event, people were asked to pledge not to consider Hindu deities and gods and goddesses anymore and were asked to show full faith in Buddhism. The event was organised by Aam Aadmi Party's (AAP) Rajendra Pal Gautam, Minister of Social Welfare in Delhi, Bharatiya Boddh Mahasabha, and Buddhist Society of India, the program was attended by many Buddhist monks along with Rajratna Ambedkar, great-grandnephew of Dr BR Ambedkar and President of Buddhist Society of India.
And now in order to compete with Aam Aadmi Party, Congress mayor Hema Deshmukh attended a mass conversion event where 'Anti-Hindu' oaths was taken by the people who attended the event. The event was organised in order to convert hundreds of Hindus into Buddhism. The people of attended the event were heard saying "I will neither follow nor worship Gauri, Ganapati or any other deity of Hinduism. I will never believe that God has incarnated".
Also it needs to be noted that the father of Chhattisgarh Chief Minister Bhupesh Baghel is a converted Buddhists who have many a times given anti hindu statements. Bhupesh Baghel's father also wanted to end 'Ravan Dahan' as he considered Ravan from his own community. Also Bhupesh Baghel's father had earlier given statements to throw our Brahmins from India.
DISCLAIMER: The author is solely responsible for the views expressed in this article. The author carries the responsibility for citing and/or licensing of images utilized within the text.