And The tiger roars again..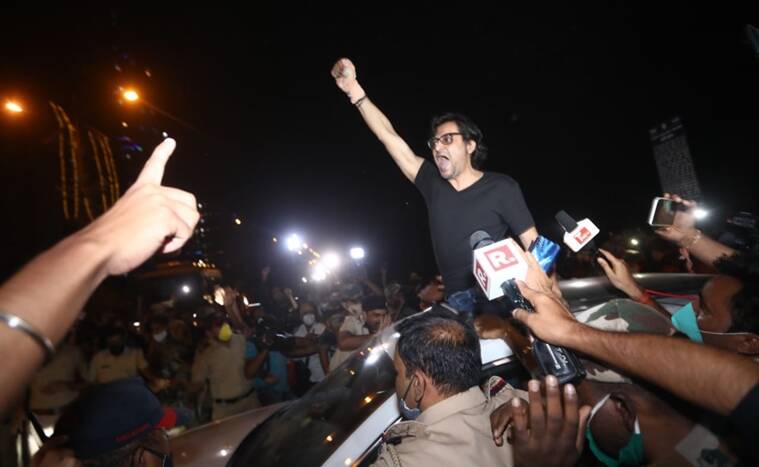 'They sent a journalist to prison, what came out of prison is a National Icon.'
We have seen a journalist being transformed into a hero in front of very eyes. The insecure, immature first time chief minister of Shiv Sena has inadvertently made a national hero out of a journalist. There were some 200,000 people glued to Republic's online streaming waiting anxiously for a single glimpse of Arnab as he came out of Taloja prison. It was an emotional moment for all of us. We were all unsure what to expect from Arnab after 8 days in prison. But Arnab didn't disappoint; he came out roaring in his trademark style. Much to the love and affection of thousands of people waiting outside the prison to welcome him. Compare this to when Chidambaram came out of prison last year in the INX media bribery case. He was pretty much on his own. A former home minister, finance minister commands little or no respect from the public when compared to a television journalist? As bizarre as it may sound but it's true!!
Reason why Indian public are standing resolutely behind Arnab is because we believe in fair play as a society. Shiv Sena in their petty point scoring has played brazenly unfair at every step of the way using coercive, underhand, deplorable tactics against a media house. It's no different to a bully in a school play field trying to browbeat another child and using his gunda family reputation to threaten anyone who tries to side with the child. It has hurt the sense of fair play in our collective psyche. Kudos to the supreme court to have seen through this devious design and granting him bail. SC made some scathing observations towards MH govt and judiciary. It should be a wake-up call for the first time CM who is still learning how to govern. Supreme court was equally acerbic towards the High Court for not granting Arnab bail when the case was before them. If I was that judge at high court, I would take this SC rap as a personal rebuke and quit judiciary. SC could not have been clearer in pointing fingers at him in its judgement. This becomes even more stark when this same HC judge in the case of Gulab s/o Yohan Pandit last year ruled that just because someone's name is mentioned in a suicide note, abetment to suicide can't be established. A black day indeed for judiciary in Maharashtra.
UT's obsession with Republic is strange. He has completely lost it and is behaving like a spoiled brat bully. Arnab is just a media house. You can use other media houses to defend yourself. Some paid channels will be more than happy to oblige you. But using this state machinery 'Danda' against everyone who dissents shows he is an immature, unsophisticated politician who doesn't know how to wield power of the state. This is when 206 famers in Vidharbha committed suicide between March and May this year. One might ask, who should be booked for abetting their suicide? I wish we had a strong enough civic society to pursue each case to their logical conclusion with state getting prosecuted for abetment to suicide.
Arnab roared in his new room. The love admiration affection of his team was palpable. He hugged a number of his colleagues with great endearment. I was worried watching this because Shiv Sena can arrest him tomorrow for violating Covid rules. They have no shame or dignity left. A young boy names Sameet Thakkar has been arrested three times now by Maha police for the same tweet. Every time he gets bail they arrest him again. This is the same man who was paraded around with his head covered in black cloth. There are 16 such people rotting in various prisons across Maharashtra. Shocking to say the least… but no champion of liberty from the left is voicing their opinion for them. Next time they call Modi fascist, if people call them names, it's justified.
Important take home from Arnab's heart felt address to his employees and his supporters was that he is not backing down. He is more than ready for future battles. The 8 days he spent in prison has made him harder. He announced plans to start Republic Marathi channel as soon as he is able to. That will be a game changer. Arnab realises that. If he has to survive in the Mumbai jungle, he will have to get general Marathi opinion on his side. The fight will go on. Both sides are getting ready for another inevitable show down. This will be a long battle. I pray to prabhu Ram as we celebrate his victory over Ravana, that Arnab comes out as winner so that press freedom in our democracy is secure. We all have to make sure Emergency-part 2 is an unmitigated disaster for Shiv Sena and Pawar so no politician considers this as an option in future to suppress freedom of expression.
DISCLAIMER: The author is solely responsible for the views expressed in this article. The author carries the responsibility for citing and/or licensing of images utilized within the text.