Awe Inspiring Stories Of People From Humble Backgrounds Making Priceless Donations For Ram Mandir After the historic verdict of the Supreme Court on 9th November 2019 which cleared the way for construction of a grand temple on the Ramjanmabhoomi site after a 500 year long battle, Hindus all over the world, rich and poor, are contributing their mite for the Ram Mandir at Ayodhya.
Shri Ram Janambhoomi Teerth Kshetra Trust had a target of collecting Rs.1,100 crores for building the Ram Mandir and started a collection drive for the same on 15th January this year. At the end of a 44 day collection drive on 28th February, they had collected a total of Rs. 2,100 crores, a whopping 1,000 crores more than the target.
There are some awe inspiring stories of people with humble means literally giving their all to the Ram Mandir Nidhi Samarpan Abhiyan representatives who went door to door in large cities and far flung villages to collect money for the Ram Mandir. This article focuses on four such humbling and heart touching stories of the collection drive.
83 Year Old Cave Residing Sage Of Rishikesh donates Rs. One Crore For Ram Mandir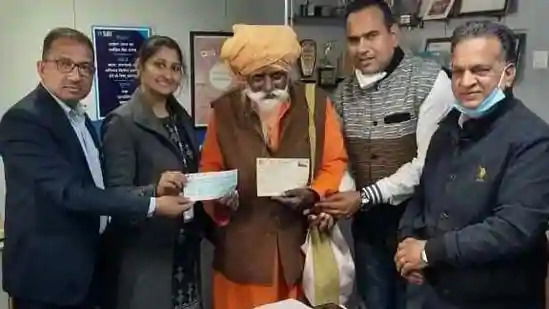 An 83-year-old seer, Swami Shankar Das aka 'Fakkad Baba' who lives in a cave for the past 50 years in Rishikesh, has astonishingly donated ₹1 crore towards the construction of Ram Mandir in Ayodhya.
The 83 yr old sage had received contributions from numerous other devotees which accumulated to one crore rupees. The donation was made to the Vishwa Hindu Parishad (VHP), which has been collecting money for the temple construction.
The sage said, " I have been living in the cave for over half a century. As a seer, I live on donations from the devotees visiting the cave. When I came to know about the VHP campaign, I decided to donate the amount for Ram Mandir for which I have been dreaming for long".
Ganavva, From Andhra Donates Rs.5000 From Old-age Pension Savings & By Mortgaging Gold Ring For Ram Mandir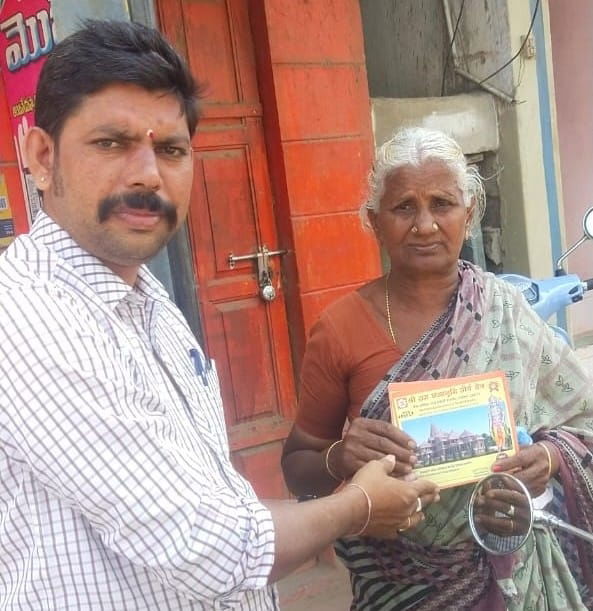 Kanchi Jnaanavva, affectionately called by the locals as 'Ganavva' an old lady from Andhra, had resolved to donate a handsome amount of money for construction of Ram Mandir despite her very humble means.
When Ram Sevaks visited her house in a village in Nellore district of Andhra, she gave away all her savings of Rs. 1000 from old-age pension. The Ram Sevaks were touched by her charity, but she was restless and wanted to contribute Rs. 5000 and decided to mortgage her only gold ring to raise the amount.
The very next day she left for the nearby Venkatagiri town in Nellore district of Andhra Pradesh and mortgaged her ring for ₹4000. With content and happiness in her heart she approached a Ram Sevak and gave the amount to him, who was overwhelmed by Ganavva's devotion and dedication.
A Poor Old Lady Makes Priceless Donation Of Rs. 20 For Ram Mandir
A viral heart touching video surfaced on social media in January this year, where a visibly very poor old woman is seen insisting on donating Rs.20 for the Ram Mandir, while the volunteers try to convince her that a Rs.10 contribution would be more than sufficient.
But the lady insists to take two Rs.10 coupons and requests the volunteers to write one coupon in her name and the other one in her deceased son's name.
A Poor Mute Man With Amputed Hand Donates Invaluable Rs. 10 For Ram Mandir
A group of Ram Janmabhoomi Nidhi Samarpan volunteers were returning home late evening after a collection drive they were stopped by a very poor man with an amputed hand carrying a shabby old bag. He gestured to know about them, as he was perhaps mute as well.
The volunteers explained to him that they were on a collection drive for the construction of Ram Mandir at Ayodhya. Hearing this, the poor man's eyes sparkled and gestured towards his old bag which contained Rs.10. The poor man's face brightened and gestured the volunteers to take the only money he had, Rs.10 as his contribution for the Ram Mandir. It is quite possible that the man lived off the streets and the Rs.10 which he insisted on donating would have made him forgo his meagre dinner that day.
The collection drive for Ram Mandir construction has raised contributions from many politicians, corporate honchos, film stars, the rich, middleclass and the poor.
Regardless of the amount of money, the dedication, devotion and sentiment is all that counts, as for Bhagwan Ram Shabari was as close to heart as a devotee as the other high and mighty Bhakthas so also the little squirrel who took tiny stones in its mouth for constructing the Ram Setu.
The stories of the contributions made by people from very humble backgrounds for construction of Ram Mandir are awe inspiring and shows why and how Sanatan Dharma survived the onslaught of predatory Abrahamic invasions for the past 1400 years.
Jai Shri Ram!
Source: Article compiled from Hindustan Times, Organiser and Opindia.
Featured Image sourced from internet.
DISCLAIMER: The author is solely responsible for the views expressed in this article. The author carries the responsibility for citing and/or licensing of images utilized within the text.