Black hoardings of Arvind Kejriwal put up in Gujarat 'I consider Hinduism as madness'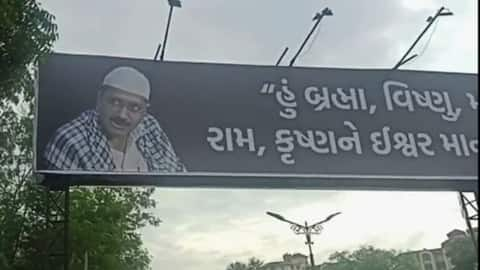 A video of Delhi Government Social Welfare Minister Rajendra Pal Gautam insulting Hindu deities is going viral on social media. Because of this, Delhi Chief Minister Arvind Kejriwal is said to be angry with him. It is believed that the party may have to bear the brunt of this in the Gujarat Assembly elections as the party is trying to capture power by riding on the wave of Hindutva here. But the party's image is getting tarnished because of the minister's video. Meanwhile, black hoardings have been seen in many places on the roads of Gujarat regarding Kejriwal in which he is being shown in Muslim garb.
Hoardings against Kejriwal
There is news that black hoardings have been put up in the streets of Gujarat about the Aam Aadmi Party (AAP). In these, Kejriwal is shown in a Muslim disguise and it is written that I consider Hinduism to be madness. Apart from this, it is written that I do not consider Brahma, Vishnu, Mahesh, Ram and Krishna to be God. These hoardings have been put up at various places. The hoardings have been put up at a time when Kejriwal is going to be accompanied by Punjab Chief Minister Bhagwant Mann on a two-day state visit from Saturday.
The edge of Hindutva may weaken
The party may suffer because of Rajendra Pal Gautam. During a meeting held in Rajkot on May 11, the Delhi CM had promised to the elderly women a visit Ram Lalla's birthplace, if the AAP government was formed in Gujarat. During this, he also mentioned the scheme of Delhi under which the government makes people visit various religious places for free. The minister's video has put Kejriwal on the back foot and BJP has got a sitting opportunity to attack his Hindutva ideology.
Kejriwal-Mann on two-day Gujarat tour
Arvind Kejriwal and Bhagwant Mann will begin a two-day tour of Gujarat from Saturday. AAP's state general secretary Manoj Sorathia said that both the leaders will jointly address a public meeting in Dahod town of tribal-dominated Dahod district on Saturday. After that he will take part in a 'Tiranga Yatra' in Vadodara city. According to Sorathia, on Sunday, Kejriwal and Mann will address a public meeting at Dharampur in tribal-dominated Valsad district and then at Kadodara in Surat district. He said that during these two days, Kejriwal and Mann will hold meetings with leaders of social and other sectors of the state to chalk out a strategy for the upcoming assembly elections in Gujarat.
DISCLAIMER: The author is solely responsible for the views expressed in this article. The author carries the responsibility for citing and/or licensing of images utilized within the text.