Leftist-Izlamists can never get rid of the stains of Kanhaiya Lal's murder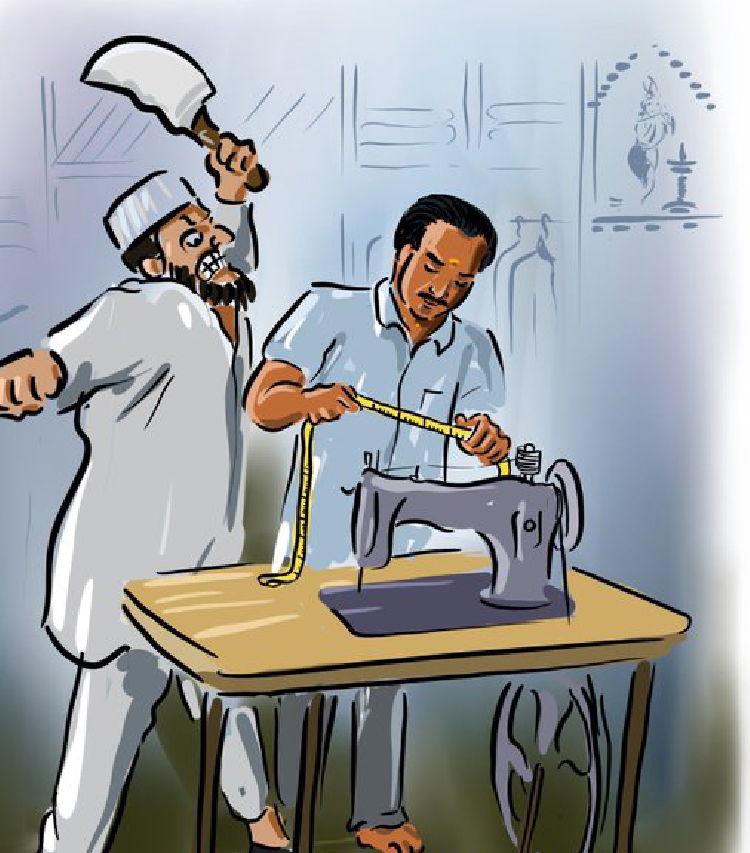 The blood of Kanhaiya Lal is quite visible on the hands of leftists-Islamists who tried their tooth and nail to normalise the slogans of "Sar Tan se Juda" which was at the centre of the violent protests unleashed by Islamists. We can all see the sight of opposition leaders coming forward to tweet on the unfortunate incident of Udaipur, Rajasthan starting from Rahul Gandhi to Asaduddin Owaisi. But they were the ones who led the fire in which innocent poor Hindu Kanhaiya Lal got burnt. When the Nupur Sharma episode was in its peak, the slogan of behead former BJP spokesperson Nupur Sharma was at its peak. "Gustakh e Rasool ki ek hi saza, sar tan se juda", the slogan was raised in every protest against nupur by muslim mobs. From masjids, the appeals to behead Nupur Sharma and also gaumutra jibes were being made on Hindus. An environment was gradually created by the leftist-islamist ecosystem to wage war against Hindus.
On Tuesday, 28th of June, a Hindu man who had a tailoring business in the area was beheaded by two Muslim thugs on Tuesday in broad daylight on Udaipur's Maldas Street. The murder was captured on camera, and the murderers uploaded the video online. He was brutally killed for posting a Whatsapp status stating that Nupur Sharma was backed by Kanhiya Lal. The assassins entered Kanhiya Lal's shop in the video, gave him their clothing sizes, then attacked and beheaded him while it was being recorded. Also on 10th of June Friday, Hindus saw how their tolerance was crushed under the toes of Islamists. The episode was a reminder for Hindus that the process of turning India into Islamic Republic of India has now begun. Violence was unleashed by muslims in various parts of the country. Yesterday was Friday and after the Friday prayers, muslims in various cities came up together to unleash violence upon the Indian State. Stones were pelted on the policemen making many of them injured, Temples were attacked, Ashok Chakra in Tricolour was being replaced by Kalma, Violent slogans calling for the beheading of Nupur Sharma were raised in top of voices. The most horrifying picture was seeing the effigy of Nupur Sharma hanging in the middle of Belagavi Ford Road, Karnataka. It should be clear to all the Hindus living in the Indian state that it was not Nupur Sharma's effigy which was hanged but it was the tolerance of Hindus which was given a death sentence. These attacks unleashed upon the Indian state by muslims on different cities was appreciated by moderate muslims and leftists calling it peaceful protests and also politicians and celebrities quietly endorsing the whitewashing.
DISCLAIMER: The author is solely responsible for the views expressed in this article. The author carries the responsibility for citing and/or licensing of images utilized within the text.