Bollywood and Hinduphobia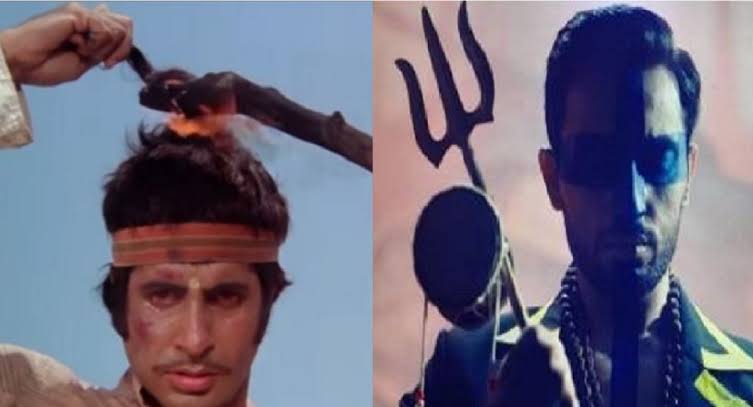 Bollywood has been giving platform for continous hinduphobia since it is known. The release of films like Shamshera and Brahmastra, which show complete disregard for Hindu beliefs and customs, is imminent. It's past time for Bollywood to recognise that Hindus will no longer be mute spectators as they show whatever they want through their biassed coloured lenses.
Anyone who watches or follows Bollywood is familiar with the Hidumisia promoted by the Bollywood cabal. Bollywood, in general, is a propaganda machine that attacks Hindu beliefs and practises. The open hatred spread in subtle ways continues to this day, sometimes shamelessly and unapologetic. To present a very dystopic society, Bollywood has unilaterally chosen to promote promiscuity, violence, injustice, religious inequality, and social division.
Bollywood's Substandard Secular Films
There haven't been many good films produced by Bollywood in recent years. Films that can be enjoyed by people from all social classes. Furthermore, Bollywood films and television shows are primarily a saga of feminism tainted with false religious symbolism, displaying skewed feminism. There are no positive social messages or lessons in courage and bravery in the films or scripts. Most films that purport to depict our rich culture and history are ill-informed, half-baked, and designed to appeal to the tastes of secular connoisseurs.
The promotion of anti-Hindu hatred has a long history. So much so that young people are brainwashed to despise their Hindu culture that they are unaware of it. Clearly, pseudo-leftists are skilled at disguising their hatred of Sanatan Dharma under the guise of progressivism. It's revolting to see promiscuity, rebellion, and disrespect as the norm.
I have a question for everyone: could you please count the number of Urdu words in Hindi movies? It is nearly impossible to keep track of them all. Many of them have become commonplace in our communication. In contrast, one could keep pondering the same thing in terms of traditional Hindi or Sanskrit words. To unimaginable lengths, Urdu words have been romanticised.
Pyar, Aashiqui, Dilbar, mehfooz, jaaneman, haseen, aakhir, Sanam, tadap, sabab, Husn, khwabon, khayalon, aayat, aadat, Jannat, mehjabeen, aetbaar, shabnami, zulfon, fida, Fiza.
As you've probably noticed, the list is endless, and that's just the tip of the iceberg. It's not funny how people shun those who want to converse in pure Hindi or Sanskrit. Those who speak Hindi are portrayed as rudimentary, impoverished, and illiterate, whereas those who speak Urdu are portrayed as eloquent, distinguished, and literate.
Hindu hatred is deeply ingrained.
The current situation is not new; it has lasted for decades. The majority of today's generation has heard of Sholay, Deewaar, and Padosan. Rahim Chacha is a poor, helpless, and blind old man in Sholay who praises Allah for his protection. Fakirs who are completely devoted to Khuda and Rasool can be found in Muqaddar ka Sikandar, Laawaris, and Sharaabi. In the Padosan film, there is a priest who also serves as a matchmaker. His character is portrayed as greedy and deceitful, with no self-respect, chanting 'Radhe-Krishan Radhe-Krishan' all the time. Similarly, when Billa No.786 was the pinnacle of Allah's greatness, secularism had no bounds in Deewaar. Hero's life was saved not only from multiple murderous attempts, but also from death.
This is the quoted dialogue from the film "786…," directed by Rahim Chacha, who is known for his kindness, benevolence, and graciousness. Hum logon mein mubarak samajhte hai. What do you mean, OM? Bismillah, waise yeh 786…786 ka matlab hota hai beta. Allah ke naam se shuru karta hoon. Mubarak cheez hai, beta. This is mein badi barkat. Is Bille's hamesha apne paas rakhna?" Not to mention the adoration and generosity of dons like Haji Mastan, which exemplifies what is truly wrong with Bollywood. Documentaries and films based on autobiographies of people who have nothing positive to say about themselves reflect a troubling trend. Encouraging wrong hero worship and promoting disreputable ideals causes unimaginable harm to society, with far-reaching negative consequences.
Who can forget the recent trend of Bollywood films like Haider, Raman Raghav, PK, and OMG that promote anti-Hindu sentiment? True, many of today's actors are the products of nepotism and are dissatisfied with their culture. They not only promote hypocrisy, but their actions have a significant impact on society. Following those who promote divorce, love-jihad, and other such ideas demonstrates how wrong our ideals have become.
There are numerous issues with Bollywood. In a nutshell, it encapsulates everything that is wrong and despicable in society. Despite current evidence of growing Hindu consciousness, 'Bollywoodians' continue to sleep soundly. In recent months, there have been two films on the horizon: Brahmastra and Shamshera.
One thing stands out more: the obvious disrespect for Hinduism. In Brahmastra, entering Mandir premises with shoes on, and a Tripunddhaari villain in Shamshera. Nepotism has produced arrogant, entitled, and snobbish 'Bollywoodians,' and this selective targeting does not bode well for their future. It's time they awoke and smelled the coffee. With recent films proving to be huge flops, it's up to them to grasp the ground reality. Throughout history, Hindus have been duped, putting their interests at risk. But this cannot continue indefinitely.
The recently released film 'Kaali,' directed by Leena Manimekalai, a brainwashed ultra-secularist, adds fuel to the fire. Her callous disregard for Hindus pushed all sensitivities and patience to the breaking point, not to mention her audacious claim that she deserved love and peace for portraying modernity. She's not entirely to blame, because Hindus have always been quiet, tolerant, and accommodating. Through this silence, anti-India forces have empowered deviants and opponents of Sanatan Dharma. Why isn't the cinematic liberty of casting Allah or Jesus in the same role taken? Is it the secular freedom that is to blame for her actions? Why is all the drama and lecture about freedom and liberty limited to erroneous portrayals of Hindu deities?
Source: The Jaipur Dialogues
DISCLAIMER: The author is solely responsible for the views expressed in this article. The author carries the responsibility for citing and/or licensing of images utilized within the text.