Congress' Tool Kit To Defame Modi & Kumbh Mela Exposed! Congress tool Kit Series Part: I Kreately media is in exclusive possession of a Tool Kit to target PM Modi and BJP on Covid management with strategies to spread fake news and false narrative in connivance with friendly Indian and international journalists by defaming Kumbh Mela as super-spreaders while praising Eid as convivial family gatherings, create hospital bed scarcities by booking them in advance and getting it released only on request from Congress functionaries among other things.
While every right-minded opposition party has a right to constructively criticise the government, while coming together to meet national calamities, the Congress has a Satanic desire to run down India during crisis and defame Hindus to wrest power from PM Modi and BJP.
We will examine the level of depravity the Congress party suffers from, to create medical scarcities at the time of deadly second wave of the pandemic, connive to generate more deaths and defame PM Modi for the same.
The Document titled, "Corner Narendra Modi & BJP on Covid Mismanagement" has many diabolical strategies to exacerbate and create more emergency to defame Modi. The main focus of the document is to put blame on PM Modi and BJP for second wave of Covid-19 by creating a narrative that BJP and PM Modi was busy organising Kumbh, elections and in Central Vista project.
The four page note is a Tool Kit to corner Modi government in the Centre and various BJP governments in the country.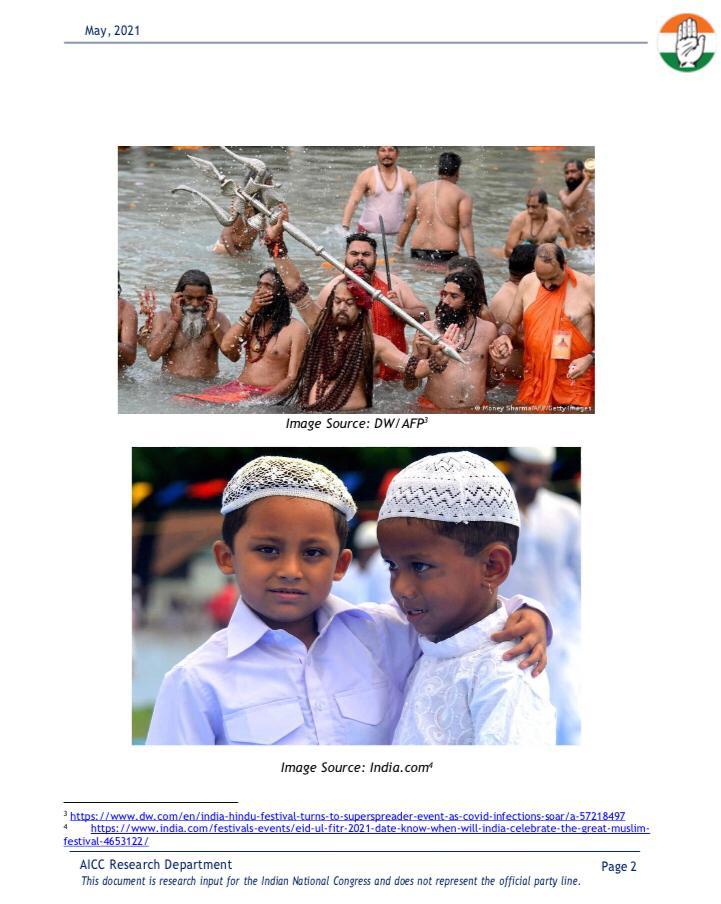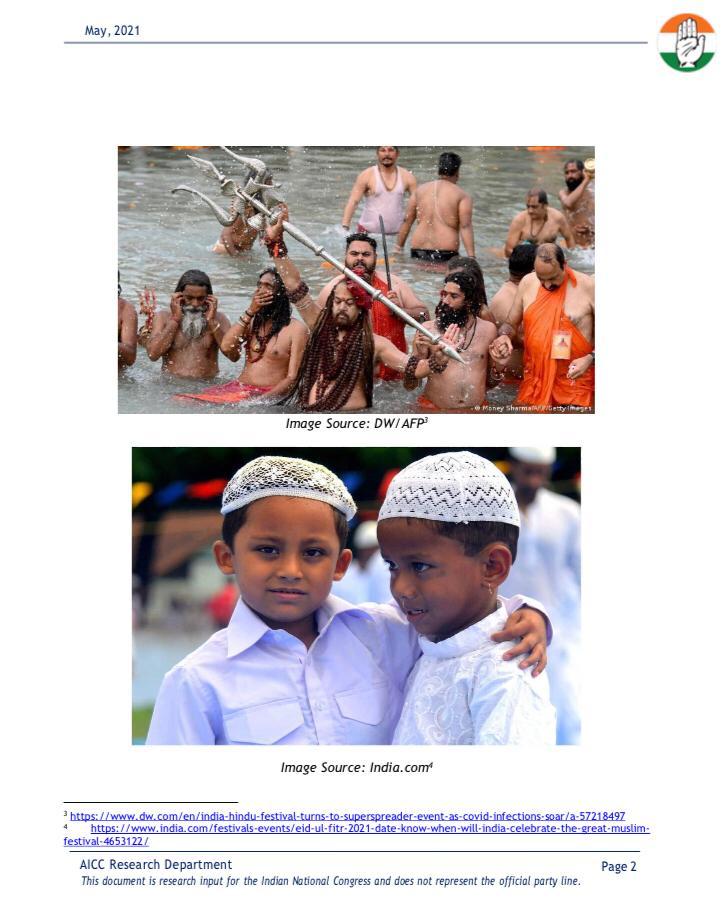 Here is the pointwise analysis of the fiendish strategy of Congress:
Defaming Kumbh as Super spreader
Congress wanted the Kumbh Mela to be scrapped in Haridwar as it enhances Hindu traditions and cultural moorings, which is abhorrent to the Congress and advantageous for BJP.
Repeatedly use the term "Super Spreader Kumbh" – to drive the point that Hindu practices and politics of BJP causes distress.
Collborate with friendly international and Indian media to establish "Super Spreader Kumbh" narrative.
Use pictures of Kumbh and Eid to contrast each other. Use Kumbh pictures with Sadhus carrying tridents to depict Kumbh as political power, while use Eid pictures showing happy social gatherings of families and communities.
Highlight international media with headlines defaming Kumbh, like BBC article by Geeta Pandey titled, " Kumbh Mela pilgrims turn into Super-Spreaders".
NOT KUMBH BUT CONGRESS & OPPOSITION SPONSORED FARMER PROTESTS & EID GATHERINGS WERE SUPER SPREADERS
Notably, a series of articles defaming Kumbh as a Super-Spreader was circulated internationally and by anti-Hindu Congress proxy Indian media even though all pilgrims were tested for Covid and all Covid norms were followed and the Sadhus just took a dip in the holy Ganges in open area and moved on without embracing each other as in Eid or eating from one plate as is the practice in Islamic traditions.
Uttarakhand, which hosted the Kumbh did not suffer from an explosive second wave of Covid unlike other Congress and opposition ruled states like Maharashtra, Punjab, Rajasthan, Delhi, etc. where thousands of people were motivated to squat at one place on the roads in unhygienic tents in Punjab, Delhi and Haryana which was the Super Spreaders.
Continued in Part 2 about Congress Tool Kit targeting PM CARES ,spreading lies about special treatment to Gujarat and promoting Central Vista as wasteful expenditure
DISCLAIMER: The author is solely responsible for the views expressed in this article. The author carries the responsibility for citing and/or licensing of images utilized within the text.