Coolie No. 1 makes us feel bad for Govinda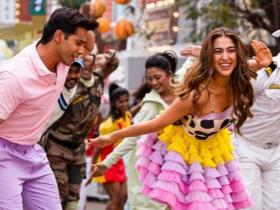 1.3/10 rating on the Internet Movie Database.
Just because one can movies, doesn't mean they should. We wish David Dhawan would pay attention to his own health and obesity rather than peddling his ageing "star" kid making flop remakes like Coolie No. 1
Coolie No. 1, the original starring Govinda wasn't great, but it was a 1000000000000000000000 times better than the unnecessary remake of the 2020 film featuring Varun Dhawan and Sara Ali Khan. Critics have given awful reviews to this film, accusing actors of "overacting," and calling the film a "2020 disaster" bigger than the coronavirus.
Varun, you may have some skills but you only have a name in the industry because of nepotism. And Sara, let's face it, you were more likeable as a fat star kid than a fake, surgery-prone anorexic who is trying to distance herself from her shady, love-jihad peddling family.
Govinda's thoughts on the remake:
Tere mirchi na biki to mei kya karun?
Govinda has probably had a heart attack watching this garbage unfold before him. And Karishma Kapoor is probably crying over Begum convert Bebo's lack of any influence on her step child Sara.
The juicy behind the scenes are probably more interesting than the YAWN remake. David, learn something from this disaster, or simply retire. Your kid will never be a star no matter how many times you launch him in home productions.
DISCLAIMER: The author is solely responsible for the views expressed in this article. The author carries the responsibility for citing and/or licensing of images utilized within the text.