RESEARCH DATA: Majority Say U.S. Media is 'Enemy of the People'.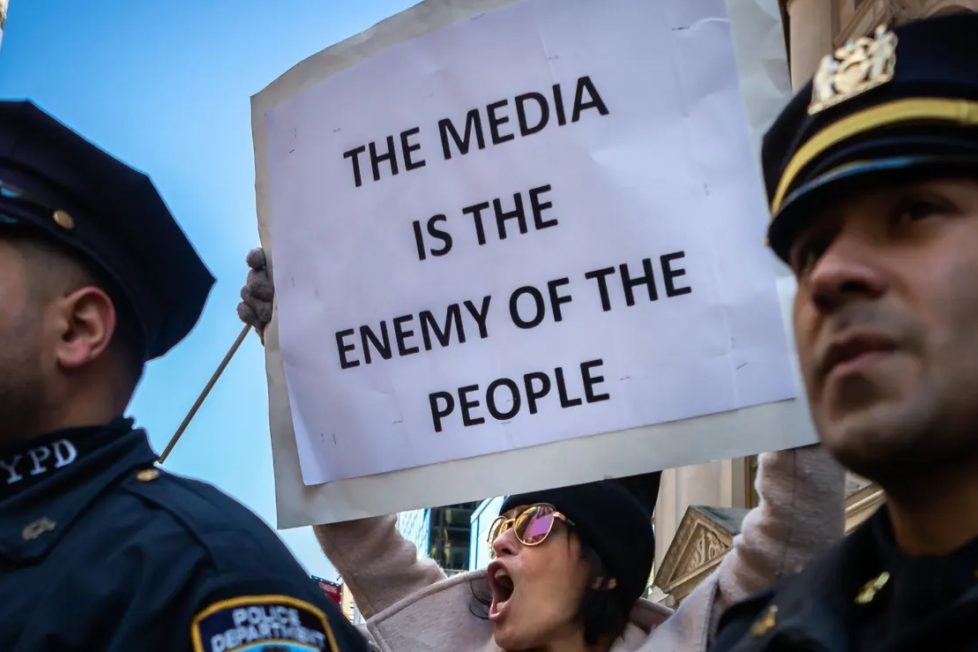 A majority of likely U.S. voters – 59 percent – believe the media are 'truly the enemy of the people,' according to a recent survey by Rasmussen Reports. The quote is taken from a 2019 Donald Trump tweet.
The majority includes 35 percent who "strongly agree" with the statement and another 24 percent who "somewhat agree."
A whopping 77 percent of Republicans agree with the statement, with 49 percent strongly agreeing. Only 20 percent disagree.
Almost half of Democrats – 44 percent – agree with the statement, with 24 percent strongly agreeing.
Trust in Media.
Rasmussen Reports also asked the 1,002 likely voters: "Do you trust the political news you are getting?"
The majority of American voters – 52 percent – answered "[n]o" to the question.
Almost two-thirds of Republicans are untrusting of the media – 65 percent. Democrats, too, are varied, with 35 percent answering "[n]o" and another 21 percent answering "[n]ot sure."
Only 30 percent of the electorate answered "Yes," with less than a quarter of Republicans – 22 percent – trusting the media and less than half of Democrats – 44 percent.
Coverage Bias. 
Lastly, Rasmussen Reports asked: "Does the media coverage of politics generally tend to favor Democrats or Republicans."
The majority of Americans – 52 percent – believe that the media's coverage favors the Democrats, with 66 percent of Republicans and even 39 percent of Democrats concurring.
Neither Democrats nor Republicans believe that media coverage favors the GOP: only 21 percent of Democrats and 23 percent of Republicans thought otherwise.
Source & Image: https://thenationalpulse.com/
DISCLAIMER: The author is solely responsible for the views expressed in this article. The author carries the responsibility for citing and/or licensing of images utilized within the text.