DO DESI WOMEN YEARN TO BE RULED BY A STRONG MAN?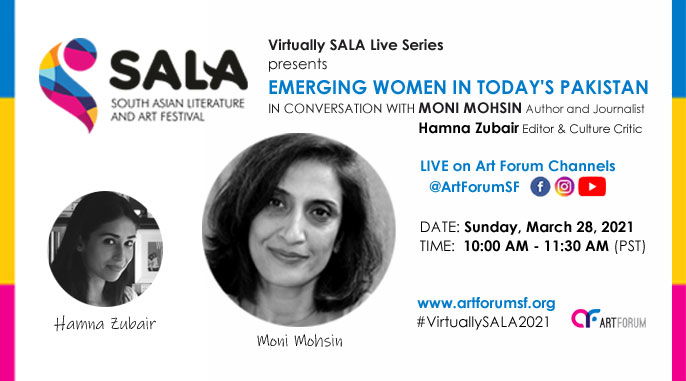 On March 8, 1917 (February 23 in the former Russian calendar), tens of thousands of Russian women took to the streets demanding change. The unified cry for help paved the way for Russian women and won voting rights soon after.
The global theme for International Women's Day in 2021 is 'Women in Leadership: Achieving an Equal Future in a COVID-19 World'.
Art Forum SF is a not for profit that strives to define and promote all art forms emerging from South Asia. Art Forum SF endeavor to present the visual, the literary, and the performing arts in their various versions, thus promoting a more extensive reach for South Asian voices.
"In the month incredibly dedicated to women, we present two women who are Titans in their field from South Asia, Moni Mohsin, a social butterfly during the day and a moth by night, and Hamna Zubair, who is deeply invested in creating and promoting diverse narratives. Eagerly awaiting their conversation on our platform of Artforum SALA," says Kiran Malhotra, Board of Director, Art Forum SF.
Art Forum SF presents Virtually SALA (South Asian Literature & Arts), live series episode 2,
on March 28, 2021, from 10:00 am to 11:30 am PST.
Emerging women in today's Pakistan
– Pakistan in a new light and its high life.
IN CONVERSATION WITH MONI MOHSIN.
Moni Mohsin, born and raised in Lahore, Pakistan, is an author and a journalist. She began her career at The Friday Times, Pakistan's first independent weekly newspaper, where she started her long-running, satirical column The Diary of a Social Butterfly. Moni has written four works of fiction — two novels, The End of Innocence and Tender Hooks aka Duty-Free and two books of collected Butterfly columns, The Diary of a Social Butterfly and The Return of the Butterfly. Her latest novel is The Impeccable Integrity of Ruby R.
Hamna Zubair is a writer, editor, and culture critic, living in Karachi, Pakistan, will be in conversation with Moni Mohsin about her novels' inspiration, how she created the main characters, social media, and more.
Hamna was previously Culture Editor at Dawn.com, Pakistan's largest English-language daily newspaper. She has an MFA in Creative Writing from The New School and has published in New York City before her work in journalism in Pakistan. Her work on feminism, the arts, and how the two intersect in South Asia has appeared in Vogue, Slate, The Herald, Dawn, and various other publications.
"Do desis yearn to be ruled by a strong man?" asks Moni Mohsin and further invites you to join a lively conversation about celebrity, society, and the cult of masculinity in contemporary South Asia.
In these "uncertain times," Art Forum SF moves to host the Virtually SALA Series 2021 with featured talks through the year till it is safe to congregate in a festival setting. Watch Virtually SALA Live Series, Episode 2 on:
Facebook: www.facebook.com/southasianartforumsf and YouTube: https://youtu.be/_3T8Ya77HqQ
Follow us on Social Media @ArtForumSF, and for more information, visit www.artforumsf.org or contact Ambika Sahay, Executive Director, at ambika.sahay@artforumsf.org | 425.736.1779
For sponsorship, media, and marketing opportunities, contact MUKTA Advertising at info@m-a.ca | 416.716.8582.
~30~
DISCLAIMER: The author is solely responsible for the views expressed in this article. The author carries the responsibility for citing and/or licensing of images utilized within the text.