Dragon Is Swallowing Eagle slowly and Steadily: Would it be fair to blame Eagle's Corporations?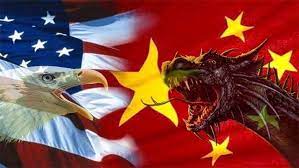 As the Chinese economy grows, alongside the country's middle class, it is no surprise that big western companies will want to tap into its market, but while profit matters so do public opinion.
Big business used to think twice about dealing with China, particularly when its human rights record faced international criticism post-Tiananmen. In the aftermath of the massacre, with its subsequent crackdowns, companies like Rebook International declared that it would not operate under martial law conditions. Likewise, in 1993 Levi Strauss reduced their presence in China because of the countries "pervasive violations of basic human rights". Four years later Holiday Inn announced that it would not be renewing its partnership under which it ran the main hotel in the Tibetan capital Their decision to end their decade long presence in Lhasa was, in part, a response to international campaigns highlighting the ongoing human rights abuses there and the erosion of Tibetan culture by China.
A quarter-century ago, President Bill Clinton took a gamble on China. Instead of punishing Beijing for its human rights violations, he decided to engage it.
The strategy seemed to work for a long time, with increasing trade paralleled by Chinese political reforms and, at times, cooperation with the West. But human rights violations and intellectual property theft didn't go away, China began championing state-owned businesses again, and President Xi Jinping pulled China back toward its more authoritarian past, including forcing foreign companies doing business in China to bend to its will[1].
Unending Simmering Concern?
In 2005, Walt Disney Co. drew angry emails from Chinese citizens for mislabeling Hong Kong and Taiwan as separate countries in an online form that users were asked to fill out for updates about Hong Kong Disneyland, a person familiar with the matter said. Disney quickly fixed the problem and sidestepped scrutiny from Chinese authorities.
In 2010, Google pulled out of China in part because of the regime's requirements that it censors politically sensitive material for Chinese users. And Beijing has long censored scenes of violence and sex from Hollywood films for cultural reasons.
Since coming to power in 2012, President Xi Jinping has tightened his grip over the internet, establishing China's Cyberspace Administration and introducing laws to combat messages that undermine national sovereignty. China added a clause prohibiting advertisements from "damaging the dignity or interest of the state" when updating laws in 2015.
China's Dictatorship on T's: Taiwan and Tibet?
In the past few years, however, we have seen a new trend emerging, such that it is not just foreign governments dancing to Beijing's tune. But Alas, International corporations are now also feeling extreme pressure to bend over backward and accept the Chinese Communist Party's (CCP) "One China" principle.
In January 2018, A set of incidents occurred, when companies including Marriott Hotels, fashion outlet Zara, and Delta Air Lines were all targeted for drop-down menus on their websites which appeared to recognize Tibet and Taiwan as separate countries. Once again, these incidents were completely insipid and non-political, yet the reprisals went well beyond a little social media backlash, with vocal criticism of these companies coming directly from CCP spokespersons and their media mouthpieces.
In the case of Marriott Hotels, a drop-down menu on their app which allowed users to select a "Country" had Tibet as one of the possible selections. Clearly, this was not intended as any sort of major statement or attack on China's sovereignty, but that did not stop them from reacting with a disproportionate response – completely blocking access to the Marriott website for an entire week. A move which surely saw Marriott's bookings take an enormous dip.
As with the other cases, Marriot's President and CEO gave a cowering apology:
We don't support anyone who subverts the sovereignty and territorial integrity of China and we do not intend in any way to encourage or incite any such people or groups. We recognize the severity of the situation and sincerely apologize

[2].
This was then backed up by the managing director of their Asia-Pacific office who told Chinese state media outlet China Daily that it was a "Huge Mistake" and promised an eight-point rectification plan.
In February 2018, Mercedes-Benz was forced to issue an apology after Chinese netizens took to their keyboards to condemn the company's use of a Dalai Lama quote in an otherwise innocuous (and completely non-political) post on their Instagram profile.
They were quick to issue a groveling apology which accepted China's laughable line that the use of a quote from the Dalai Lama had "hurt the feelings of people in [China]" – despite the advertisement being penned in English and posted on Instagram, a site which is currently blocked by China's great firewall.
More egregiously, in a letter to China's Ambassador in Germany, Mercedes-Benz also promised:
...no support, assistance, aid, or help to anyone who intentionally subverts or attempts to subvert China's sovereignty and territorial integrity.
In series of Apologies in the same year, in May 2018, an international incident brewing between China and, believe it or not, the clothing brand GAP. It all boiled down to a small map of China printed on one of their t-shirts, which China deemed "incorrect" as it did not include Taiwan and parts of "South Tibet". This might seem like a pretty petty thing for a foreign government to be wasting their time on, but it is just the latest in series of similar events over the past few months.
The year 2018 has never ending Apologetic Companies list, And next comes Costco…
In May 2018, Costco Wholesale Corp. became the latest U.S. company to be pilloried on Chinese social media after images surfaced online of a 2016 letter from one of the retailer's executives to a Washington group supporting Taiwan's independence. The letter said the company viewed "Taiwan as a Country." Costco, which has long operated in Taiwan and is preparing to open its first store in mainland China, hasn't responded publicly and didn't respond to a request for comment[3].
Does doing business with China mean silencing a portion of one's moral soul?
In October 2019, horny reality burst onto American consciousness due to one American's personal tweet in support of anti-government protesters in Hong Kong.
The problem: That American happened to be the general manager of a team in the NBA, which has legions of fans in China.

 
The financial and ethical stakes are apparent. Beijing canceled NBA preseason broadcasts and has demanded an apology for the Houston Rockets official's tweet. Americans across the political spectrum condemned China's move as an attack on freedom of speech.
China Didn't stop here, In the same month of October 2019, Chinese official pressure prompted Google to pull a mobile game about a Hong Kong protester from its app store. Apple deleted, reinstated, then deleted again an app that Hong Kong protesters used to track police.
China also deleted "South Park" episodes – and even online discussions of them on its version of the internet – after the Comedy Central show mocked Hollywood for making concessions to Chinese censors.
Notably, those changes were demanded Chinese-language versions of movies and websites meant for China's domestic audience[4].
Western Corporations Bandit Territory?
The latest drama surrounds Nike, H&M, and a slew of other Western clothing brands that voiced concern over reports of widespread human rights abuses of the Muslim ethnic minority Uighurs by the Chinese government in Xinjiang. Multinationals work hard to avoid getting pulled into geopolitics, but reports of labor camps out of Xinjiang–which produces about 20% of the world's cotton–made it much harder for them to continue doing so. Add in the increased fervor on social media that demands more corporations take stances on hot-button political issues and suddenly Western companies had a much harder time avoiding the trade-off of access vs. values[5].
Nike thought its measured responses were an acceptable balance, not drawing too much of Beijing's ire while also acknowledging the concerns of Western consumers about possible labor camps. But then the U.S.–alongside Canada, the U.K., and the E.U.–decided in March 2021, to slap sanctions on Chinese officials over the treatment of the Uighurs (the first time the U.K. and the E.U. have leveled human-rights-related sanctions against China in 30 years). At that point, Chinese social media dredged up Nike's statement as proof of anti-Chinese sentiment, leading to calls for boycotts.
The outrage comes after a group linked to the ruling Communist Party posted a statement from H&M about Xinjiang on the Chinese social media site Weibo.
In the statement, released in September, H&M said it was "deeply concerned" over reports of forced labor in the production of cotton in Xinjiang.
Chinese e-commerce giants Alibaba (BABA) and JD.com (JD) even removed all H&M products from sale following the backlash.
People's Daily voiced its outrage at H&M, saying on its official Weibo account: "China's Xinjiang cotton is white and flawless." State broadcaster CCTV accused foreign brands of "earning big profits in China but attacking the country with lies at the same time."
Actor Huang Xuan and actress Song Qian, brand ambassadors for H&M since 2020, said separately they would no longer work with the company.
In a statement posted Wednesday on Weibo, H&M said it has always maintained high standards and transparency in its global supply chain[6]
Dozens of Chinese celebrities have terminated the contracts or said they would cut ties with these brands, including Nike, Adidas, Puma, Converse, Calvin Klein, Tommy Hilfiger, and Uniqlo — a move lauded by state media. And Honors of Kings, Tencent's smash-hit video game, is ending a partnership with Burberry(BBRYF) and removing its tartan design from characters' outfits.
Nike shares tumbled more than 3% Thursday on Wall Street, while Adidas sank more than 6%. In London, Burberry lost more than 4%. H&M stock also slid nearly 2% in Sweden.
How China gets American companies to parrot its propaganda?
Chinese Chairman Xi Jinping calls this "Discourse Power" — the ability to shape the narrative and "Tell China's Story Well." And foreign companies and their employees are excellent proxies for evangelizing China's position. In other words, while the United States excels in soft power, China wins in what we could call proxy power.
When retired Chinese basketball star Yao Ming praises China, Americans expect it. When Houston Rockets star James Hardenapologizes for his team and professes that "we love China" and "everything there about them," that feels more heartfelt. Though Harden's sentiments may be sincere, his contrition advances Beijing's propaganda goals.
Criticism of China's unfair treatment of American companies has focused on technology transfers, state support of domestic businesses, and intellectual property theft. But Beijing doesn't just want foreign companies to advance its economic interests. It wants them to advance its political ones, too. In subtle and sophisticated ways, Beijing convinces, cajoles, and cudgels American companies to promote the values of the ruling Chinese Communist Party, parrot the party's views, and enshrine self-censorship about China in their corporate cultures[7].
The Same Old Narrative, New Strategy?
The BIG problem with these Big Corporation dancing in tunes with CCP is that they go beyond merely apologizing. Before these incidents, neither Marriot nor Mercedes had any official position on the Tibet issue, but now, due to their responses, they have firmly promised to uphold the CCP's "One China" principle. As such, they have publicly rejected the Tibetan people's right to self-determination.
When viewed in this light, the outcry from Chinese officials over these "attacks" on their sovereignty begins to make more sense. Is it likely that any of these seemingly harmless events have truly "hurt the feelings" of a large swathe of Chinese citizens? It is doubtful. Do these slights by foreign businesses really warrant official responses from senior government officials? Probably not. What is true, however, is that these incidents represent a golden opportunity for the regime to further cement their narrative on Tibet, forcing businesses to officially back their side of this debate.
"At home and abroad, the CCP is fighting a defensive ideological battle against liberal norms of democracy and human rights, but so far at least, it is not engaged in a determined effort to spread autocracy," writes Jessica Chen Weiss, a Cornell University professor and author of "Powerful Patriots: Nationalist Protest in China's Foreign Relations.[1]."
Backlash in the U.S
Nevertheless, in the Month of 2019, the moves by U.S. companies to accommodate Beijing have created a harsh backlash across the U.S. political spectrum: "From Republican Sen. Ted Cruz of Texas and Democratic Rep. Alexandria Ocasio-Cortez of New York" criticizing Apple in an open letter to Democratic presidential candidate Elizabeth Warren and Republican Vice President Mike Pence criticizing the NBA.
By "siding with the Chinese Communist Party and silencing free speech, the NBA is acting like a wholly-owned subsidiary of the authoritarian regime," Mr. Pence Former Vice-President said in a major Trump Administration foreign policy.
In his speech, Mr. Pence made clear the U.S. did not seek a decoupling.
All this leaves U.S. multinationals walking a tightrope, trying to preserve their business in China while not offending American politicians or consumers.
"Companies are thinking very hard about how they are going to mitigate that risk," says Andrew Polk, a founding partner of Trivium China, a strategic advisory firm based in Beijing. "But for most of them, it's not an option not to be in China. The growth of the global economy is happening in Asia and it's centered in China. And if you want to be a company that's growing, you've got to find a way to tap into that demand. It is that simple."
In a 2019 talk, Facebook CEO Mark Zuckerberg cast his company as one that sought access to China hoping "we might help create a more open society." But the narrative was told. Facebook now has "more freedom to speak out and stand up for the values we believe in," he said, after being rejected in those efforts[1].
Decoupling???
The poster child for this quandary is Apple. More than 90% of its manufacturing and 20% of its sales come from China.
Even if Apple wanted to leave, it would take three years to move 10% of its manufacturing production in the best-case scenario, says Dan Ives, an analyst at Wedbush Securities.
And China is not eager to see Western companies leave. At times of peak iPhone production, such as now, Apple employs some 1.4 million Chinese.
"Ultimately, from a technology and from an ecosystem perspective, [China and the U.S.] rely on each other: One's the heart, one's the lungs," Mr. Ives says. "As much as they're in an old Western standoff, they both know what's at stake.[1]"
Beijing has seemingly made it a priority to pressure big businesses into taking the Communist Party line on China's territorial disputes… and so far, they are succeeding.
Now it's up to American Corporations to Decide "American Values" OR "Chinese Profits"?
---
[1] Hong Kong, the NBA, and America's uneasy ties with China – CSMonitor.com
[2] Big Business Bending to Beijing | Free Tibet
[3] If You Want to Do Business in China, Mind Your T's: Taiwan and Tibet – WSJ
[4] Hong Kong, the NBA, and America's uneasy ties with China – CSMonitor.com
[5] H&M and Nike Learn the Price of Doing Business in China | Time
[6] Xinjiang cotton: H&M and Nike are facing a boycott in China over Uyghur forced labor statements – CNN
[7] How China gets American companies to parrot its propaganda – The Washington Post
DISCLAIMER: The author is solely responsible for the views expressed in this article. The author carries the responsibility for citing and/or licensing of images utilized within the text.