Siddaramaiah's hateful rhetoric !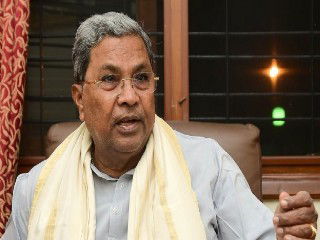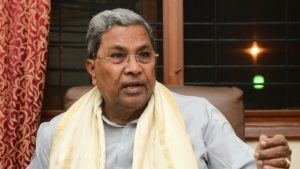 In the states where the BJP is in power, new laws are being enacted in place to address the issue of attacks on Hindus and Hindu Dharma. In Karnataka, the first cow protection law was passed and now the government has taken another big decision, which is to free temples from the clutches of the government, keeping its pre-election promises. 'Crores of rupees given as donations to Hindu temples are taken by the government and this money is used for social purposes or for non-Hindu religious causes. Such injustice against Hindus has been taking place for many years now. To do all this, '2-3 political parties have literally distributed the main temples of the state in between each other and appointed their close aides over them.' This is extremely unfortunate. For the last two decades, Hindu Janajagruti Samiti has been educating the masses through various forms of media, about the harmful effects that happen after the government's takeover of temples. In the last 5 years, there has been a lot of awareness among Hindus about this and when the Karnataka government finally announced the decision, it was very well received by all devout Hindus.
Congressmen rekindling racism !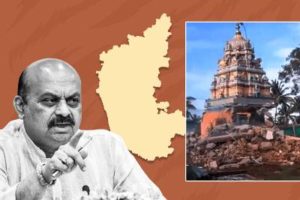 Even today it does not seem like Hindus will get their rights easily. Seeing the pace at which decisions favoring Hindus are taking place, the progressives (actually regressives) and Congress are feeling that the ground beneath their feet is shifting. The removal of government's takeover of temples means 'that the money coming from these temples will go into the hands of the Brahmin priests and their monopoly will increase', 'Other caste Hindus will be enslaved as their dependency on Brahmins will increase and 80% of the society will come under their control', said Congress leader and former Karnataka Chief Minister Siddaramaiah. He slammed this decision and further said, "there will be a return to Manuvad (ethos of a society governed by Manusmruti)". Devout Hindus should emphasize the fact that this demonization of 'Manuvad' by the Secular progressive Congress is completely false and made up by 'Western Historians'. To eradicate this 'phobia' of racism that is being brought about by so-called Manuvad must be countered enthusiastically with proper reasoning. Also for those who do not know, 'Manu was a Kshatriya king, not a Brahmin', so those who want to talk about Manusmriti, should first read and study it and then speak. Manu has actually punished Brahmins even more severely than Shudras. King Manu has written in  Manusmriti that, 'All castes, including Brahmins, should be able to perform their prescribed deeds properly and prudently so that the system in society would function better'. Manusmriti has kept our society strong and intact for millennia, while most other great civilizations of the world have become a part of history. They should keep in mind that the Brahmins did not create slavery, but lived a life of self-sacrifice and kept the culture intact for millions of years. Once this truth starts surfacing on a predominant scale, the anti-Hindu narrative that spews venom will not last any longer.
Congressmen have no rights to talk about the decisions favoring Hindus!

It has now become more and more favourable for devout Hindu activists to easily counter the ideological views of Siddaramaiah and those of his likes who wish to see Hindu interests destroyed and those who want to misguide & create an ideological divide among Hindus just to create an atmosphere of hatred in society. Hindus who love the nation and Dharma should unite and make ideological counter-arguments to oppose and answer those who are undermining the decisions favoring Hindus. The Congress which did nothing for Hindus' interests for 74 years and played appeasement politics have done nothing but a grave injustice towards Hindus. Now such Congressmen have been ousted by Hindus and hence have lost all their rights to say anything about the decisions favoring Hindus!
A Devotee will always be dutiful and free from desires !

Now that the temples are under the control of the local devotees, how will they be managed ? The Hindu Janajagruti Samiti has appealed for a discussion with the Shankaracharya, saints, various Hindu organizations, Akhada Parishads etc. to decide upon the rules and policies regarding the governing of temples. A true devotee will always be dutiful and without desires. He considers God's power to be final and will avoid sin at any cost. His needs as well as attachments are both minimal. Therefore, he will have the ability and self-confidence to use the money offered by the devotees as per Dharmashastra. There are countless examples of such devotees in the tradition of Sanatan Dharma. We have ideals of the great Arya Chanakya extinguishing the flame of his lamp while doing personal work because the oil used for the lamp was paid for by the government. The innumerable temples, Shaktipithas, Jyotirlingas, Dattasthanas, Swayambhu temples, temples of the various incarnations of Vishnu etc, are all very very ancient.  As temples are the very soul of India, the question of how and where to spend the money also has a very old and ancient tradition. Hence the anglo-saxon congress which was born just 135 years ago has no need to meddle in such matters. To give a more recent example in this very context, Shivshankar Bhau Patil, the trustee of the Gajanan Maharaj Temple in Shegaon, Maharashtra, took good care of the temple and made wise use of all the money donated by the devotees. Before independence, has there ever been a time in history when there was any scandal or looting of land or gold of temples ? If Siddaramaiah has ever heard otherwise, then he is welcome to give an example of the same, otherwise, since Hindus are awakening, it would be better for him to stop the falsehood of Manuvad and racism to divide Hindu society!
DISCLAIMER: The author is solely responsible for the views expressed in this article. The author carries the responsibility for citing and/or licensing of images utilized within the text.