Eminent French Journalist, India Lover Francois Gautier's Twitter Account Hacked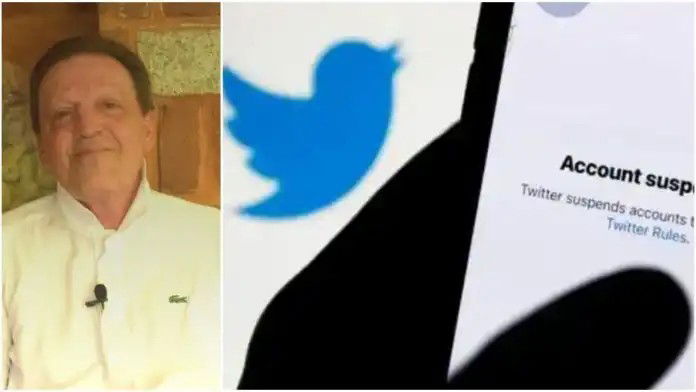 Twitter has again displayed its biased attitude towards all prominent voices who call out the jaundiced and fabricated leftist history varnishing the atrocities committed by Islamic invaders in India, by simply suspending, deleting or letting their twitter accounts get hacked and making it inaccessible.
On March 9th, 2021Francois Gautier's twitter account, @fgautier26, was hacked by making it inaccessible to him from then and despite several complaints lodged by Gautier, his twitter account is still inaccessible and operated by a hacker even after a week's time. Francois Gautier, is a well known and reputed French journalist who has made India his home for the past 40 years.
Notably, Francois Gautier had 71,000 followers and now his twitter account shows some imposter's photograph with 60,000 odd followers. The twitter account is still inaccessible to him.
What Is Francois Gautier's Crime? Why Is His Twitter Account Hacked & Inaccessible?
Perhaps the openly leftist Jack Dorsey founded Twitter made Gautier's twitter account inaccessible to him and allowed it to get hacked as he was a prominent speaker and prolific writer who exposed leftist historians' lies and fabrications trying to make us believe the lie that how benign barbaric Islamic invaders and Mughal dynasty were to India and Hindus!
Francois Gautier's only crime is, though born French, raised as a Catholic, he admires Hinduism, married a Hindu, loves India and most importantly strongly defends Hinduism and Hindus against Hinduphobic western racist whites.
Gautier, in his interviews to the media, including CNN News18, says he was specifically targeted because he defends Hindus. He said he had earlier once received a warning from Twitter for posting the fact about Mughal Emperor Akbar, that even though he was more tolerant than the rest of the Mughals, Akbar massacred 30,000 Hindus in Chittor which included young children.
There is also a good possibility that the reason for Twitter's veiled crackdown on him is just a few days before on 05.03.2021, Francois Gautier's book, "An Entirely New History Of India" questioning the colonial biases in history was launched by Union Minister Dr Harsh Vardhan. The book is published by Garuda Prakashan.
Such detailed scholarly exercises on history are an anathema for the leftist ecosystem as it exposes their lies. Since they could not get his book banned, they resorted to attacking his twitter account as his book would gain popularity and more and more people would read his book which would spread awareness among the public.
Gautier in fact has penned books earlier too and has made a wonderful Fact Museum which displays the true facts on the barbarous tyrannical history of Mughals in India, the greatness of Chatrapati Shivaji Maharaj and the genocide of Kashmiri Hindus from Kashmir Valley. Gautier has brought these facts out in global forums openly defending Hindus and informing the world about history of Hindu genocide.
Gautier is despised by the leftists and western imperialists because he does not hesitate to bring home truths like Hindus have been the most tolerant community in the world openly accepting all refugees persecuted for following their choice of faith, be it Jews, Parsis, Tibetan Buddhists etc. with open arms.
As rightly argued by Gautier, Twitter does not bother to ban the most vile of Islamist handles including the Malayasian ex-Prime Minister Mahatir Mohamad, who had condoned on twitter the brutal beheading of French teacher Samuel Paty by an Islamist terrorist and even went to the extent of suggesting on twitter that Muslims have a right to kill all French people due to atrocities committed on them. But twitter choses to ban, suspend or allow hacking without any recourse twitter accounts of people who defend Hindus and Hinduism.
Gautier said that white supremacist complex drives western Indologists to rubbish Hinduism, Hindu scriptures and distort Islamic & colonial history of India by the likes of Wendy Doniger, the latest being Audrey Truschke who defames Bhagwat Gita, Lord Ram and has written a book eulogising one of the most tyrranical barbarous Islamist ruler and bigot, Aurangzeb as a very benign ruler and beneficial administrator who according to her fib, saved more temples than he destroyed!
Gautier exposes the big American Tech Giants like Facebook, Twitter, Google News and Wikipedia's inane bias against Hindus which churns out routinely Hinduphobic content. This Gautier says is because the western nations have issues with the Muslim minority in their nations and to assuage their feelings in a bid to be not seen as Islamophobic, they have actually become Hinduphobic.
Gautier in fact points out that not just Twitter, the Wikipedia page on him states many untruths about him and portrays him as a right wing Hindu supporter very dangerous for India's cultural unity. Whereas Gautier is a true lover and friend of India with great respects for its traditions and cultural ethos. Gautier says, whenever he tried to correct these facts in Wikipedia, they just return to the original defamatory content.
Twitter's Hinduphobia can well be evidenced by the open declaration of Jack Dorsey's leftist opinions and the banner displayed by him on his three day visit to India stating, "Down with Brahminical Patriarchy" when he has no true idea about Hindus, Hinduism or Brahminism.
Gautier thus says that the white supremacist westerners want the idea of Hindus and Hinduism to be known and seen from their perspective with no bearings on actual facts without any consideration of Hindus' point of view or trying to understand and learn about Hinduism and true history of Islamist invaders in India.
Twitter has thus displayed its Fascist attitude of crushing Freedom Of Expression on its platform by silencing voices which has a difference of opinion and speak for the Hindus, who are a minority in the world dominated by predatory Abrahamic faiths.
Francois Gautier's supporters did back him and root for him with a hashtag #ISupportGautier which was trending on 9th March.
But since then there has been no sustained effort from the Hindu community, its various organisations social and political including the RSS & BJP to come in support of this French man who is a true Indian at heart and a staunch supporter of Sanatan Dharma. His commitment to Sanatan Dharma and Hindus are so deep that he has been urging the BJP government at the centre to take steps to correct the distorted history fed to young minds in India through decades by leftist distorians by revising the history textbooks in schools and higher education.
Hindus have to unite and stand in support of our true friends who take the flak internationally for sticking their neck out to expose Islamic & Christian colonial barbarism and tyranny leading to genocide and forced conversions of Hindus to Islam and Christianity.
A community which does not defend its own people and friends against the onslaught of enemies is bound to vanish, so let us unite and run a sustained and relentless campaign on every social media platform and other platforms which would force the BJP and central government to seek accountability from Twitter for making Francois Gautier's account inaccessible to him and their illegal censorship of right to free speech of the renowned French journalist. So, let us all start using the Hashtag #RestoreReal@fgautier26 till Francois Gautier's twitter account is finally restored.
Image Source: Opindia
DISCLAIMER: The author is solely responsible for the views expressed in this article. The author carries the responsibility for citing and/or licensing of images utilized within the text.