Erroneous and Clandestine Deals of India's Congress Party with Chinese during UPA regime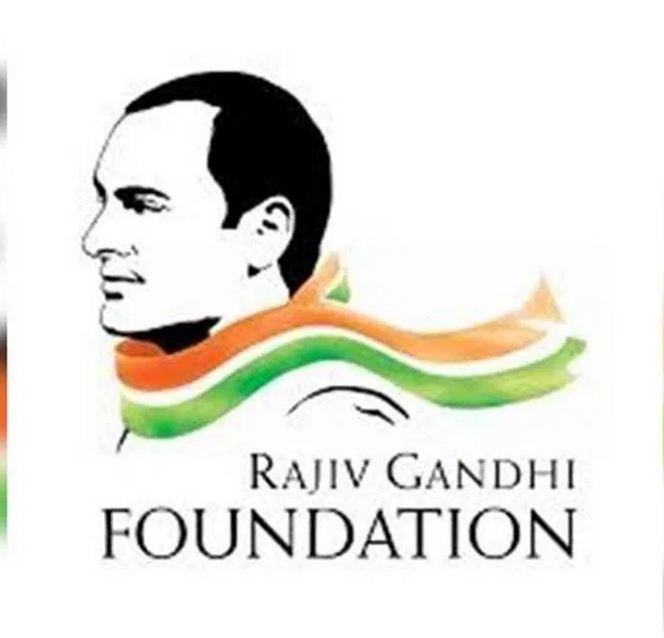 Indian National Congress, simply called as Congress party was in power for absolutely 60 years of 72 years of Independent India. In 1962, at the peaks of Cuban missile snafu, China Invaded India and occupied absolutely 38000 sq. km of Ladakh. India conceded and accepted the failure but couldn't get back its territory due to the failure with the then administration by Prime Minister Nehru. The principal difference that lead to the war can be attributed to New Delhi's perception of Tibet's Autonomy and providing Exile to Dalai Lama. While India still claim the occupied territory, and its repercussions still overshadow until 2020. It's not just this Aksai Chin, but the whole Arunachal Pradesh of India's North East is being claimed by China as South Tibet. Despite the efforts made since past three decades and signed the border pacts with China, the dogmatic and heavy military infrastructure, patrolling and frequent incursions of PLA into border posts in India have led to more fragile relationship.
Congress Party administration in UPA 1 and UPA 2 regime
United Progressive Alliance (UPA) is a conglomeration of parties with a common minimum program to satisfy the goal of administering the five-year governance period although with different ideologies and divergence. While UPA1 and 2 was sewed and stitched by Congress Party President Mrs. Sonia Gandhi, including the communist party in the union government from 2004 to 2009. Congress Party led by a team in August 2008 signed an MoU with Chinese Communist Party (CCP). The MoU was signed by Congress General Secretary Rahul Gandhi in presence of Sonia Gandhi while the other side is none other than Xi Jingping who was Vice president of Chinese Communist Party. The MoU is to exchange the regional cooperation and bilateral relations between two nations apart from discussions on mutual interest. It is interesting to observe that these types of MoU are normally signed between Universities, Companies, organizations, or between two nations but this type of MoU is first of its kind between two different ideologies since Indian Independence. It is also worth to note that the details of MoU were not even shared or discussed with the highest policy making body of Congress party famously known as Congress working committee (CWC).
Secretive Deals
During UPA1 and UPA2 era, the trade details between India and China, show a surge in
During UPA1 and UPA2 era, the trade details between India and China, show a surge in trade deficit from $1.3 Billion in 2003–2004 to $32 billion in 2013–2014, in other words a 32% increase. We can consider this as a policy shift of UPA government towards China.
While accepting that China has better infrastructure like Roads, Railroads and access to the borders, India's old policy of not having better infrastructure and considering to equip with better infrastructure is also a reason for the standoff between China and India in 2013.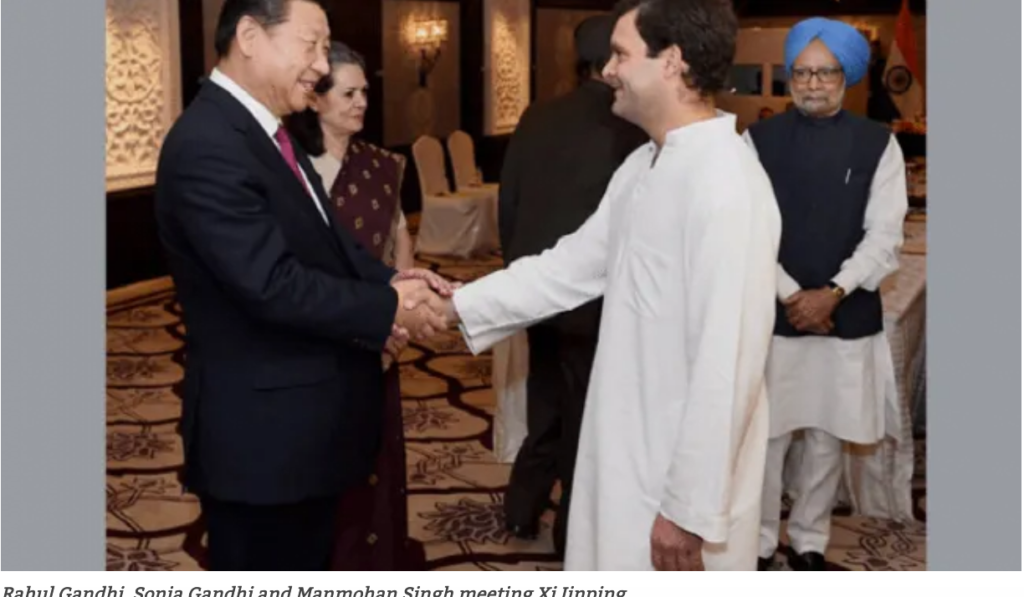 The clandestine MoU that was signed between CCP and Congress Party has to be revealed on what mutual interests were met and discussed as the MoU was never shared to its own CWC members. The series of events after receiving funds from China from 2005 till 2008 and followed by the MoU makes it much murkier and dubious. In 2008, Chinese paid trip, Gandhi Family including Priyanka Gandhi and her husband Robert Vadra and two kids went to Beijing to attend the Olympics and It is pertinent to note that, a year before the MoU was signed, Congress party led by Gandhi's sent a delegation to China.
Per the reports, Embassy of China in India has donated Rupees 90 Lakhs (1 Lakh = 100,000) to Rajiv Gandhi Foundation in 2008. It's not just the Embassy but People Republic of China have donated Rupees 10 Lakhs to the foundation for financial assistance while the trustee are Rahul, Priyanka and Sonia Gandhi apart from P Chidambaram. It is pertinent to question ourselves that the Chinese donation to Rajiv Gandhi Foundation and its interest on Congress Party fetches any benefit from Indian side?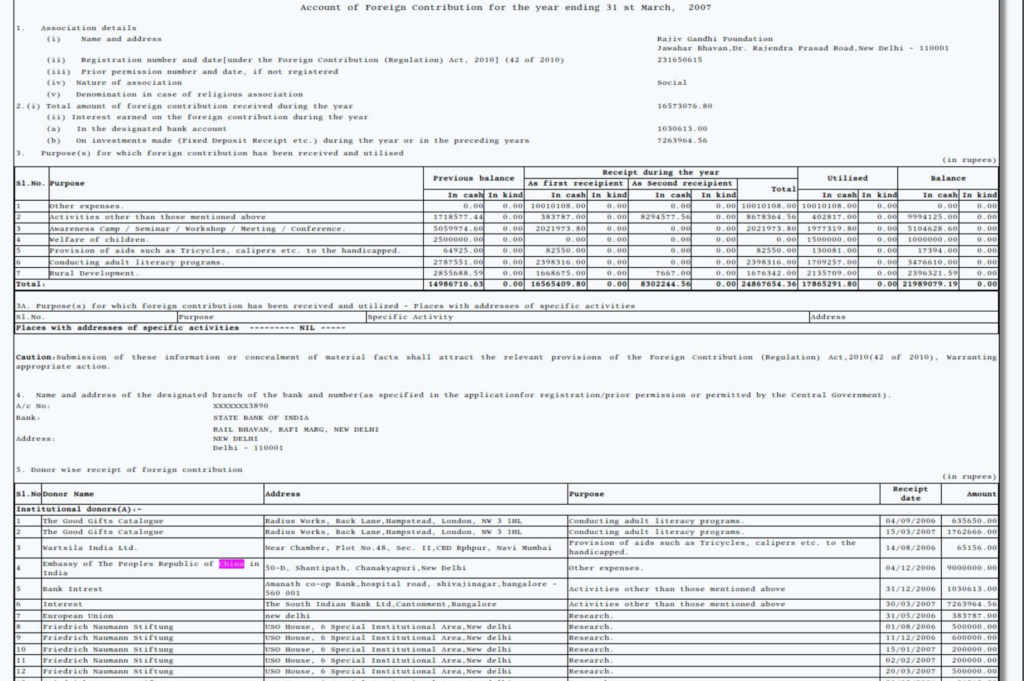 Rajiv Gandhi Foundation's Study on FTA:
After receiving funds from Chinese government, Rajiv Gandhi Foundation worked on the interests of China with two projects that focused on "Perception Study" and Technology transfer from Research and Development institutions to industry in India and China. Apart from this, the foundation had had studied the feasibility of Free trade Agreement between India and China. This study essentially wanted the economy to completely open between two countries.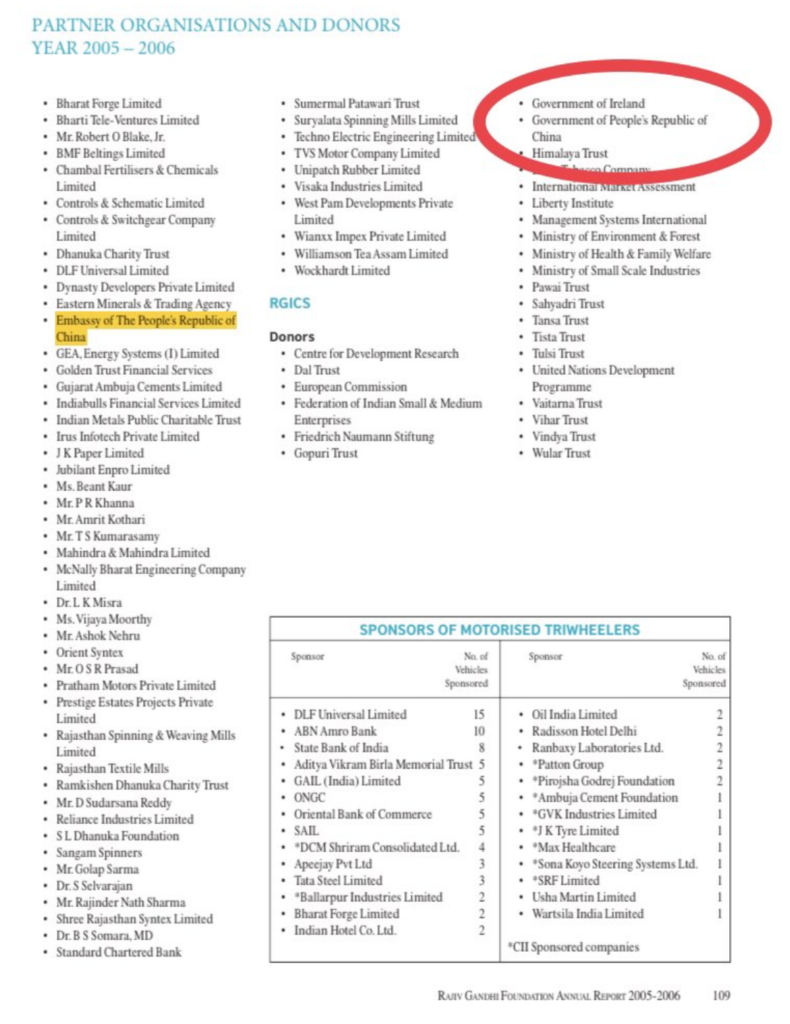 The 2009–2010 report states:
In April 2009, RGICS Fellow Mohammad Saqib carried out a feasibility study, 'India-China: Free Trade Agreement (FTA)', in association with Dr Purnachandra Rao. The main objective of the study was to gain a better understanding of an FTA between India and China, analyze various trade issues and identify who would stand to gain and lose from such an agreement. The report concluded that China would be the greater beneficiary in all trade dimensions because of the efficiency of its economy: 'There is a principal need for India to improve its commodity structure to balance its performance of competitiveness and complementarities.' The authors suggested that India needed, at the minimum, to diversify its products. The study concluded that 'there are always losers and gainers in the regional and free trade agreements. India and China can balance the gains and losses through an FTA. Therefore, both governments should decide to enter into FTA negotiations. The proposed FTA between India and China will be feasible, desirable and mutually beneficial. An FTA between India and China should also be comprehensive, with a free flow of goods, services, investment and capital.'
In 2010–2011, the study went with a report by Rajiv Gandhi Foundation undermining India's position with relation to China and attempting to show China has a far more powerful entity that could only "benefit" India. The report concluded:
The study found China to be more fully integrated into the world economy as a major economic powerhouse than India, in large part because of the comparative advantage of labour surplus. But the study also proposed that an FTA would help bilateral economic relations and that the free flow of goods, services, investment and capital would, in fact, benefit India's trade sector more than China's.
Siachen Conspiracy:
General JJ Singh (Retd.), who was the Chief of Indian Army during the UPA-I, said that Prime Minister Manmohan singh and his administration wanted to demilitarize the Siachen glacier and cede the control of the strategic glacier to Pakistan possibly under the pressure of Americans. Speaking to the media, he said "There was some pressure being built on the government of that time to settle the Siachen issue, it could be pressure from America who was close to Pakistan. Manmohan Singh's team, which included Foreign secretary Shyam Saran, the National Security Advisor (NSA) MK Narayanan and others, said we want to make Siachen 'a mountain of peace'. It was a discussion in Delhi."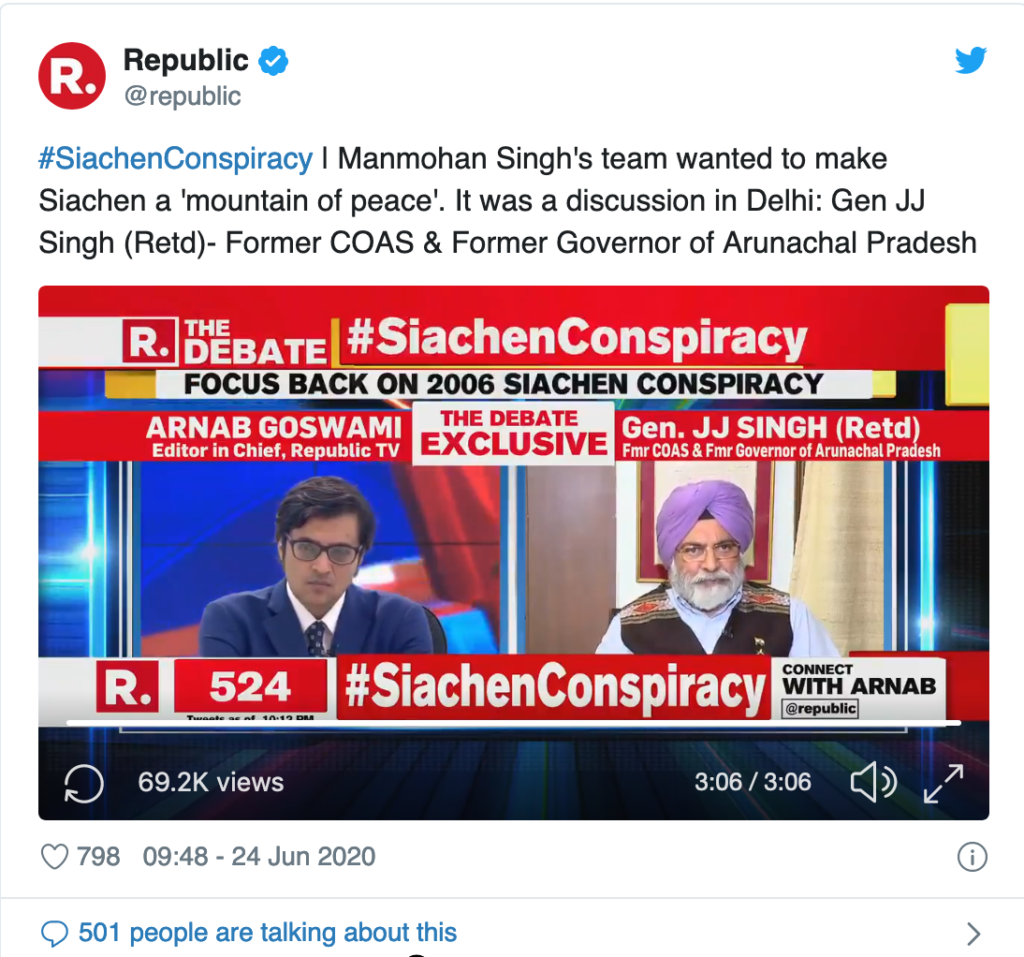 Considering the strategic importance of Siachen glacier, Gen Singh stated that from their current positions, the Pakistanis cannot even have a glimpse of the glacier. The glacier's height allows India to monitor activities in the area from both Pakistani and Chinese sides. While the revealing's made by Gen JJ Singh are astonishing to the fact that the UPA 1 and particularly Congress party intentions to cede the strategic location add fuel to the willingness to cede the Siachen Glacier.
However, During the Cabinet Committee on Security (CCS) meet, the NSA MK Narayanan raised serious concerns about the deal of handing off Siachen Glacier to Pakistan and making it mountain of peace. His intervention in the meeting indeed saved the Siachen Glacier handing off to Pakistan.
Connecting Dots
Going through, it is interesting to note that, Sonia Gandhi who hold Rajiv Gandhi Foundation accepts donations from China, she was also National Advisory Council (NAC) which was an extra constitutional authority that works in parallel with Prime Minister's Office (PMO) and approved the policies and provide advisory to PMO during 2004–2014, She is also Chairperson of UPA and ran the UPA Government as DeFacto. Thus, it is evident that something is not correct with the secretive deals with China. One cannot forget Gandhi family's infamous secret dinner with Chinese envoy during the 70-day Doklam standoff. It came to public only after the Chinese envoy's tweet. Although, Initially Rahul Gandhi denied the meet but later accepted it. The flip flop actions do raise concerns about his closeness with China considering the MoU signed and his intentions of accepting donations while being a mole to India's security clearly establishes his erroneous and preposterous attempts on India's territorial integrity.
Note: Certain aspects related to the article were taken from the sources.
Sources:
DISCLAIMER: The author is solely responsible for the views expressed in this article. The author carries the responsibility for citing and/or licensing of images utilized within the text.