From Lakshman Das Sharma to Neem Karoli Baba, The maharaj ji's life is too inspirational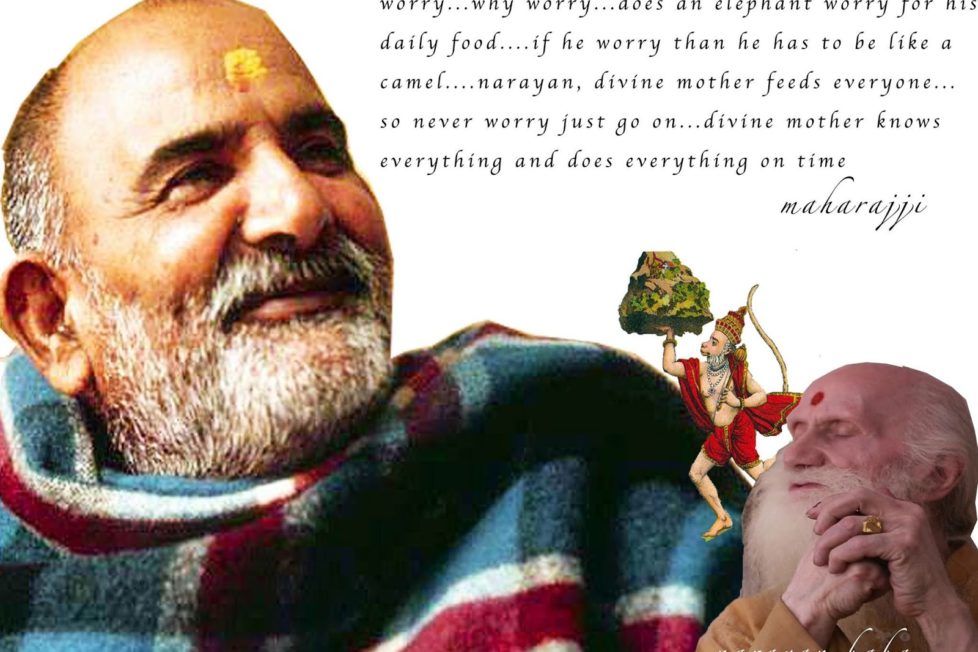 The life and its flaws..
"Love everyone, Serve Everyone, Feed Everyone, Remember God."

~Maharaj Ji
It is said that Gods have their hands on some lives. This is often seen when an Indian goes out of the country for educations. But when it turns upside down then it should be understood that the roots of that Indian is very strong.
India and Indians have been known for their spiritual wholeness since ancient times.
If India was ever a Jagatguru, it was because of our spiritual Gurus, if ever it could be then just because of our spiritual teachers too.
It is mentioned in the Shrimad Bhagwad Geeta that,
यो मां पश्यति सर्वत्र सर्वं च मयि पश्यति |
तस्याहं न प्रणश्यामि स च मे न प्रणश्यति ||
Shrimad Bhagwad Geeta 6.30
For those who see me everywhere and see all things in me, I am never lost, nor are they ever lost to me.
There are some people who live while in this world and still get separated from this world, then God is in them and they become in God.
Life of Shri Lakshman Das Sharma is like this. His life was similar to that of a common Brahmin when he was born in a common Brahmin household. He born in 1900 and according to custom, he was married at a very young age.
But it is said that the leela of that God is very strange, there is something else seen and there is something else happens.
His father got married to that little Lakshman of Akbar Nagar, but he never felt like a householder. He abandoned his home at a very young age. Perhaps the creator had something else approved.
But it is also a fact that Shri Satya Narayan Swami also himself has to bow down to the family fire.
So Lakshman Das ji later returned home, at his father's request, to live a settled married life. He fathered two sons and a daughter.
The Philosphy of Life..
"It is deception to teach by individual differences and karma. See all the same. You can't realize god if you see differences."

~ Maharaj Ji
Neem Karoli Baba known to his followers as Maharaj-ji.
His devotion to Lord Hanuman is world famous.
Along with India, he is respected all over the world. He is also known to guide the successful peoples of the world.
He is known outside India for being the guru of a number of Americans who travelled to India in the 1960s and 70s, the most well-known being the spiritual teachers Ram Dass and Bhagavan Das, and the musicians Krishna Das and Jai Uttal, Google's Larry Brilliant, Steve Jobs and Mark Zuckerberg.
His ashrams are in Kainchi, Vrindavan, Rishikesh, Shimla , Neem Karoli village near Khimasepur in Farrukhabad, Bhumiadhar, Hanumangarhi, Lucknow, Delhi in India and in Taos, New Mexico in US.
Lakshman Das Sharma to Neem Karoli Baba
There is a very famous incident regarding to this.
One day, Baba Lakshman Das boarded a train without a ticket and the conductor decided to halt the train and force Neem Karoli Baba off of the train at the village of Neeb Karori, Farrukhabad district (U.P). After boarding Baba off the train, the conductor found that the train would not start again. After several attempts at starting the train someone suggested to the conductor that they allow the sadhu back on to the train. Neem Karoli agreed to board the train on two conditions that the railway company promise to build a station at the village of Neeb Karori (at the time the villagers had to walk many miles to the nearest station), and the railway company must henceforth treat sadhus better. The officials agreed and Neem Karoli Baba boarded the train, jokingly saying, "What, is it up to me to start trains?" Immediately after his boarding the train, it started, but the train drivers would not proceed unless the sadhu blessed them to move forward. Baba gave his blessings and the train proceeded. Later a train station was built at the village of Neeb Karori. Baba lived in the village of Neeb Karori for a while and was given his name by locals.
Other Honors..
Thereafter he wandered extensively throughout Northern India. During this time he was known under many names including Lakshman Das, Handi Wallah Baba, and Tikonia Walla Baba. When he did tapasya and sadhana at Vavania Morbi in Gujarat, he was known as Tallaiya Baba. In Vrindavan, local inhabitants addressed him by the name of Chamatkari Baba ("miracle baba") During his life two main ashrams were built, first at Vrindavan and later at Kainchi, where he spent the summer months. In time, over 100 temples were constructed in his name.
The Kainchi Dham ashram where he stayed in the last decade of his life, was built in 1964 with a Hanuman temple. It started two years prior with a modest platform built for two local sadhus, Premi Baba and Sombari Maharaj to perform yagnas. Over the years the temple, situated 17 km from Nainital on the Nainital-Almora road, has become an important pilgrimage for locals, especially on 15 June, when then the Kainchi Dham Bhandara takes place to commemorate the inauguration of the temple, when it is visited by over a lakh of devotees.
By the way, they have many popular followers, so if we starts mentioning to everyone,then the day will pass.
Some of them are :
Mark Zuckerburg
Vinod Joshi
Steve Jobs
You might have heard stories about Steve Jobs visiting India and his connection with Indian ideologies. There are fables which says that Steve Jobs was highly influenced by an Indian saint. Also, Mark Zuckerberg spoke about his Indian connect as how Steve Jobs adviced him to visit a mystic temple in India. Yes, we are talking about Kainchi Dham Ashram in Nainital (Uttarakhand) of Neem Karoli Baba.
Neem Karoli Baba had its influence in whole world.
Mark Zuckerburg writes that
"So I went and I traveled for almost a month, and seeing people, seeing how people connected, and having the opportunity to feel how much better the world could be if everyone has a strong ability to connect reinforced for me the importance of what we were doing and that is something I've always remembered over the last 10 years as we've built Facebook. "
Steve Job's Visit to Neem Karoli Baba's Ashram
Jobs always had an intense connection with India and his stories in Hare Krishna temple are a testament to it. It was 1974, Steve Jobs had come to India accompanied by his friend Dan Kottle. Jobs was in search of an eternal peace and motivation after going through a series of failures in his life.
After hearing the legends of Ashram and Neem Karoli Baba, Steve wanted to meet Baba and take his blessings. However, before his arrival, Baba had left his body (Mahasamadhi) on Septemeber 11, 1973. They stayed in the Ashram for a long time, listened to the teachings of Baba, meditated far-off before going back to the US to start Apple Inc. Interestingly, Kottle became the first employee of the company and the rest is history.
Job's final moments and Apple's Logo
Steve Jobs has mentioned in many places about his spiritual experience in India. Mythos says that Neem Karoli Baba's favorite fruit became the logo of Apple Inc, one of the world's most influential companies. It is also said that Steve had a picture of Baba under his pillow when he was counting his last breaths on his deathbed.
And then His farewell to us.. His Death..
Neem Karoli Baba (Maharaj ji) died at approximately 1:15 a.m. in the early morning hours of 11 September 1973 in a hospital at Vrindavan, India after slipping into a diabetic coma. He had been returning by night train to Kainchi near Nainital, from Agra where he had visited a heart specialist due to experiencing pains in his chest. He and his traveling companions had disembarked at Mathura railway station where he began convulsing and requested being taken to Shri Dham Vrindavan.
They took him to the emergency room at the hospital. In the hospital the doctor gave him injections and placed an oxygen mask over his face. The hospital staff said that he was in a diabetic coma but that his pulse was fine. Maharajji roused and pulled the oxygen mask off his face and the blood pressure measuring band from his arm, saying, "Bekar (useless)." Maharajji asked for Ganga water. As there was none, they brought him regular water. He then repeated several times, "Jaya Jagadish Hare" (Hail to the Lord of the Universe)," each time in a lower pitch. His face became very peaceful, all signs of pain disappeared. He was dead.
And that's how that Mahatma said goodbye to us…
Subsequently, his samadhi shrine was built within the complex of Vrindavan ashram, which also has some of his personal belongings.
Ram Dass, a devotee of Maharaj ji named Anjani shares the following account
He was a lifelong adept of bhakti yog, and encouraged service to others (seva) as the highest form of unconditional devotion to God. In the book Miracle of Love, compiled by Ram Dass a devotee named Anjani shares the following account:
There can be no biography of him. Facts are few, stories many. He seems to have been known by different names in many parts of India, appearing and disappearing through the years. His non-Indian devotees of recent years knew him as Neem Karoli Baba, but mostly as "Maharajji" – a nickname so commonplace in India that one can often hear a tea vendor addressed thus. Just as he said, he was "nobody". He gave no discourses; the briefest, simplest stories were his teachings. Usually he sat or lay on a wooden bench wrapped in a plaid blanket while a few devotees sat around him. Visitors came and went; they were given food, a few words, a nod, a pat on the head or back, and they were sent away. There was gossip and laughter for he loved to joke. Orders for running the ashram were given, usually in a piercing yell across the compound. Sometimes he sat in silence, absorbed in another world to which we could not follow, but bliss and peace poured down on us. Who he was was no more than the experience of him, the nectar of his presence, the totality of his absence, enveloping us now like his plaid blanket.
So this was Baba Ji's story, I don't know how you take this story, and I leave it entirely to you. Yes, I want to say that this is that one can never discredit this great culture of India.
The whole civilization can never be destroyed by the destruction of some people
DISCLAIMER: The author is solely responsible for the views expressed in this article. The author carries the responsibility for citing and/or licensing of images utilized within the text.