Reconversion/ Ghar Wapsi : Religious and Social references- Part 1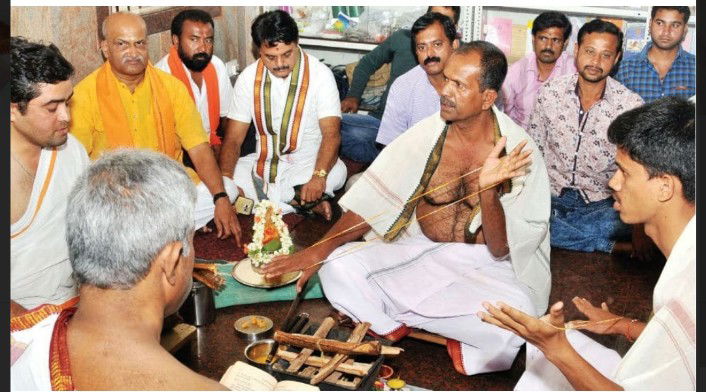 Reconversion is not unknown and is natural retracement to root. It is sanctioned in both religious and social scripture. It is otherwise due to the ignorance that Sanatani Hindu have stopped this practice as part of their dharma. Here are the references and compelling facts which confirm the idea of its social promotion and duty of Dharma.
The first occurrence of this word conversion of non Sanatani to Sanatani begins with sanction granted through Shatapatha Brahmana in the late Vedic text.
Sathpath Puran among the earliest narrates about the uncivilized and lower civilized individuals as Asur, Danav, Dasyu and Melechha. And it is incumbent upon every Sanatani to convert and reconvert them into Sanatani fold. It is their Dharma.
Parasher, a noted Jurist and Sage had narrated the geographical connotation of Word Mleccha. According to him, Mleccha desh are those areas which are inhabited by 'primitive' and yet to be brought under the sway of the Sanatan or Vedic influence.
The Baudhayana sutras supplement and sanction the idea of conversion into Sanatan Fold. Bhavishya puran records the process and history of reconversion into Hindu fold in primitive days in large numbers. Different Suddhi Procedure have been mentioned in Gobhil sutra also.
Thus, Conversion from Lower Civilization to Higher Civilization is what an enlightened Brahman (Mind) should pursue.
Post the Vedic and primitive reference, another older reference of reconversion now also called as Ghar Wapsi is attributed to Sh Bhaskarteerth, the deputy to the Shankaracharya of the Sharada Peeth. He is known to have said that vast majority among Muslim in India barring a few hundred thousand are the decedent of Hindu Ancestor. And therefore they are entitled to be brought back into Hindu fold.
Chatrapati Shivaji was among the foremost tolerant Kings towards religious diversity. While Muslim occupied respectable position under his command, few willing Muslim traced their root and reconverted to Hindu Ancestral root. Neta ji Palkar Suddhi  by Shivaji is a token memory of this happening.
Harihra-Bukka of Vijayanagara kingdom, it is disputed yet said to have been converted into islamic fold after the defeat of Hoysala Kingdom. But they, upon meeting Swami Vidyaranya Underwent Shuddhi and reconverted to their Hindu roots. The empowered brother went on to establish the Great Vijayanagar Empire of South India.
A historical blunder and unfortunate truth that in recorded and should be told to this generation of 1820, When Kashmiri Muslim approached Varanasi Pandit for reconversion and their request was not acceded. The ignorance about religious instruction and selective study of scripture led to this miscarriage of duty and denial. It was a blunder of improbable consequences.
Despite disappointed and uprooted, the Muslim from Kashmir have still have pinned their hope and still maintaining their Hindu Title Wani, Lone, Dar, Bhat till date. Similar titles like Sherwani, Choudhary, Bazwa, Cheema, Memon in Pakistani Punjab specially and not to forget the Maratha Baloch and Hussein Brahmin are yet connected to their Hindu roots. 
To say there is no social or religious sanction attached to this pious work in our society is wrong, false and even insidious. It just happened because of ignorance, exclusivity and gap in the promoting Social inclusivity.
Veer Savarkar in Modern India promoted reconversion and practices the same. Christian family working alongside Veer Savarkar willingly traced their roots to Hinduism. Veer Savarkar took the initiative of his reconversion while facilitating his welfare.
Mahatma Gandhi in Modern India and one of the most revered political leaders of the World who stood for non-violence and political purity in his life. Mahatma Gandhi had four sons. Among the four son one Hiralal is said to have been brain washed to convert into Islam.  Mahatma Gandhi in despair too wanted his son Hiralal to return to Hindu fold. Then Kasturba Gandhi approached Swami Shradhanand under Arya Samaj to do the purification and reversion of Hairalal into Hindu Fold.
Today a number of organizations are engaged in reconverting the masses who on account of medieval misfortune and missionary allurement had embraced other beliefs.   The Ghar wapsi or reconversion is an individual choice and expression of belief in Sanatan way of life. Here are many methods that are employed to accomplish the Ghar wapsi.
Suddhi Movement by Arya Samaj of Swami Dayanand :–   Arya Samaj, a religious organization founded by Swami Dhayananda Saraswati (1824-1883) started this process of Shuddhikaran or reconversion. The procedure involves a vedic purification ceremony Called "Shuddhi Karma".

Shuddhi Movement in Northern India:-The first recorded organized Gahr Wapsi termed as Shuddhi movement was initiated by Swami Dayanand Sarswati of Arya Samaj. In 1877.  A Muslim Man from Dehradun was initiated into Sanatan fold through the Shuddhi process. Thereafter the largest recorded series of Shuddhi program was performed in 1908 in the area of Haryana and Western UP. 
Shuddhi Movement in Kerela:- The Shuddhi movement was carried on by Swami Shraddhanand during the 1920-22 especially in the area of Kerala where in thousand Muslim reverted into Hindu fold post mopilla killings.  He was then also popularly known as Mahatma Munshiram.
Swami Shraddhanand was equally active in bringing the masses into the Shuddhi Karan process in Western UP and Haryana region. He is estimated to have converted more than 15 lakh Non-believers back to Hinduism in his life time.
DISCLAIMER: The author is solely responsible for the views expressed in this article. The author carries the responsibility for citing and/or licensing of images utilized within the text.