Godless MK Stalin Keeps Temples Closed On Weekends, While TASMAC & Cinema Halls Remain Open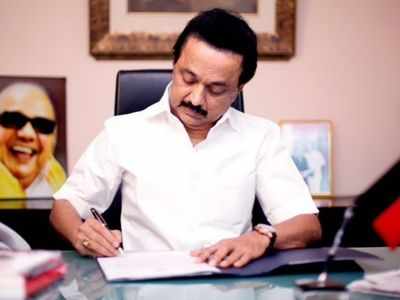 The Godless MK Stalin has been pursuing a policy from the beginning of the pious month of 'Aadi' in Tamil calendar starting from July 16th , to keep all Hindu Temples and Maths closed on Friday, Saturday and Sunday every week under the pretext of curbing Covid infection.
Perhaps some anti-Hindu worthies have informed him that almost all holy Hindu festivals for Tamilian Hindus in Aadi falls on Fridays or Saturdays or Sundays. So be it Aadi Perrakku, Aadi Vellikazhamai, Aadi Ekadashi or even the Yajurvedi, Rigvedi Upkarma day all Temples including the ancient ones, more than 2000 years old, remained shut and devotees were deprived of Darshana. Even regulated entries to Temples were not allowed on these pious festival days.
The atheist Chief Minister, MK Stalin, on Monday (August 30th) came out with an announcement stating that the lockdown would be extended till September 15th. The beaches are to remain closed on Sundays and public places of worship are to remain closed on Fridays, Saturdays and Sundays.
Stalin government has banned public procession and installation of Ganesha Murtis for the Ganesha Chaturthi celebrations. Neither is any procession allowed to immerse Ganesha Murtis, only individuals can immerse the Murtis. Effectively, one cannot have even small gatherings to celebrate Hindu festivals or do Poojas in small groups observing Covid protocols.
While for the Christians, MK Stalin government has allowed them to observe the 11-day annual festival at Annai Velankanni Church celebrating September 8th as Mary's birth anniversary.
The government has allowed the procession of carrying Mary's idol through public streets of Chennai, while only requesting the Christian devotees to not assemble in large crowds during the procession or in the Besant Nagar Church where at the beginning of the 11 day festival, a Church flag would be hoisted.
So, while Ganesh Chaturthi pandal pooja and Visarjan procession is completely banned, the Christians are allowed a restricted procession and congregation in front of the Church.
This apart, the MK Stalin government keeps open on all days the government watering holes, i.e. the TASMAC which sees huge crowd of drunkards like swarming bees in front of all TASMAC outlets through the raging pandemic even in the lockdown! The government also keeps cinema halls open on all days where people sit close to each other and watch movies despite Covid conditions.
Well the anti-Hindu Stalin government doesn't fail to use even a pandemic to push their Hindumisic ideological agenda!
Image sourced from internet.
DISCLAIMER: The author is solely responsible for the views expressed in this article. The author carries the responsibility for citing and/or licensing of images utilized within the text.