Golden Natraja, Dancer Ponnanaiyal & Vallaba Siddhar – A must see Madurai Meenakshi Sundareswarar Temple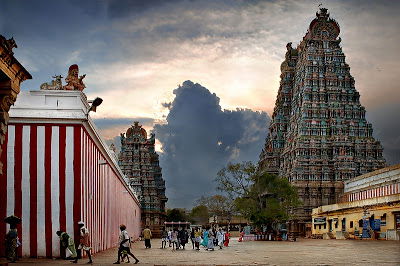 Ponnaiyaal hailing from Tirubhuvabanam, near Madurai was an accomplished and a beautiful dancer. The word "PONN" means gold in Tamil. Ponnaiyal was truly a glittering golden beauty.
She was a devoted shiv bhakt. She earned her living by dancing in front of the main Shivalinga Thirubhuvanathar Sannadhi at this Tirubhuvanam temple.
Ponnaiyaal as a dancer felt incomplete that she was dancing in front of Shiva in the lingam form since the temple did not have Lord Natrajamurthy as Utsavar. She used to pray that some large-hearted devotee makes a golden Utsava Natrajamurthy for the temple.
She was also getting old but her wish remained unfulfilled as years rolled on. She was spending a large portion of her earnings in feeding the devotees who were visiting the temple to have a darshan of Lord Thirubuvanathar.
She started to beg lord shiva to bless her in attaining her life-long desire of a golden Nayraja Utsavar in front of whom dancers can perform to their heart's content.
Her countenance was always tinged with a forlorn expression because of her unfulfilled yearning. One day there was a group of Sivanadiyars visiting the temple. As per her usual practice she hosted them a sumptuous feast. In this group, there was one Sivanadiyaar who stood out in this group. His eyes were piercingly sharp and bright. She could see a halo around him and the divinity flowing from him was encircling her.
While the rest of the group finished eating this Sivanadiyar alone was sitting quietly in front of his served leaf. He did not touch the food in front of him.
He looked at Ponnaiyal and asked her as to why she was serving food with a sad expression. He requested her to come clean on what was bothering her much. He further offered to help her in solving her problem. He then startled her with predicting about her ardent desire of a golden Natrajamurthy for the temple remaining unfulfilled. Ponnaiyal realized then that she was in the presence of a special divine soul. He asked her to bring the vessels from her kitchen and storeroom also.
When she did that he took water from his Kamandal and sprayed on the vessels. Then he took the holy ash "Vibhuthi" from his cloth bag and sprayed that too after chanting some mantras.
He then asked her to throw these vessels into the burning kitchen fire and close the ovens. He told her that he was from Madurai and she could come and meet him there if she needs anything in the future. He asked her to remove the vessels from the fire after he leaves her house. He gave her his blessings and walked away
She went to the kitchen and removed the vessels from the fire. To her utter astonishment, all the vessels on washing were transformed into pure gold. She was euphoric that her desire has come true.
She went to the goldsmith with the gold vessels and asked him to make a golden Natraja out of the gold she gave. The work was done with great care and the goldsmith himself was so proud of his creation.
Ponnaiyal first wanted to show it to the Sivanadiyar and seek his blessings. She traveled to Madurai and went in search of him. Everybody knew of this Siddhar but were unaware of his current whereabouts.
She was told about his divine powers and how he made the stone elephant statue in Meenakshi temple eat the sugarcane offered by the Pandiya king ruling Madurai then. She realized that the temple was the last place he was seen. So she went to MeenakshiSundareswarar temple with a huge basket of flowers. After praying and offering the flowers to the main deities she went around the temple in search of the Siddhar. When she approached the Goddess Durga Sannidhi she saw the Siddhar sitting in deep tapas there. She waited patiently for him to come out of his trance.
After some time he opened his eyes and looked at her with love and care. She asked him if he could recognize her. He replied that he was aware of her identity and also knew of the Natrajamurthy with her. He took the Murthy from her and after giving Drishti he placed it in her hands. She looked at him and then at the Murthy in her hand and found the resemblance in the face. She was spellbound with this discovery and asked him his true identity. He told her that his name was Sundarandar and people normally called him as Sundareswarar. Since he took birth and came down to the earth as Sitthar, he was called as Vallabha Siddar by the people of Madurai. He asked her to install this Natraja in the Tirubhuvanam temple. "You through your dancing skill will reach the dancing lord's feet". Ponnaiyal on hearing this was so happy. To her utter surprise, she found the Sivanadiyar had turned into a stone statue. She returned to Thirubhuvanam and installed the dancing Lord Natrajamurthy.
When you visit Madurai Meenakshi temple next time have a darshan of the Vallabha Sitthar near Goddess Durga's Sannidhi. Also, have a darshan of the Elephant who ate the sugarcane from the hands of the Pandiya king.
DISCLAIMER: The author is solely responsible for the views expressed in this article. The author carries the responsibility for citing and/or licensing of images utilized within the text.