Great Calcutta Killings 1946 – Story on the side of Hindu Resistance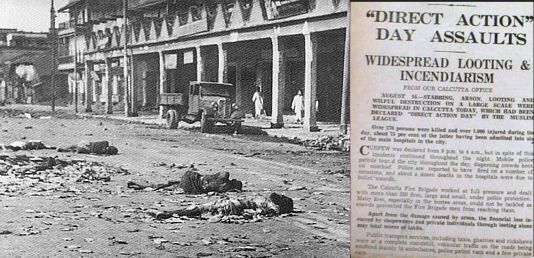 On 25th April 1997, Gopal Mukherjee or Gopal Patha (1913-2005) was interviewed by the British Journalist Andrew Whitehead and one Mr Ajit Bose (ex CPI) translated what Mr Gopal told.
What transpired on the fateful days of the Great Calcutta Killings, were recollected and told by Gopal Patha as following:
Mr Gopal was in his meat shop in College Street, Kolkata on the morning of 16th August 1946 when he saw cadres of Muslim League marching with sticks and slogans of "Ladke Lenge Pakistan"
Later in the day, he got to know about incidents of two milkmen who had been beheaded near the Beleghata bridge. Subsequent to the incident, riots started between Hindus and Muslims in Bowbazar crossing.
He closed his shop, called his boys in Central Calcutta (those he had gathered during '42 movement) and told them the rioting had to be stopped.
He got to know some incidents of violence in his locality and left for his place. Though Mr Gopal's locality was mainly Hindu, there were two houses one a Mess and another a building erstwhile occupied by the Salvation Army where there were significant number of Muslim workers staying. He didn't want any fallout from communal clashes or matters spiraling out of control.
On reaching his place, Mr Gopal found rubbish being burnt in front of his house (womenfolk were inside) and a pan shop being looted. Gopal Patha had his sword which he used to hit one of the accomplices but his sword broke after hitting a lamppost. He then chased away the other looters with some stick.
Over the next day or so, Hindus from Janbazar area started pouring into Gopal Patha's locality with whatever arms they had like sticks etc. knowing it's a Hindu area and they would be protected. Gopal realized it would be risky to give shelter to soo many people so he rescued them and sent them to Bowbazar Thana for further help and facilitation.
There had been occasion when Gopal Patha got surrounded by Muslim attackers but instead of using his pistol, he ran away from the place, not intending to take lives.
…
The whole plan of Great Calcutta Killing was part of a bigger conspiracy hatched by Muslim League to delineate the limits of Pakistan and include Calcutta in the same but the plan got leaked accidentally.
One Mr Haren Ghosh who conducted cultural programs with the likes of Uday Shankar, Amala Shankar etc stayed in Waser Molla building second floor from where CM Suhrawardy's (CM of Bengal and Member of Muslim League) plan got leaked. He used to frequent a nautch girl (Baiji) in the same building. All plans were hatched in the nautch girl's place.
Once after Suhrawardy had left, the nautch girl came to Mr Haren with some papers which had been accidentally left there by Suhrawardy asking if these were important ones. Mr Haren gleaned through the papers and realized their importance but acting as if those weren't important, threw them to the dustbin. After the nautch girl left, he retrieved them and came and saw Gopal Patha with the same.
The papers contained the Master Plan of having the Ganges as border for Pakistan: West of Ganges would be India and everything East of Ganges would be East Pakistan. There was plan also to blow up the Howrah Bridge using dynamite.
Coming to the resistance, Gopal Patha's instructions to his boys were clear : for every killing of a Hindu, there had to be 10x retaliation. Meeting force with greater force, brutality with bigger brutality was the prescription ordered to quell the riots ! And it worked.
For arms: from small knives to choppers to pistols procured from African Americans in American Army (they were then in Kolkata) were used. With only Rs 250/- or a bottle of whisky, an American revolver with 100 cartridges could be purchased from the Afro-American soldiers during those times. He had also procured hand grenades from the Americans and hand-bombs made by his boys were also used.
Gopal Patha also had plans to eliminate Suhrawardy, the Mastermind of the Great Calcutta Killings and few of his boys were sent in a jeep but the jeep lost control and three of his boys died.
Coming to the losses on side of Gopal Patha and his boys, maximum 3-4 lives were lost. On the opponent (rioting) side, the numbers were much greater – no count could be given by Patha since none had been kept. No looting was encouraged, women (from other community) were not to be touched and ordinary citizens (other community) who went about with their lives peacefully, also to be left unharmed which was followed to the T by Gopal Patha's boys.
The resistance came back to bite the Muslim League soo hard that the then State Police had issued shoot at sight orders for Patha. To evade identification, he grew a beard and long hair.
After the riots subsided, Congress workers met Patha twice to make him surrender weapons before Gandhiji. He declined both times. On the third time he agreed to go. On reaching Gandhiji's Prarthana Shibir, he found local people there surrendering whatever arms they had – even out of order pistols etc. When his turn came, he was asked by Gandhiji's translator Nirmal Bose to lay down his arms.
Gopal Patha flatly refused. He retorted: where was Gandhiji when the Great Calcutta Killings were taking place? The arms and weapons which Patha had used to save the honour of Hindu womenfolk, he would never surrender before Gandhiji. If he had used even a needle to kill somebody to avenge a Hindu brother/sister's murder, he wouldn't surrender even that also.
After some time, the locals got fed up with Gandhiji when the killings there didn't stop. People started throwing stones from railway tracks towards where Gandhiji stayed. That lead Gandhiji to call off his Prarthana shibir. Police and Army were deployed but the stone-throwing continued.
Finally, Gopal Patha was approached to bring the situation under control. He agreed to visit when all the senior police personnel and officers would be present. He went there and presented his proposal: Police and Army had to be taken out. The place would be guarded by Gopal Patha's boys with arms. Gandhiji had to give in writing that he agreed to the same.
Gandhiji actually acceded the above in writing. The apostle of non-violence agreed to have his security looked after by Gopal Patha's (whom he wanted to disarm) boys with arms.
Gopal Patha had retained the letter from Gandhiji for a long time but later lost it.
Takeaways:
कृते प्रतिकृतिं कुर्यात् हिन्सिते प्रतिहिंसितम्।
तत्र दोषं न पश्यामि शठे शाठ्यं समाचरेत्।।
Krite pratikritim kuryat, hinsite pratihinsitam
tatra dosham na pashyami shathe shāthyam samacharet
Reaction to action, counter-violence to violence, knavery to knave justified
Reference :
Audio Clip of Gopal (Patha) Mukherjee's interview to Andrew Whitehead
https://www.andrewwhitehead.net/
Images: https://www.gettyimages.co.uk/photos/calcutta-riots
DISCLAIMER: The author is solely responsible for the views expressed in this article. The author carries the responsibility for citing and/or licensing of images utilized within the text.