What is India AgriStack ?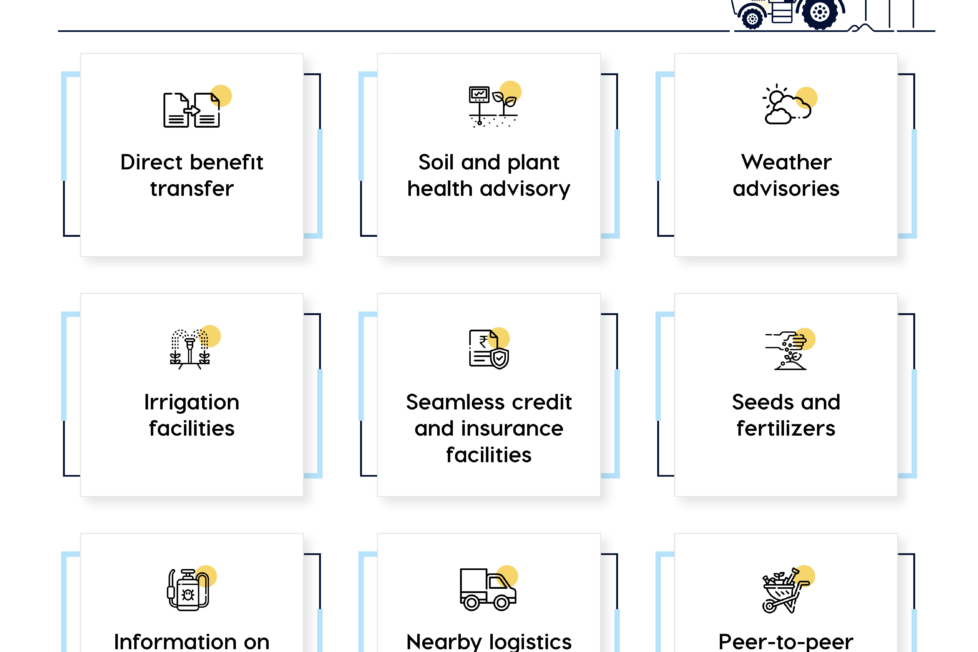 ---
An upcoming exciting development in the field of public governance and technology-driven innovation globally is the recent push by the Government of India to envisage a new platform and protocol for revolutionizing the practice of Indian agriculture using digitisation. This new platform known as AgriStack is India's ambitious digitisation proposition to transform how Indian farmers go about their agricultural business and the tools and mechanisms that they have at their disposal for this enterprise. 
The aim of this ambitious initiative is to facilitate the creation of a single-window view for farmers to obtain proactive, universal and personalized services through an Aadhar-linked digital ID, in order to boost farmer incomes by obtaining valuable data such as the land-records, seed-usage, financial-details and other information from the farmers. Ever since the introduction of the proposal for AgriStack, the Government of India has  launched several initiatives in relation to it such as the Unified Farmer Service Portal, putting forth consultation and ideation papers on Indian Digital Ecosystem For Agriculture (IDEA) and launched Public-Private -Partnerships with several private companies in order to facilitate commercial enterprise in this project.
Before we look further into AgriStack's details and its proposed implementation, let us analyze the reasons due to which this initiative has been launched. The Indian agricultural sector is a distressed sector economically, with low wages, small fragmented landholdings, overuse of labor inputs, relative underuse of capital inputs and limited access to the markets. Despite the sector being one of the priority sectors, and targeted by government schemes for priority lending, over 70% of Indian farmers do not have access to institutional credit, finding themselves at mercy of the informal lending sector with predatory interest rates ranging from 24% to 60%. The situation is not too different for the medium and small enterprises (MSMEs) involved in the food supply chain business, who often have to account for interest rates as high as 15 to 18% in their working capital. This enormously high capital cost makes it difficult for the average farmer and agri-entrepreneur to make their business viable over the long-term. 
AgriStack aims to solve this problem by taking on the task of data-stewardship in the agricultural sector. A systematic approach towards data-collection, analysis and application has the potential to fix the existing problems in the agriculture sector and propagate towards the holistic digitisation of the economy. By acting as intermediaries through the process of data-stewardship, AgriStack would help reduce the trust-deficit between farmers and the government and also lead to the proper utilization of agricultural data while protecting the commercial and information rights of Indian farmers. While there are nearly 7000 Farmer Producer Organizations (FPOs) representing farmers  across the country, very little interface collaboration exists between these FPOs and other Agricultural MSMEs and Agritech Startups across the country. By virtue of the AgriStack initiative, FPOs will be able to scale their capacity and commercial viability and interact and interface with MSMEs and Agritech Startups by assisting them in the tasks of credit-rating, warehousing, financial, market-access etc. 
Leveraging the power of Machine Learning and Artificial Intelligence for the service of the Indian agricultural sector by Agritech startups , is possible only when there is public access for good-quality national data. In tackling this issue, AgriStack aims at digitizing land records, creating Personally Identifiable Information (PII) for farmers and creating public repositories by collating existing public datasets in order to provide easy access to agritech startups to employ and scale their data-analytics and AI models to service Indian agricultural sector better. 
Although AgriStack today is still in early stages of ideation and implementation, its utility and key features are being continuously tested, criticized, and improved in collaboration with partners like banks, insurance companies, food processing companies, cold-storage logistics providers, and agritech startups, which are interested in ensuring first and last-mile access to Indian farmers. While the process of implementing Agristack is time-consuming, technically challenging and capital-intensive, it really stands out as a one-time national digital infrastructure investment whose creation of a national holistic agri-technological ecosystem will be enjoyed by several generations of Indian farmers.
DISCLAIMER: The author is solely responsible for the views expressed in this article. The author carries the responsibility for citing and/or licensing of images utilized within the text.